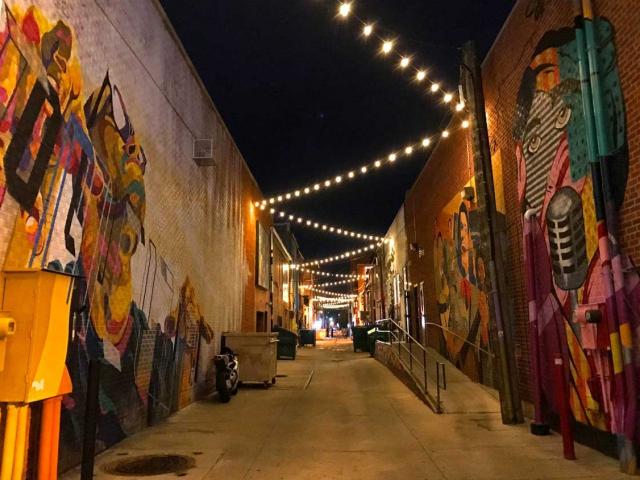 Mural Marathoning in Northern Colorado & Beyond
While it's true Colorado has an abundance of natural beauty, its urban landscapes are sprayed colorful with seemingly endless murals. Discover northern Colorado's best works and get to know the stories and people that inspired these designs. You'll start your road trip in Lafayette, then meander across the region.
Sustainability Activity
Street Wise Arts
Street Wise Arts is a nonprofit located in Boulder that works to implement community art and mural projects. Through these initiatives, the organization seeks to empower youth, amplify cultural diversity and engage in social advocacy to increase dialogue within the community. You can support the organization by making a donation, or by sharing any of their murals to social media to keep the conversation going.
Activity
Colorful Community
Muralists Jaime Molina and Pedro Barrios are responsible for this remarkable piece, which celebrates and honors the diversity of community. The…
Itinerary Tip
Wait!
Before you go too far, see if you can spot another mural that resembles a shiny old photograph. If you've spotted it, then you're looking at the town's founder Mary Miller and her husband, Lafayette, the town's namesake. This tile mosaic was installed by Barbara Jo Revelle back in 1997.
Lunch
Post Brewing Co.
Post Brewing Company brews are delicious and purposefully designed to pair with our comfort food inspired menus. Featuring the best, buttermilk…
Itinerary Tip
Hit the Road
Head west from Lafayette to Boulder.
Breakfast
Boxcar Coffee Roasters (Boulder)
Boxcar Coffee Roasters was established in 2010 in Boulder, Colorado by Vajra & Cara Rich. Together with roaster Janos Porps and a highly skilled…
Activity
Untitled by Afro Triangle
Growing up, Adri Norris (Afro Triangle) didn't do well in history class. She couldn't find the relevance between her life and that of a historical…
Lunch
Santo
Santo is inspired by Chef Hosea Rosenberg's home Taos, New Mexico, and its Northern New Mexican cuisine.
Itinerary Tip
Tea Party
We're spilling the tea on one of Boulder's best-kept secrets: the Boulder Dushanbe Teahouse. A celebrated landmark and colorful destination, this stunning Pearl Street tea house was shipped — yes, you read that right — from Tajikistan. Every element in the house was carved by hand and painted by a team of more than 40 artisans. This is a sight you don't want to miss! After soaking it all in, make the drive to Longmont.
Activity
Spirit of the Plains by Bryce Widom
Located in the heart of downtown Longmont, this mural was produced by self-taught painter Bryce Widom. Specializing in oil and pastel mediums,…
Itinerary Tip
Hit the Road
Now, drive from Longmont to Fort Collins for dinner.
Dinner
Rare Italian
Delight in fresh, local and seasonal ingredients at this Fort Collins restaurant with delicious steaks and an extensive in-house wine list.
Itinerary Tip
Hit the Road
Activity
Art Tools Mural by J.C. Milner
When J.C. Milner was creating the concept for this project, he knew he wanted to showcase something that artists had in common with everyone:…
Lodging
TownePlace Suites by Marriott Loveland Fort Collins
Ideally located among Loveland CO hotels, the brand new TownePlace Suites by Marriott Loveland is in the heart of downtown Loveland close to the…
Breakfast
Taste Local
Enjoy sweets or a savory meal made with fresh, local ingredients from Taste Local's from-scratch-focused kitchen.
Itinerary Tip
Hit the Road
Head from Loveland to Fort Collins.
Activity
Colores de la Comunidad by Armando Silva
Wanting to tell the story and challenges many indigenous communities face, a local nonprofit enlisted the help of Armando Silva to bring a 40-foot…
Lunch
The Exchange
Located in Old Town Fort Collins, The Exchange is more than just a creative, family restaurant; it's a community hub that offers events and live…
Activity
Horizon Line by KoCo Collab
Another dynamic duo that you'll find throughout Colorado is KoCo Collab, made up of artists Aiko Szymczak and Corinne Trujillo. Their mission is…
Itinerary Tip
Hit the Road
It's time to motor on over to Greeley for dinner!
Dinner
Meeker's, A Colorado Kitchen & Bar
Open for breakfast, brunch, lunch and dinner, Meeker's is a favorite locals spot for good eats, artisanal cocktails and ice-cold beer.
Itinerary Tip
Hit the Road
Now, pop in your car for a quick trip to Wellington. 
Activity
Reclaimed by Nature by Joe Hamman
While he was home from college for the summer, artist Joe Hamman brought life into what used to be just a deserted lot. This refreshing design is…
Itinerary Tip
Hit the Road
Head back to Fort Collins for the night.
Lodging
The Elizabeth Hotel
The Elizabeth Hotel is where Fort Collins comes together. Situated in the center of Old Town, the cornerstone of Firehouse Alley, our Fort Collins…
Breakfast
Little Bird Bakeshop
We see each day as an opportunity to share our passion for good food and drink with our community. Upon stepping through our doors you will be…
Itinerary Tip
Hit the Road
After breakfast, noodle on over to Greeley.