The Mysteries of Colorado Springs' Museums
From magic towns, castles and wellness retreats to museums you may not know existed, there are treasures behind every corner in Colorado Springs year-round.
Sustainability Activity
Volunteer for a Rock Ledge Ranch Historic Site Event
As a volunteer or docent, you make history come alive for ranch visitors from all over the world! Docents dress in period-appropriate clothing and demonstrate everyday life depicting 1775–1907 at each historic site represented.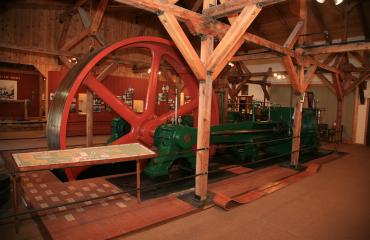 Activity
Western Museum of Mining and Industry
WMMI is dedicated to the collection, preservation, and interpretation of America's western mining heritage featuring 5,000+ artifacts on display…
Insider's Tip
Hee Haw
Wave hello to the resident donkeys at the Western Museum of Mining.
Lunch
Edelweiss Restaurant
For over 50 years this family owned German restaurant has been the consistant spot to find authentic German food and beer. Located just south of…
Activity
U.S. Air Force Academy Visitor Center
The Barry Goldwater Air Force Academy Visitor Center serves as the gateway to the United States Air Force Academy for hundreds of thousands of…
Insider's Tip
At Attention
See the cadets at their noon mealtime formation Monday through Friday during the school year.
Dinner
Colorado Mountain Brewery
In Colorado craft beer is serious business. Not just anyone can set up shop and be considered a true Colorado craft beer. Years of brewing…
Activity
ProRodeo Hall of Fame
The colorful history and equally colorful legends of professional rodeo live on at the ProRodeo Hall of Fame & Museum of the American Cowboy. Each…
Lodging
Cliff House at Pikes Peak
10 minutes from downtown Colorado Springs. The Cliff House Dining Room has gained national renown as one of Colorado's premier dining destinations…
Insider's Tip
In the Morning
Breakfast is included with an overnight stay at The Cliff House.
Activity
Rock Ledge Ranch
An educational, non-profit living history farm and museum that depicts life in the Pikes Peak region: American Indian area in 1775, 1860's…
Activity
Garden of the Gods Trading Post
With over 25,000 square feet and nearly 90,000 different items to choose from, you're sure to find the perfect gift or souvenir for everyone on your…
Insider's Tip
Lunch Stop
One of the most popular menu items at the Trading Post's Balanced Rock Cafe is the bison burger.
Activity
Glen Eyrie
Nestled on over 700 breathtaking acres with 95 lodging rooms, Glen Eyrie offers retreats, conferences, historical Castle Tours, Castle Teas,…
Insider's Tip
Wildlife Watch
Keep an eye out for the resident eagles and bighorn sheep that call Glen Eyrie home.
Dinner
Pizzeria Rustica
Classic Neapolitan wood oven pizzeria in Old Colorado City.
Activity
The Michael Garman Museum & Gallery
The Michael Garman Museum & Gallery features Magic Town - a 3,000 square-foot miniature city filled with hundreds of hand-made characters,…
Insider's Tip
Fun for Everyone
All ages can enjoy Magic Town's special scavenger hunt.
Lodging
Blue Skies Inn Bed & Breakfast
Fun bed & breakfast lodging at a quiet B&B inn, located on historic Manitou estate with stream and surrounded by hillsides of trees at the base of…
Breakfast
Loyal Coffee
Loyal Coffee is a barista owned and operated specialty coffee company based in Colorado Springs. We roast and brew coffee we love, for people we love…
Insider's Tip
Souvenir Op
Loyal Coffee roasts their own beans locally; get some to take home.
Activity
Colorado Springs Pioneers Museum
Ignite Your Curiosity Discover Your Story. Located in the 1903 El Paso County Courthouse, the Colo Spgs Pioneers Museum portrays the history and…
Insider's Tip
Going Up
Take a ride on the museum's original Otis Elevator.
Lunch
Jose Muldoon's
Authentic Tex-Mex cuisine. Jose's has been an icon of downtown Colorado Springs since 1974. Our menu features signature margaritas and a variety…
Activity
American Numismatic Association Money Museum
America's largest museum dedicated to numismatics. Explore art, history, science & more through the diverse nature of money & related items…
Insider's Tip
Don't Miss
Every third Saturday of the month, visitors can watch free mini mint demonstrations from noon to 4pm at the Money Museum.
Dinner
Phantom Canyon Brewing Co.
Colorado Spring's oldest brewery. Located in the historic Cheyenne building, built in 1901, Phantom Canyon offers award-winning craft beer and…
Insider's Tip
Prime Spot
Head up to the third-floor bar for pool tables and an outdoor patio.
Activity
Colorado Springs Fine Arts Center at Colorado College
Through our museum galleries offering world-class exhibitions, performance spaces showcasing professional theatre, and dozens of art classes for…
Insider's Tip
Plan for This
The Fine Arts Center offers monthly free admission and family adventure days.
Lodging
SCP Hotel Colorado Springs
When you stay with SCP Hotels, you stay consciously. From the artful reuse and recycling of original materials in building our hotels, to rethinking…