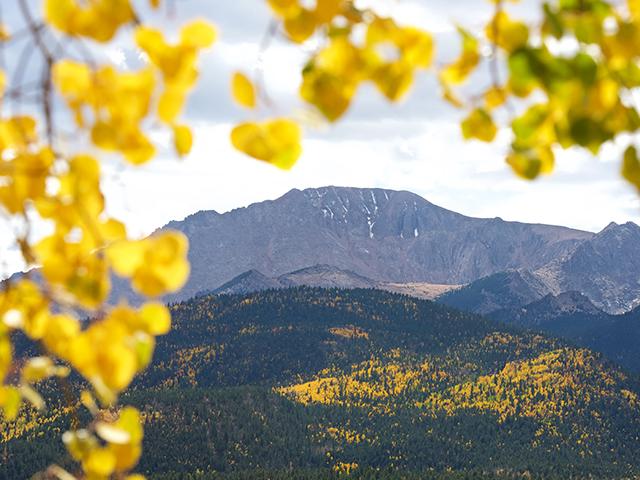 Pikes Peak or Bust Gold Rush
Dive into the rich history of the Pikes Peak region while sampling the diverse culinary and recreational offerings and awe-inspiring fall beauty of Colorado Springs, Cripple Creek, Cañon City, Woodland Park and Penrose.
Sustainability Activity
Friends of Mueller State Park
Participate in a hike, art show or other activities at Mueller State Park to help preserve the landscape.
Activity
Mueller State Park
5,121 acres of mountain meadows, aspen and conifer forests and wildlife with 50 miles of scenic trails. Enjoy 132 campsites or 3 deluxe cabins,…
Lunch
Maggie's Restaurant
Omelettes, griddle specialties, salads, burgers, homestyle entrees and much more.
Activity
Mollie Kathleen Mine
Get a hands-on look at the gold mining era with a tour inside one of the Cripple Creek-area's mines.  Don a hard hat and descend a thousand feet…
Insider's Tip
Donkey Spotting
Keep your eyes peeled for the donkey herd that roams the streets of Cripple Creek May through October.
Dinner
Winfield's Restaurant
A beautiful location to enjoy fine dining with numerous entree options, including filet mignon, lamb, Atlantic salmon, herb parmesan-crusted…
Activity
Hike to Horsethief Falls
Horsethief Park is located off Hwy. 67, approximately halfway between Divide and Cripple Creek. To the west, it is dominated by the prominent 12,527-foot Sentinel Point. There are three main trails in the area, and they all share the same trailhead located at the parking lot next to the closed Little Ike Tunnel.
Lodging
Carr Manor
First-class B&B. 1890s school restored in period decor. Historic Cripple Creek, Colorado.
Insider's Tip
Mornings at Carr Manor
Breakfast is included with your stay at Carr Manor bed and breakfast. Fresh-baked cookies are also available in the afternoon.