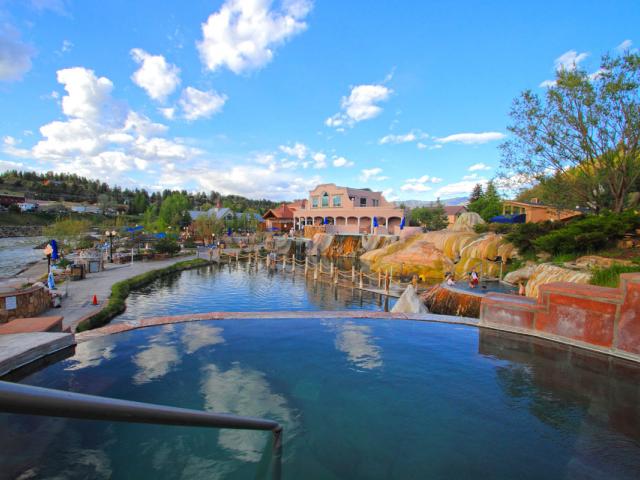 Steam, Sand, Spaceships & Hot Springs in Alamosa, Pagosa Springs & Beyond
Witness drastically different landscapes on this itinerary, which rolls from North America's tallest sand dunes to the jagged, just-carved profile of the San Juan Mountains, visiting quirky attractions, hot springs, outdoor adventure and more along the way.
Sustainability Activity
How to Give Back to These Special Places
Volunteer with HistoriCorp to preserve special places in Colorado, like the the iconic vigas of the Saguache Forest Ranger Residence.
Breakfast
Milagros Coffee House
Drink Coffee....Love Others!  Milagros Coffeehouse not only serves a full line of delicious espresso and coffee drinks, teas, and baked goods, we…
Activity
Cumbres & Toltec Scenic Railroad
All Aboard the Cumbres & Toltec Scenic Railroad for a Train Ride of a Lifetime! 
The Cumbres & Toltec Scenic Railroad is a National…
Lunch
Osier Station
Osier Station is the perfect spot for lunch during your Cumbres & Toltec Scenic Railroad trip. Toltec Gorge Catering has prepared a delicious all-you-can-eat buffet that is included in your ticket purchase. Each main entree includes our large salad bar and great dessert bar as well as your choice of drink. Since your time is limited in Osier (a little more than an hour), for speed we serve our main entrees cafeteria style.
Insider's Tip
Prepare to Feast
Choose the Cumbres & Toltec Scenic Railroad Route from Antonito to Osier to enjoy an all-you-can-eat lunch at Osier Station that's included with your ticket purchase before your return trip to Antonito. Be sure to save room for the tempting dessert bar!
Dinner
Alley House Grille
Alley House Grille is the premier dining destination in Pagosa Springs offering an elegant but casual atmosphere featuring Global/Colorado style…
Activity
The Springs Resort
Relax and renew at The Springs Resort - hot springs capital of Colorado, with 25 natural geothermal soaking pools, located downtown Pagosa Springs…
Lodging
The Springs Resort
Relax and renew at The Springs Resort - hot springs capital of Colorado, with 25 natural geothermal soaking pools, located downtown Pagosa Springs…