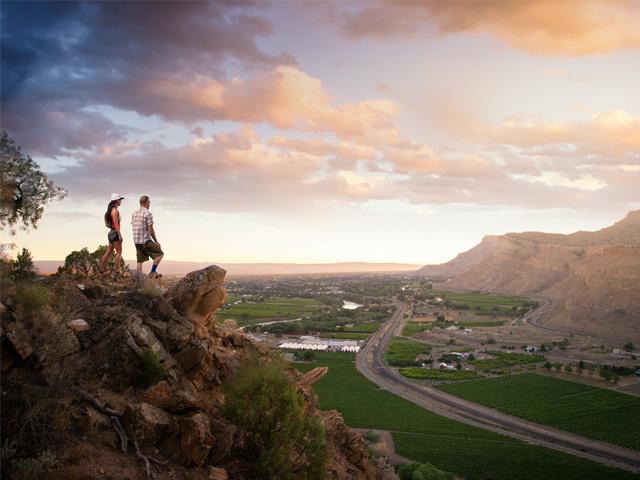 Palisade is home to blooming orchards, outdoor adventures and year-round wine tours. Enjoy a relaxing bike journey along the Fruit and Wine Byway, visit roadside farm stands or sample Colorado wines from more than 25 local wineries. Nestled in the heart of the Grand Valley, Palisade offers various lodging options and is within a 30-minute drive of the Grand Mesa National Forest and Colorado National Monument.  
Sustainability Activity
Support a Worthy Cause
Palisade Art Vision promotes "Art as a part of everyday life." Artists loan their work free of charge for public viewing in downtown Palisade. Give back to support artist installations and stipends by calling the Town of Palisade at 970-464-5602.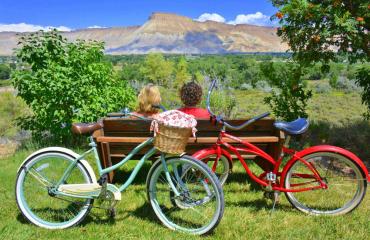 Activity
Discover the Fruit & Wine Byway
Ride bikes or take a road trip through acres of blooming orchards, vistas and vineyards. Take a journey on the East Orchard Mesa loop and stop at some of Palisade's hidden gems. Shop local fruit products and gifts at Talbott Farms gift shop and try their newest specialty from the Hard Cider Tap Room.
Insider's Tip
PIck Up a Ride
Rapid Creek Cycles offers rentals on mountain bikes, cruiser bikes and electric bikes, as well as kayaks, paddle boards, and guided rafting trips. The staff is knowledgeable about local attractions and can direct visitors to trailhead entrances and river access points.
Insider's Tip
Have a Hot Breakfast
Complimentary with your stay, the hearty Wine Country Inn deluxe hot breakfast includes items that are chef selected and prepared fresh daily. A variety of fresh fruits, bakery and hot breakfast options ensure a great way to start your day. Served in the Tapestry Lounge.