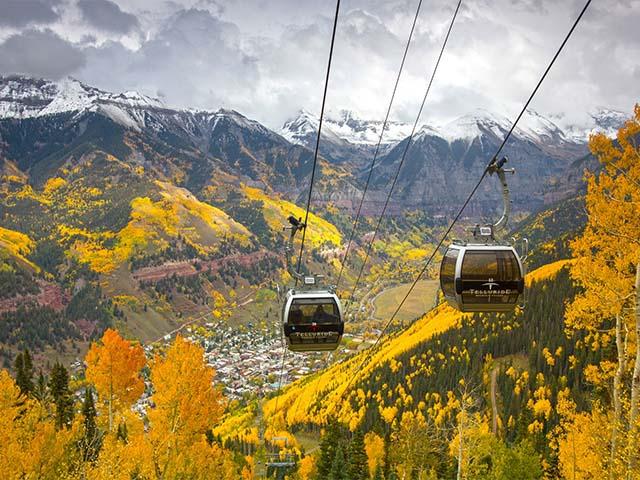 Telluride Gold-Season Itinerary
Each fall the Aspens turn a beautiful shade of gold and people flock to Telluride for beautiful views, outdoor pursuits and delicious bites.
Sustainability Activity
Join the Telluride Mountain Club
For just $30 you can purchase a membership to the Telluride Mountain Club, whose mission is to advocate safe, accessible, enjoyable and respectful opportunities for human-powered recreational activities in the Telluride region, through education, awareness and collaboration.
Insider's Tip
Recap over a Nightcap
Enjoy a cocktail from the menu, such as the Mad Manhattan, at Black Iron Kitchen at the Madeline Hotel & Residences before making your way to your room, a five-minute walk away at the Lumiere Hotel.
Lodging
Lumiere Hotel
lumiere hotel offers guests mountain-chic luxury that complements the Telluride lifestyle. Located in the heart of Mountain Village, lumiere is an…
Breakfast
Black Iron Kitchen + Bar
Here, you'll gather round signature fire tables to enjoy creative takes on rustic, mountain dining, from smoked beef short ribs to black caraway…
Insider's Tip
Gear Up
After breakfast, grab your gear for a thrilling guided Via Ferrata excursion with Mountain Trip, a mountain-climbing outfitter in Telluride.
Insider's Tip
Sip Telluride's Signature Cocktail
Reflect on your morning outdoors and your afternoon among art with Telluride's Signature Cocktail at The New Sheridan Parlor Bar. The Flatliner Martini features Telluride Distilling Co. Vodka, Baileys Irish Cream, Kahlua and Cold Brewed Espresso.
Lodging
New Sheridan Hotel
Originally built in 1891 and remodeled in 2008, the New Sheridan Hotel in downtown Telluride is the town's social epicenter. Twenty-six individually…
Insider's Tip
Dance the Night Away
Put your dancing shoes on and boogie down to a band or DJ at The Liberty Bar & Lounge. It's the best way to end your last night in Telluride.
Lodging
The Hotel Telluride
The Hotel Telluride is the premier Telluride hotel for the foremost in hospitality and comfort. Nestled in the heart of historic Telluride, Colorado,…