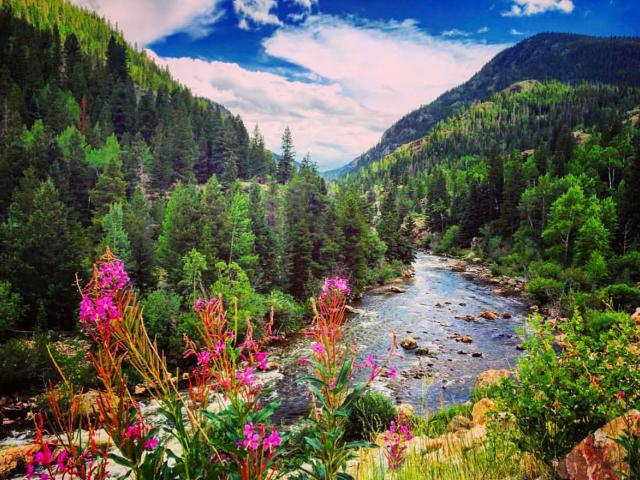 Tour Northern Colorado this Summer
Enjoy a four-day trek highlighting NoCo's remote beauty with a focus on things to do and see with lots of outdoors time. Bonus: Few reservations are needed.
Sustainability Activity
Yampa Valley Community Foundation's Trail Maintenance Endowment Fund
This permanent funding source supports specific non-motorized trail and trailhead maintenance projects on public lands within Routt and Moffat counties. Look for "donation stations" — refurbished parking meters with credit card readers — at 11 popular local trailheads, including Spring Creek, NPR and Wild Rose. Or donate online at yvcf.org/trails.
Breakfast
Lucile's Creole Cafe- Fort Collins
As a family establishment Lucile's has always strived to provide a comfortable and unique atmosphere as well as excellent food.
Activity
Travel the Scenic Byway
From Fort Collins follow Hwy. 14 and the Cache la Poudre River, the state's only designated Wild and Scenic River, toward the spectacular Poudre Canyon (also part of the Cache la Poudre-North Park Scenic Byway). Keep a lookout for fly-fishers, rafters, kayakers and stand-up paddleboarders as you ascend. There are pullouts along the route so take your time and enjoy the journey. Pro tip: Don't miss the Poudre Falls.

Map the Trail
Lunch
Bindle Roastery
Enjoy artisanal coffee drinks made with Morning Fresh Dairy.
Activity
State Forest State Park
The ultimate in rugged Colorado wilderness, 71,000 acres of forest, jagged peaks and alpine lakes. Features 158 campsites and 15 cabins and yurts…
Insider's Tip
Hike the North Loop
The State Forest State Park North Loop "touches on a little bit of everything that makes State Forest State Park special." That includes great views of the Medicine Bow Mountains, three pretty alpine lakes (Jewel Lake, Kelly Lake and Clear Lake), a bit of singletrack and forest road, plus towering aspen trees. 
Insider's Tip
Enjoy Dinnertime & Stargazing in the Backcountry
Snuggle into your Never Summer Nordic yurt and road-test your backcountry cooking skills. Yurts are equipped with cooking surfaces and kitchen supplies (pots, pans and utensils). You bring the fixins for your favorite meal (remember that supply stop we suggested before you departed Fort Collins?). We can (almost) guarantee it'll taste better than ever. Then head outside for a night of stargazing. You're in the perfect spot. Use the Night Sky app; it's astronomy at your fingertips on your tablet or phone.
Lodging
Never Summer Nordic
Escape to our remote backcountry yurts located at secluded locations within the Colorado State Forest State Park. Whether you are looking to go on…
Insider's Tip
More About Never Summer Yurts
Each yurt is set up with beds, a wood stove and basic cooking facilities for the ultimate social-distancing escape. Several of the yurts offer two-wheel "drive-ups" and wheelchair access. Pets are permitted at all Never Summer Nordic Yurts from June through September.
Insider's Tip
Morning fuel
Take your time — and make some breakfast at your Never Summer yurt before heading out.