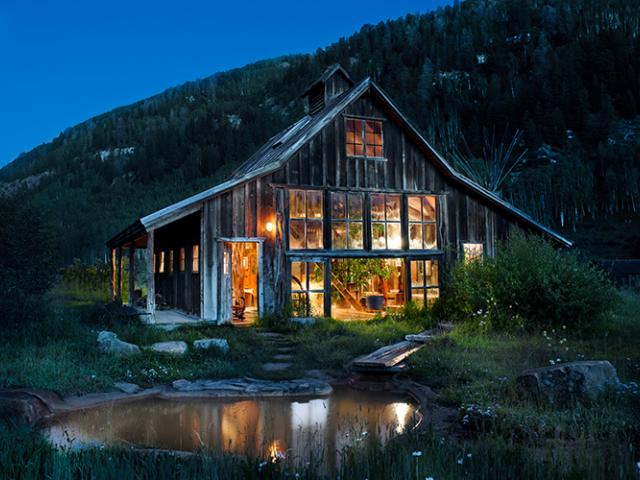 Travel + Leisure: The Perfect 5-Day Colorado Vacation Itinerary
We've partnered with Travel + Leisure to help you plan the perfect sophisticated Rocky Mountain adventure. The sights along your commute to work have got to be getting old — so how about trading them for the vistas along a route that's been coined "The Most Beautiful Drive in America"?
Swap out the strangers in your sardine-can-esque train car for a family SUV, your gray cityscape for snow-capped peaks and dark green forests, and your tired eyes for a fresh outlook as you hit the San Juan Skyway Scenic Byway. On this massive loop taking you through some of Colorado's most picturesque luxury destinations, you'll see all the grandeur of the Old West without sacrificing modern comforts — and we'll even provide the itinerary. Here's how to make the most of your Skyway visit.
Insider's Tip
Only-in-Colorado Flavors
Start your day with some Western fare at Carver's Brewing in Durango, Colorado's second-ever brewpub where huevos rancheros are a must-try, served with quintessential Colorado green chili.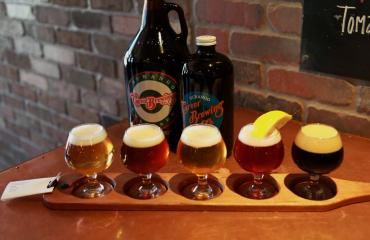 Breakfast
Carver Brewing Company
Since 1986, Carvers has offered Durango the very best in food and beer.
Activity
Animas Chocolate Company
Award-winning Animas Chocolate & Coffee Company handcrafts a variety of chocolate confections in Durango, Colorado. Bring the kids for a taste of…
Insider's Tip
Take a Detour
On your one-hour drive west from Durango to Cortez, you have optional opportunities to explore the artists' colony of Mancos or check out Mesa Verde National Park.
Lunch
The Farm Bistro
The Farm Bistro is a casual yet elegant farm to table restaurant in the heart of historic downtown Cortez, Colorado. The lunch and dinner menus…
Activity
McPhee Reservoir
Just a quick jaunt north of Cortez is Dolores, which sits on the edge of both San Juan National Forest and is home to McPhee Reservoir, the second-largest body of water in Colorado. Naturally, you have to get in some jet skiing before heading deeper into the wilderness, so zoom around the lake or rent kayaks to explore some of its quieter creek arms.
Dinner
Dolores River Brewery
Every community should have a comfortable place to hang out with somebody!
Insider's Tip
Soak It All In
Head to your home for the evening — swanky Dunton Hot Springs, where you can revel in a post-dinner soak in one of their six natural hot springs.
Lodging
Dunton Hot Springs
This meticulously restored 19th century ghost town and mineral hot springs are tucked deep in the mountains of southwestern Colorado. Rugged…
Insider's Tip
Fuel Up
Dunton Hot Springs provides a full breakfast every morning at its saloon, using a variety of local and regional ingredients. After getting your fill, hit the pavement again and follow the San Juan Skyway Scenic Byway northeast to Telluride, a quaint mountain resort town.
Activity
Gondola to Telluride Mountain Village
Perched on the slopes above Telluride is Mountain Village — a dizzyingly beautiful (free) gondola ride up the cliffs makes for a supremely laid-back way to take in views of the valley.
Lunch
La Piazza Del Villaggio
Take a spectacular gondola up from Telluride, or a slow stroll within the core of the Mtn. Village, the Sunset Plaza boasting incredible views and…
Activity
Hike the Boulevard Trail
The 2.5-mile Boulevard Trail traverses both the town and the surrounding landscape and provides new perspectives of mountain life.
Insider's Tip
Sunset Vistas
Once dusk approaches, make sure to hustle back to the gondola to descend with the sun — as it settles behind the mountains, you'll settle into a table at La Marmotte in Telluride, where you'll enjoy French delicacies like coq au vin in an intimate atmosphere.
Dinner
La Marmotte
For over 20 years La Marmotte has provided elegant bistro fare in the mountain town of Telluride, Colorado. It is set in one of the oldest buildings…
Activity
Telluride Brewing
Adventure brought us to these mountains. Friendship made us stay. Community made Telluride our home. These beers brings the best of these to you. …
Lodging
The Hotel Telluride
The Hotel Telluride is the premier Telluride hotel for the foremost in hospitality and comfort. Nestled in the heart of historic Telluride, Colorado,…
Breakfast
The Butcher & Baker Cafe
Our bakery and cafe specializes in handcrafted, fresh and local cuisine. We feature handmade breads and artisan pastries, fresh salads composed of…
Activity
Tomboy Ghost Town
Whether you're hiking or taking a guided ATV tour, you're going to need something to warm your soul as you head up to the eerie ghost town of Tomboy. It's an 18th-century mining town that still retains free-standing elements of its heyday but was abandoned when the ore beneath the town ran dry.
Insider's Tip
Be Prepared
The route to Tomboy ghost town can be a strenuous and daunting, so if you're not feeling up to it, there are plenty of other activities in Telluride, like shopping or museums.
Lunch
Brown Dog Pizza
Come to Brown Dog Pizza and try our award winning Detroit Square Pizza. Our regular customers love the new addition to our menu. The pizza is made…
Insider's Tip
Ridgway Bound
Hop back on the scenic byway to make your way to Ridgway, a historic mountain town surrounded by the rugged San Juan Mountains and Cimarron Range that got its start as an 1800s railroad hub.
Activity
Fly-Fishing on the Uncompahgre River
Partake in one of Colorado's time-honored leisure activities at Ridgway State Park, where the Uncompahgre River is a favorite spot for hooking hard-fighting rainbow and cutthroat trout.
Insider's Tip
Coffee for the Road
Grab a cup of joe at Ridgway's Cimarron Coffee & Books before you hop back on the San Juan Skyway toward Ouray, known as the Switzerland of America.
Dinner
Red Mountain Brewing
With indoor and outdoor seating options, RMB has the space to suit your preferred dining experience. Enjoy a beer or cocktail from our bar, (which…
Activity
Ouray Hot Springs Swimming Pool
Nearly one million gallons of clear hot springs water, without the sulfur smell common in many hot springs. There are 3 pools ranging from 80 to…
Lodging
Beaumont Hotel & Spa
The historic Beaumont Hotel & Spa is the only luxury hotel in Ouray, Colorado. Modern amenities include wireless high-speed internet &…
Breakfast
Artisan Bakery
Come enjoy breakfast, lunch, or just a pastry and coffee, in a cozy little restaurant on main street, Ouray CO. Located at the south side of town,…
Activity
Ouray Alchemist
Ouray Alchemist Museum was pieced together by a lover of pharmacological history and chock full of artifacts from previous eras of medicine — the passion here is evident, so don't hesitate to ask questions. You can impress your coworkers with your knowledge when you get home.
Insider's Tip
Million Dollar Views
After touring the Ouray Alchemist Museum, drive from Ouray to Silverton. The canyon-clinging stretch of the San Juan Skyway between the towns is called "The Million Dollar Highway" either because it cost so much to build or the amount of gold ore that remained in the roadway's fill. Ouray is also close to Yankee Boy Basin, one of the area's best places for incomparable mountain views. The best (and only) way to get here is to hire an ATV or an off-road vehicle tour. Once there, you'll see waterfalls, wildlife, and a whole lot of sky.
Insider's Tip
Made-From-Scratch Deliciousness
Your final day begins with a home-cooked meal away from home, courtesy of Silverton's Inn of the Rockies. Your hosts are accommodating and skilled, so indulge in some French toast and freshly brewed coffee before you join a horseback ride with Buck's Livery in Durango.
Activity
Buck's Livery
Offering horseback rides and sleigh rides in the heart of the San Juan Mountains.
Insider's Tip
Après-Ride Bites
Your lunch is down the road at Harvest Grill & Greens at James Ranch, 10 miles north of Durango, where you can nosh on sandwiches made with organic produce and locally raised meats and cheeses.
Lunch
James Ranch Grill
Our delicious meats, cheeses and vegetables are produced on the James Ranch using organic, sustainable, grass-based practices and have been for…
Insider's Tip
Journey Back to Durango
Durango is the final stop on your San Juan Skyway loop tour. Once you arrive, stroll the town's National Historic District, lined with shops, eateries and hotels housed in perfectly restored 19th-century buildings.
Dinner
Eolus Bar & Dining
Majestic Mt. Eolus is the namesake of our dining establishment.  We offer rooftop dining year round on our warm heated patio or an interior dining…
Activity
Diamond Belle Saloon
If you're standing in the Diamond Belle Saloon, located in Durango, Colorado, you just may have stepped back in time. Revered as one of the most…
Lodging
Gable House B&B
Listed on the National and State Historic Register, is an elegant Queen Anne Victorian home in the heart of historic Durango, Colorado. Enjoy the…