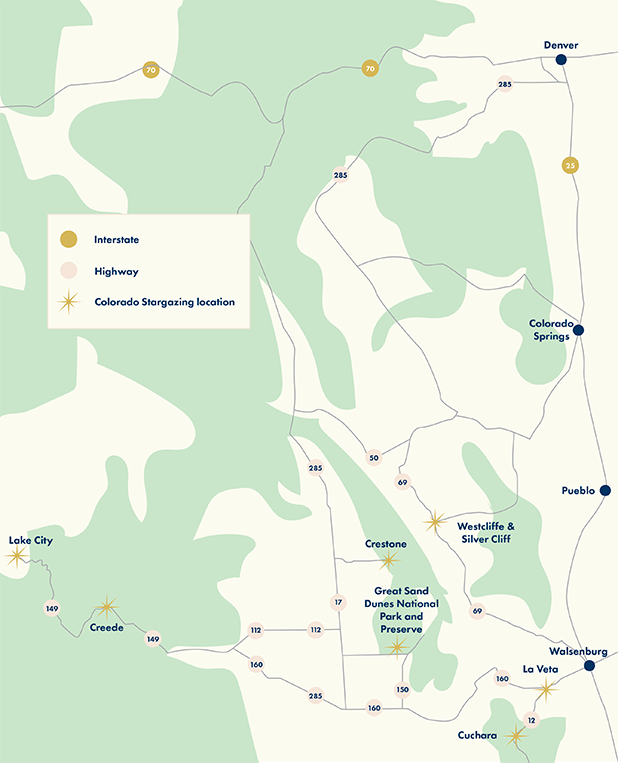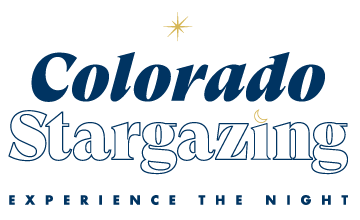 Colorado Stargazing: Experience the Night connects several Colorado locations known for their dark skies and incredible stargazing opportunities. It also highlights dark-sky events and encourages the conservation and preservation of all of Colorado's natural and cultural resources.

Among the locations below, visitors will find International Dark-Sky Association Designated Communities, areas just starting the designation process and everything in between. Regardless, all of these communities are unified by their high elevation and low humidity, allowing for some of the best stargazing in the world.
Lake City is the sole town in Hinsdale County, the most remote county in the lower 48 states. Made up of 96 percent public lands, it's an ideal location for watching the night sky and leaving civilization behind. In 2020, The Slumgullion Center was designated an International Dark-Sky Association Park, adding to the growing list of Colorado's IDA Places. Along with amazing stargazing opportunities, the area offers seemingly endless miles of trails, 21 public campgrounds, five fourteeners (peaks rising more than 14,000 feet above sea level), three national forests, one BLM district, four wilderness areas and two wilderness study areas. Popular outdoor activities include hiking, biking, ATVing, ice climbing, snowmobiling and more. History speaks loudly in Lake City, where famous cannibal Alfred Packer, is rumored to have murdered his traveling companions. Lake City is also mining country, and many of the area's historic mines are still standing and available for viewing.
Best Places to See the Stars:
Windy Point Observation Site • Wupperman Campground at Lake San Cristobal • The Slumgullion Center
Events:
Wednesdays at Windy Point: A Stargazing Program (from mid-June through mid-August)
Top Attractions:
Alpine Loop Scenic & Historic Byway • Climbing a Fourteener • Hinsdale County Museum • 100+ Miles of Groomed Winter Trails • Fishing
Photo courtesy of Michael Underwood
Discover Creede, a small town tucked into the San Juan Mountains and surrounded by 900 square miles of gorgeous western wilderness, 95 percent of which is public land. This historic mining town is unique in that it sits in a former volcanic caldera where it is surrounded by sheer cliffs, limiting the town's physical growth, and thus, light pollution. This lends to the small-town feel and the stupendous dark skies visitors love and come back for again and again. Creede serves as a jumping-off point to some of Colorado's most popular backcountry regions. Top outdoor activities in Creede include fishing, rafting, ATVing and mountain biking in the summer, and cross-country skiing, snowshoeing, snowmobiling and ice-skating in the winter.
Best Places to See the Stars:
The Bachelor Loop Historic Tour • Love Lake • Pool Table Road
Events:
Top Attractions:
Creede Historical Museum • Underground Mining Museum • Creede Repertory Theatre • Silver Thread Scenic Byway • Wheeler Geologic Area
Photo courtesy of Terry Taddeucci
Nestled in the shadows of the Sangre de Cristo Mountains at almost 8,000 feet, Crestone has emerged as a spiritual mecca for world religions. Although it has only 150 residents, Crestone-Baca is home to more than two dozen ashrams, monasteries, temples, retreat centers, stupas, labyrinths and other sacred landmarks. The town didn't begin as a spiritual mecca: From the 1870s through the 1930s, it was a mining town and then a center for ranching. It boasts miles of trails, the rustic North Crestone Creek Forest Service campground and four nearby fourteeners (Kit Carson Peak, Challenger Point, Crestone Peak and Crestone Needle, two of which are considered the toughest and most dangerous fourteeners), while nearby Baca National Wildlife Refuge protects nearly 100,000 acres of wetlands and grasslands.
Best Places to See the Stars:
UFO Watchtower • Valley View or Joyful Journey Hot Springs • Orient Mine
Events:
Top Attractions:
More Than 15 Spiritual Centers • Hike the Sangre de Cristo Wilderness • Historic Walking Tours • Valley View or Joyful Journey Hot Springs • Baca National Wildlife Refuge
Photo courtesy of Peter Ismert
Cuchara is a charming mountain village tucked on the eastern slopes of the Sangre de Cristo Mountains in the heart of the Cucharas River Valley. Surrounded by the San Isabel National Forest with all its lakes, mountains and wilderness, this village is a favorite respite for Colorado hikers and other outdoor enthusiasts. At the heart of Cuchara is a quaint downtown area with colorful shops, lodging and restaurants. South of town along Colorado 12, part of the scenic Highway of Legends, are gorgeous views topping out at the 9,995-foot Cucharas Pass. Nearby are abundant opportunities for hiking, fishing, OHVing and camping, especially at Cordova Pass, Cuchara Recreation Area and Bear and Blue Lakes.
Best Places to See the Stars:
Cuchara Mountain Park • Bear Lake Campground • Blue Lake Campground
Events:
Top Attractions:
Cuchara Mountain Park • Highway of Legends Audio Tour • The Bear's Den Mini Golf • Cuchara River Recreation Area • Cordova Pass 
Photo courtesy of Scot Mangold