Lucha Cantina Georgetown
Lucha Cantina Georgetown,
606 6th Street,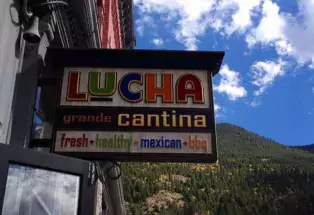 Located at the heart of historic Georgetown in the former iconic Red Ram Saloon, Lucha uses pure, natural ingredients to create super-tasty Mexican and American dishes. No lard, no MSG, nothing partially-hydrogenated. Good meats & veggies, from as close to home as we could find. Our beef is grass-fed and braised for six hours. Our chicken is free of everything not natural, as nature intended. We use fresh kale, zucchini, and broccoli in our veggie blend. We make our salsas, dressings, and sauces every day, from fresh produce & spices.
Lastly, and most importantly, Lucha uses only real juices in our cocktails. That means none of that nasty sweet and sour syrup in our margaritas. Our strawberry margs have, wait for it, real strawberries. The Lucha experience is as natural as we can get it from start to finish.