Parelli Natural Horsemanship
Parelli Natural Horsemanship,
7 Parelli Way,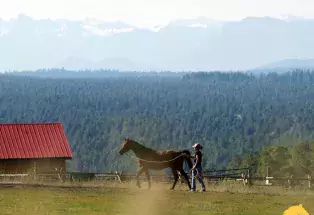 The Parelli program of natural horsemanship was founded in 1981 by lifelong horseman Pat Parelli. A former rodeo bronc rider, horse trainer and all-around horse lover, Pat created the program based on his keen observation of horse behavior, psychology and communication. Parelli Natural Horsemanship's goal is to help raise the level of horsemanship worldwide for the benefit of horses and the people who love them. The Parelli Program is a people-training program focused on the study of horse behavior and horsemanship skills. The program spans Four Savvys, or areas of development, through four distinct levels of skill improvement.