By Beth Buehler 
Transportation can either be handled as a necessity in moving groups or it can be viewed as part of the experience. In Colorado, vibrant destinations and innovative businesses are making sure there are plenty of fun and memorable ways to get around.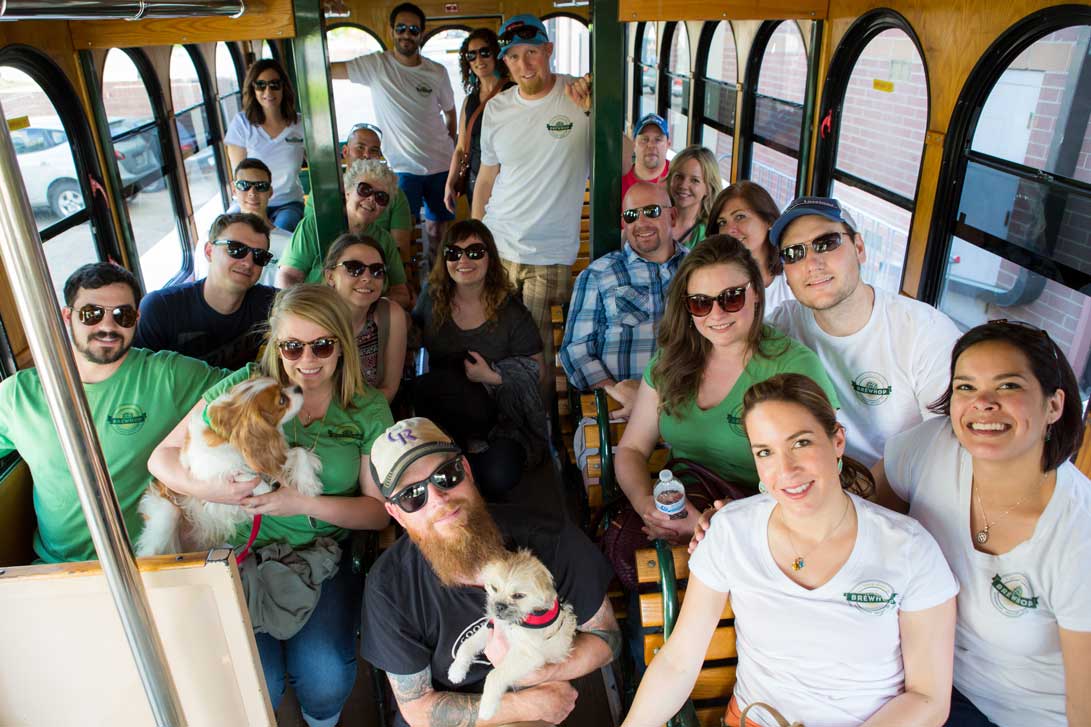 Longmont Brewhop Trolley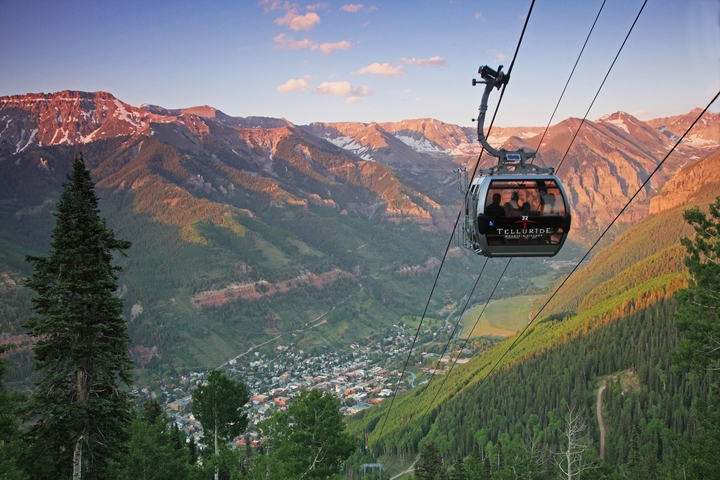 Telluride Gondola, courtsey of Telluride Tourism Board
We're not talking about fancy tricks on the basketball court or in the half pipe at a ski resort. Take it even higher with free gondola rides in Telluride, a tram to the entrance of the adventure park and caves in Glenwood Springs and beginning instruction for hand gliding and paragliding in Golden. 
One of Colorado's most unique public transportation systems recently celebrated its 20th anniversary. The Telluride Gondola launched on Dec. 20, 1996, one year after Mountain Village was incorporated, to provide free transportation between the ski town and historic town of Telluride. Providing approximately 2.5 million passenger rides each year, Telluride Gondola not only offers an effective and environmentally friendly mode of transportation (13 minutes between the two towns), it provides easy access to beautiful hiking and biking trails in the summer and fall and outstanding ski terrain in the winter. 
In Glenwood Springs, the Iron Mountain Tramway to Glenwood Caverns Adventure Park is a state-of-the-art, 4,300-foot-long European pulse gondola design and was one of the first ever installed in the United States. A towering panoramic view of Rocky Mountain scenery is all around riders as they skim over the tops of the trees for 10 minutes before reaching the top of Iron Mountain, where the entrance to the park and Historic Fairy Caves is located.
When wind conditions are right, the sky above Mount Zion (west of Golden) is often filled with paragliders and hang gliders. Gliders catch thermal air currents that lift them to a birds-eye view high above the town, located west of Denver. For adventurous souls who want to give it a try, Golden has outfitters like Colorado Paragliding that cater to the first-timer and provide advanced training for those with experience.
BUSES & TROLLEYS LIKE NEVER BEFORE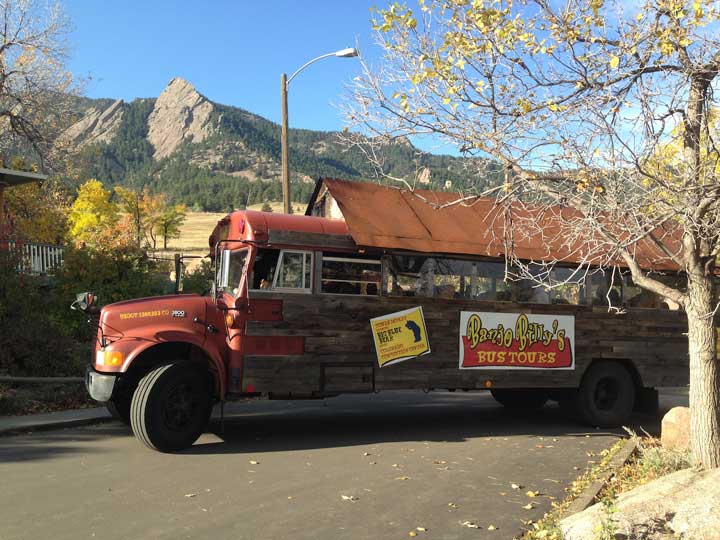 Banjo Billy Bus Tour, courtesy of Boulder CVB
Touring in a hillbilly shack on wheels in Boulder, catching free rides on buses painted by local artists in Crested Butte and hopping on and off a trolley to quaff some local suds in Longmont microbreweries and taphouses isn't your average mode of transportation on multiple wheels. 
It's probably fair to say groups have never seen transportation like Boulder's Banjo Billy's Bus. This rolling contraption is a riot in and of itself, but the real fun is learning fascinating tidbits and trivia as the bus cruises through historic areas and beautiful sights on a grand tour of this vibrant college town.
In Crested Butte, colorful and whimsical Mountain Express buses painted by local artists provide free transportation between historic downtown and Mt. Crested Butte, where the ski resort is located. Mountain bike, zodiac and pet themes are among those that grace the buses or you might land on the one painted with cows as a nod to the area's ranching industry, including a tail made from a rope on the back.
Climb aboard Longmont's Brewhop Trolley, a hop-on/off brewery tour visiting all of the city's nine breweries and taphouses. The trolley runs every Saturday and Sunday from noon to 9 p.m., making approximately one-hour loops around town starting at 300 Suns Brewing and ending at Oskar Blues Brewery's Tasty Weasel Tap Room. One- and two-day passes can be purchased, and the trolley also can be chartered for private events.
TRAINS DELIVER RICH EXPERIENCES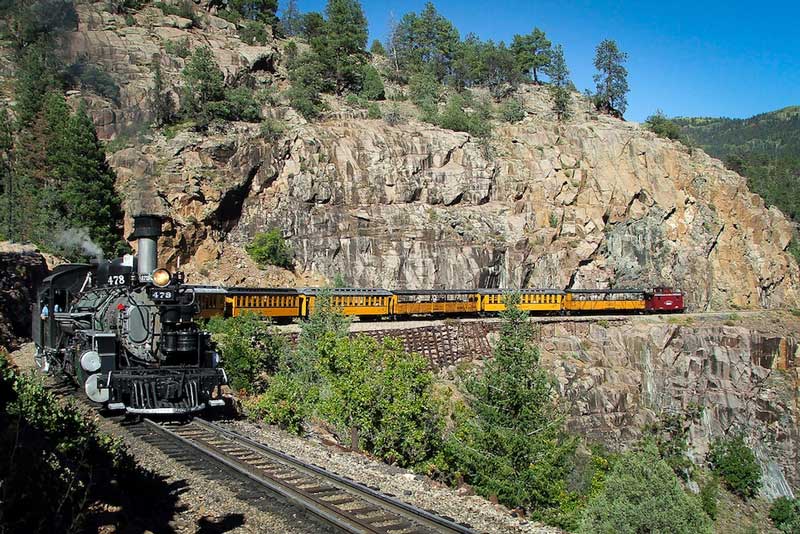 Durango & Silverton Narrow Gauge Railroad, courtesy of Yvonne Lashmett
No need to drive when Colorado's Amtrak routes and historic trains deliver guests to ski resorts, hot springs, zip lines and the Western Slope's wine country. 
Amtrak's California Zephyr is another stellar way to enjoy top-notch scenery and great towns in Colorado. The train travels the spectacular rail route from Chicago to San Francisco with daily stops in Denver, Granby, Fraser, Glenwood Springs and Grand Junction, making it easy for groups to town hop. The Zephyr leaves Denver Union Station daily at 8:05 a.m. and arrives in Glenwood Springs a little before 2 p.m. and Grand Junction just after 4 p.m. While aboard, take a seat in the Zephyr's Observation Car with floor-to-ceiling windows. The Glenwood Springs Train Depot is located in the heart of downtown within easy walking distance of accommodations and Glenwood Hot Springs for soaking. In Grand Junction, walk only five minutes to Main Street for a terrific array of lodging, shopping, dining and public sculptures and consider booking a tour of wine country.
In the southwest part of the state, the Durango & Silverton Narrow Gauge Railroad is a perfect way for groups to explore both Durango and Silverton or stay overnight in both towns. Groups can charter the entire train for travel to either Cascade Canyon or Silverton or book a premier vintage car for up to 24 guests; plus, there are several themed train experiences throughout the year such as photography and holiday excursions. The train operates out of its original 1882 depot in downtown Durango and has a free museum that is definitely worth a visit.
Soaring Treetop Adventures, the first and longest zip line in the United States with 27 zip lines, is located 32 miles north of Durango and accessible only by the D&SNGRR. Spend the day in the forest canopy, taking a break for a four-course gourmet lunch served on a platform along the Animas River.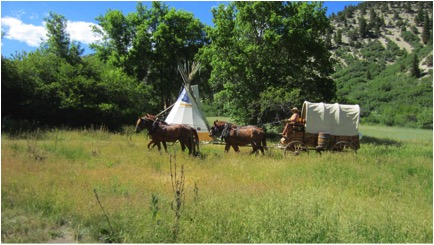 Y Bar Hitch's Suffolk Punch horses at work, courtesy of City of Montrose Office of Business and Tourism
It doesn't get much more Colorado iconic than during dog sledding in Snowmass, bundling up for a sleigh ride dinner in Mt. Crested Butte or riding horseback through canyon country or a wild horse preserve near Grand Junction. 
Sometimes getting to the meal is just as much fun as the culinary experience. Groups can dog sled through the pristine Snowmass backcountry to lunch, après or dinner at Krabloonik. Each sled, which can carry up to two adults and a small child, is pulled by 8 to 10 Alaskan huskies and guided by an expert musher. End the excursion dining on Colorado fare, from hearty stews to exquisite game dishes, in a warm gas-lit log cabin.
At Crested Butte Mountain Resort, board a huge sleigh and pile on blankets while being pulled by a snowcat to the mid-mountain Uley's Cabin for a gourmet dinner that is Colorado-centric with a French flair. Sleigh-ride dinners are available Wednesday through Sunday evenings.
In Montrose, hitches of rare Suffolk Punch horses are providing downtown shopping transportation options, memorable local historical tours, and unforgettable equine-hitched experiences for groups. Making public appearances in events around the country and fast becoming a regional favorite, the Y Bar Hitch's mid-size chestnut horses often can be seen pulling exquisite limousine surreys, beautiful carriages and wagonettes, and even a full-scale operational chuck wagon. Y Bar Hitch can accommodate transportation for an intimate affair for two to groups of 75 using several teams or even larger groups with multiple trips.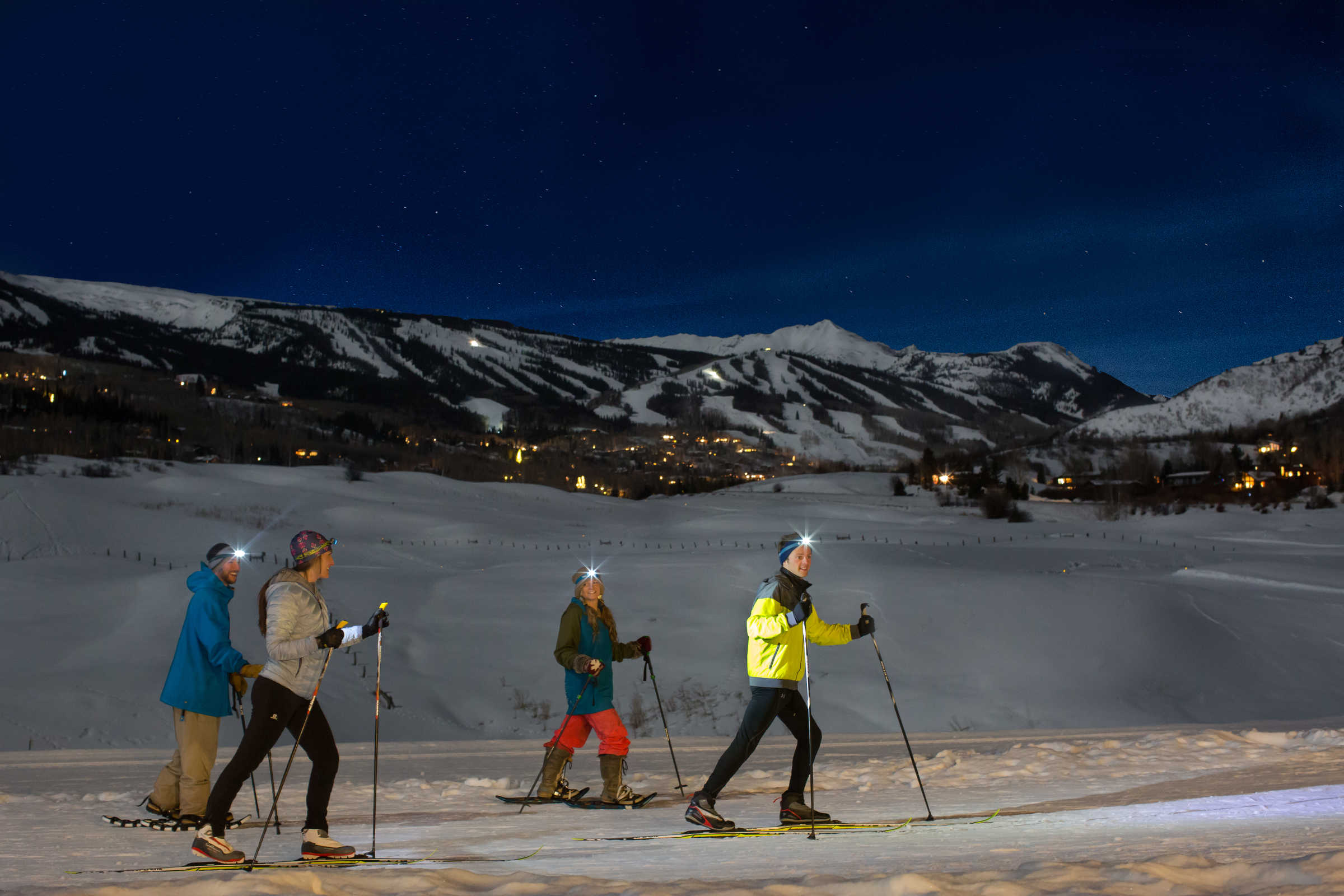 Moonlight Trek & Dinner, courtesy of Snowmass Tourism 
Dr. Seuss could surely add to this list but it's already filled with bikes, rafts and snowy ways to explore in Snowmass, Denver, Golden, Glenwood Springs and Gunnison. 
In Denver, do your own pedaling with B-cycle, the city's popular bike-sharing program with 88 stations to pick up and drop off red Trek cruiser bikes. Or let someone else do the work by hiring pedi-cabs (human powered bike taxis) to transport groups for fun or events. Being whisked through downtown at night with a pedi-cab decked out with miniature lights and sometimes featuring music is truly unforgettable.
Instead of pedaling, grab a paddle with Blazing Adventures for a Shoshone Sunset Dinner. The dinner includes an afternoon raft trip in the early summer on the Colorado River before enjoying dinner at a picturesque private takeout in Glenwood Springs. Just over the mountain as a crow flies, Three Rivers Resort & Outfitting in Almont teams up with Garlic Mike's restaurant seven nights a week during the summer to offer Rocky Mountain-style dinner "cruises." Depart by 4 p.m. on a scenic float trip along 10 miles of the Gunnison River before pulling the rafts in right by the back lawn and patio of this Italian eatery. 
Groups can combine a workout, dinner and stunning nighttime views during a Moonlight Trek & Dinner in Snowmass. The 1.2-mile snowshoe or cross-country ski tour under the stars goes to Anderson Ranch Arts Center, with stops for cocoa and photos with the Snowmass Fire Department and Snowmass Chapel along the way and a finish at Snowmass Club's Black Saddle Bar & Grille for a pasta feast, s'mores and live music.