By Beth Buehler  
Whether it's sweet corn in Olathe, peaches in Palisade, potatoes in Alamosa or chiles in Pueblo, Colorado knows how to celebrate bountiful harvest seasons and deliver mouthwatering cuisine. Check out these delicious ideas for groups to include cooking schools and classes, farm dinners, farm-to-table meals, and outings that combine food and action into itineraries. Don't forget to tap into farmers' markets and culinary festivals like Greeley Potato Day, Telluride Mushroom Festival and Loveland's Corn Roast Festival. Enjoy the many flavors of Colorado!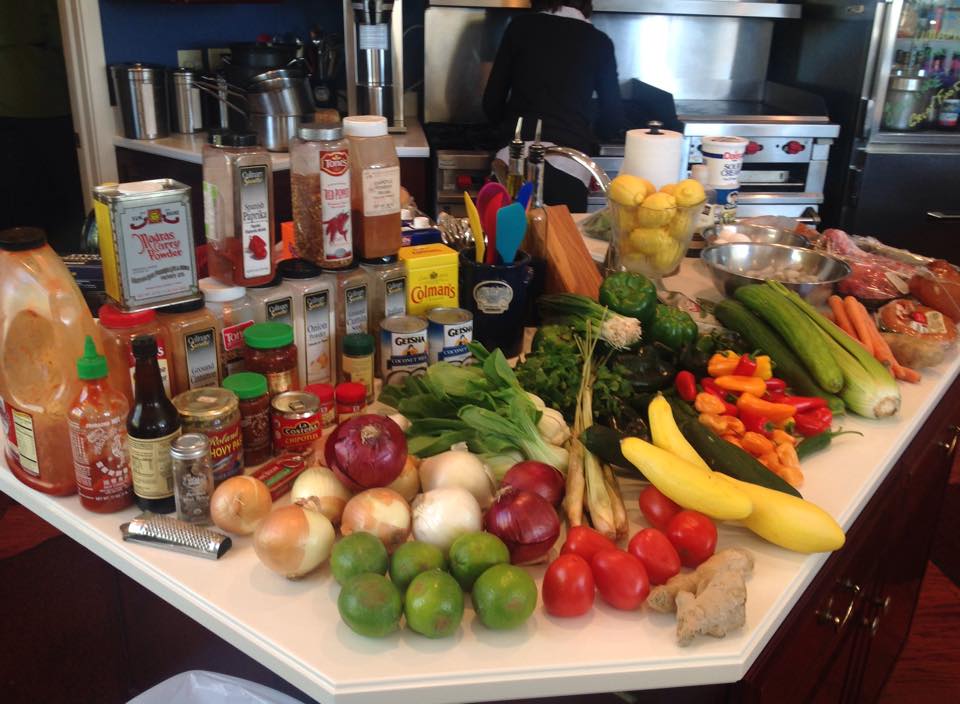 Cooking classes at Claremont Inn & Winery
Aspen and Boulder have new cooking schools with personable chef instructors and the latest in equipment, and the chef/owner of a country inn in Stratton sends groups home with all sorts of ideas from themed cooking classes and memories of a meal at the chef's table.
The recently opened Cooking School of Aspen, a 3,000-square-feet space in the heart of downtown Aspen, offers hands-on cooking, demonstration and tasting classes for individuals and groups of 10 to 120. All skill levels are welcome! The chef instructor might be one of the school's culinary team members, a local chef or a celebrity chef. Cooking School of Aspen also hosts weekly farm-to-table dinners in the summer and occasional pop-up restaurant theme nights with chefs flown in from around the world. 
Chef Casey Easton started her career in natural foods and has opened Food Lab, a cooking studio in Boulder, and created a large menu of classes ranging from hands-on cooking and wine-pairing classes to Iron Chef-style competitions. Classes for up to 25 participants can be held and customized for groups. 
A country inn for more than 20 years and a winery for four years, Claremont Inn & Winery in Stratton offers action-packed cooking classes led by Owner/Chef Dave Dischner such as Northern Italian, Southern Italian, French Bistro, Hot and Spicy, Herbs and Spices, and Grilling. Or sit down to a nine-course Chef's Tasting Menu Dinner served at a private chef's table with each course introduced by the chef and wines paired and poured by the winemaker. 
STRAIGHT FROM THE FARM OR RANCH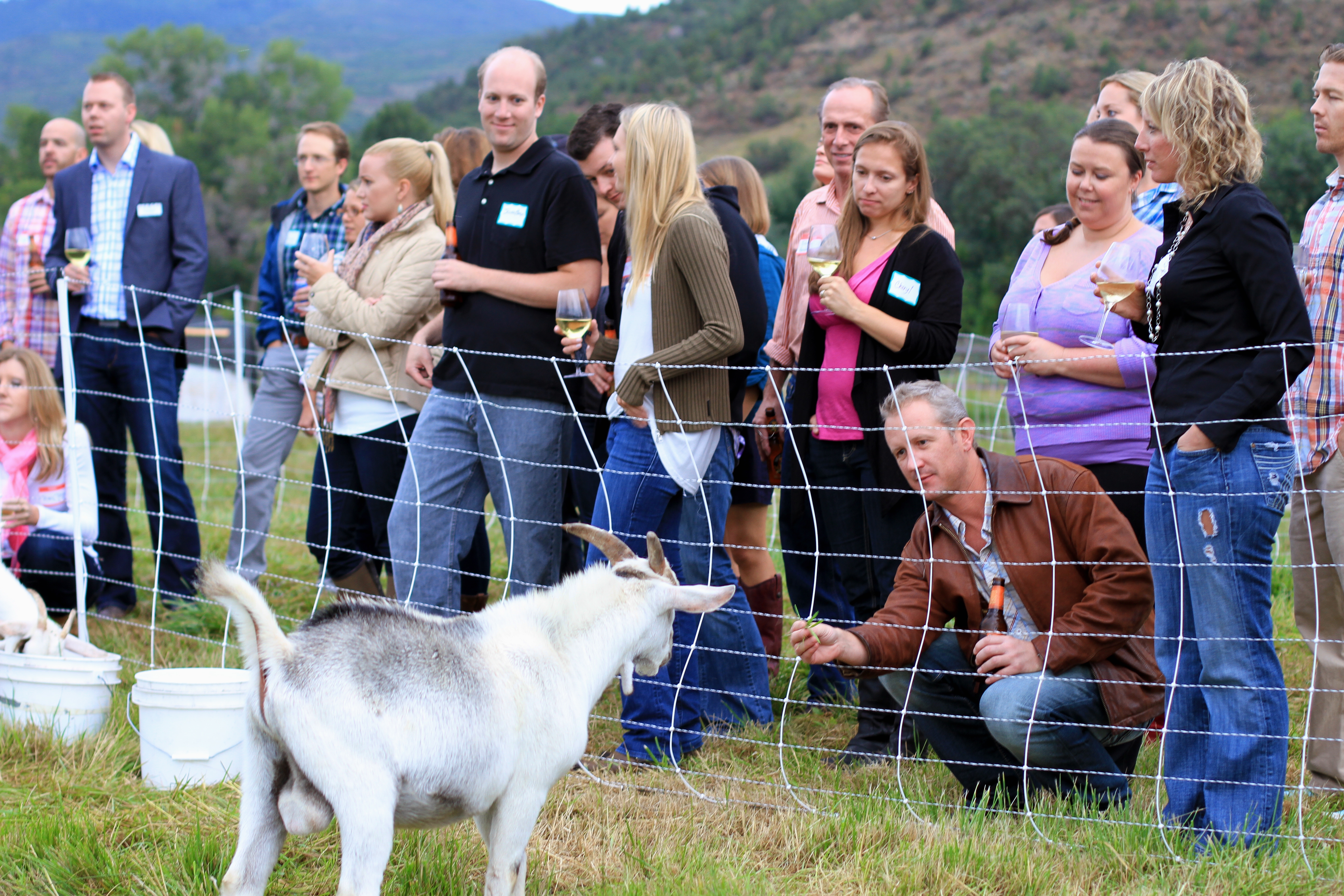 A farm tour at Rock Bottom Ranch during an ACES farm-to-table dinner
Colorado is on the forefront of local foods being used to showcase the best meats, cheeses, produce and products the state has to offer. Head to the farm or distillery or let a catering company bring the stellar tastes to you.
Aspen Center for Environmental Studies (ACES) showcases many of the best regional products and celebrates local and sustainable agriculture with farm-to-table summer dinners. Guests are treated to a guided farm tour, the opportunity to meet local producers, and a five-course meal of local foods, beer, wine and spirits in the open-air pole barn at Rock Bottom Ranch. 
With approximately 850 farms in Boulder County and the title of "America's Foodiest Town" by Bon Appetit, chefs are taking farm-to-fork to a whole new level in Boulder. Choose a seasonally focused restaurant with private dining like Salt, Leaf or Blackbelly or attend a spectacular farm dinner with mountain views. Boulder-based A Spice of Life Catering + Events partners with several of the nearly 20 farms that offer visitor experiences to serve on-site farm dinners with ingredients harvested just a few hours prior or the company can bring the farm to groups with farm-inspired menus. 
Chef Daniel O'Brien is leading the charge in opening an intimate and modern farm-to-table experience at Breckenridge Distillery this summer. The distillery is partnering with Breckenridge area regional farmers and ranchers who utilize spent grains from whiskey production in raising heritage breed animals. Oak staves from whiskey barrels fuel an open grill in the kitchen, and the 8,000-square-foot expansion to the distillery includes a large barrelhouse and event space. 
Grand Cochon, Snowmass (photo courtesy of Max Flatow Photography/Cochon555)
Select from a menu of happy hour hikes, ski to dinner and then sleep in a yurt, get immersed in an culinary festival, attend a heritage food event, or indulge in a chuck wagon supper complete with Old West entertainment to combine food with fun activities.
Snowmass hosts Heritage Fire and Grand Cochon in June, with an all-star dinner featuring six celebrity chefs in between. Heritage Fire is an annual wood-fired, meat-laden feast with more than 40 notable chefs and butchers cooking 3,000 pounds of heritage-breed meat, celebrating breed diversity and family farming, and partnering with a collection of wineries, breweries and craft distillers. For Grand Cochon, chefs take part in regional competitions across the country for the chance to compete in this head-to-tail, winner-take-all culinary showdown that includes more than 1,200 pounds of heritage breed pork and features the signature dishes that won these chefs tickets to Snowmass.   
Tennessee Pass Cookhouse near Leadville offers hike-in (June 26–Oct. 4) and snowshoe/ski-in (Thanksgiving through mid-April) gourmet dinners. A mile-long trek through the forest leads to a warm yurt and four-course candlelight dinner. Examples of entrees include Colorado rack of lamb with a fresh herb gremolata, rainbow trout with lemon and dill stuffing, grilled elk tenderloin with a port reduction of blueberry and sage, and oven-roasted pheasant stuffed with wild mushroom and apricot. Lunch is available on winter weekends, and Tennessee Pass also offers sleeping yurts, complete with breakfast baskets and evening room service.
For a taste of the West, head to Bar D Chuckwagon Suppers in Durango for a music and comedy show by Bar D Wranglers and delicious choices of rib eye steak, roast beef and chicken served with sides of oven-baked beans, flaky biscuits, chunky applesauce, old-fashioned spice cake, cowboy coffee and more.  
Grand Junction and the entire Grand Valley of Colorado has been known as a fruit growing area since the late 1800s, and this tradition has expanded into wine, beer, spirits, cider and lavender that utilize local crops. Enjoy the bounty at local restaurants and utilize the Grand Junction Visitor & Convention Bureau's curated list of five happy hour hikes that combine strolling, sipping, and savoring snacks or a meal. 
La Veta Farm to Table not only owns Cuchara Kitchen in Cuchara and Ryus Avenue Bakery and Cafe in La Veta, it operates Cucharas River Farm, a bio-dynamic market farm that raises heritage chickens and Berkshire pigs, turkeys, ducks and geese along with heirloom vegetables, flowers, herbs, berries and fruit trees. At the Heritage Pig Roast on Aug. 14, tour the farm and enjoy a feast made from ingredients raised and grown at the farm along with s'mores and songs around the campfire and Colorado craft brews. On Sept. 4, La Veta Farm to Table and Francisco Fort Museum are presenting La Veta Heritage Dinner to highlight the area's rich farming and ranching heritage using food grown in the fort's demonstration garden. Cooking and fiber demonstrations and storytelling are also part of this cultural and culinary experience. 
Watch Videos >>