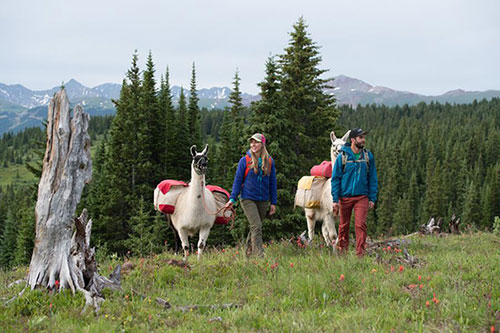 By Beth Buehler
There is a big difference between traveling through a state and truly experiencing it. Colorado is bursting at the seams with unique ways to dive into natural surroundings, history, healthy living, farm and ranch visits, and memorable adventures.
1. Unique Moments in Nature
The National Park Service is gearing up to celebrate 100 years of protecting beautiful places across the country such as Colorado's four national parks, which offer vastly diverse and unique experiences. The state also is home to eight national monuments, four national historic trails, a national recreation area, two national historic sites and a river corridor. That is a lot of outdoor splendor to enjoy!
Between Gunnison and Montrose, Black Canyon of the Gunnison National Park focuses on the drama of 2,700 feet of sheer black walls falling into the Gunnison River, while Great Sand Dunes National Park and Preserve near Alamosa has mountains of sand that stand higher than anywhere else in North America.
In the southwest, near Cortez and Durango, Mesa Verde National Park is the largest archeological preserve in the United States, taking visitors back in time with more than 700 years of Ancestral Puebloan history. Nestled between the towns of Estes Park and Grand Lake, the 415-square mile Rocky Mountain National Park encompasses spectacular mountain environments and features the country's highest continuous paved road, Trail Ridge Road.
Colorado National Monument, prominently situated to the west of Grand Junction, is a maze of deep red sandstone canyons sitting atop a rugged base of the oldest rocks on Earth. Devil's Kitchen and Saddlehorn picnic areas within the monument are picturesque locations for a catered breakfast. In Curecanti National Recreation Area west of Gunnison, go on ranger-led Morrow Point Boat Tours through the Black Canyon or rent a pontoon boat to cruise Blue Mesa Reservoir, Colorado's largest body of water.
2. Explore History
What do prehistoric creatures, innovative Native Americans, ghosts, former mining towns and Hollywood westerns have in common? They are all part of Colorado's rich heritage just waiting to be experienced by curious minds. 
Groups will love going on a private dinosaur dig with Fruita's Dinosaur Journey Museum. Mygatt-Moore Quarry expeditions offer an introduction to fieldwork with participants searching for dinosaur bones and teeth and plants with the guidance of a paleontologist. Outings include a picnic lunch and end with a guided tour of the Paleo Lab at Dinosaur Journey.
At Ute Mountain Tribal Park near Cortez, witness Native American interpretation of the culturally diverse homelands of the Ute Mountain Tribe. Guides interpret Ute Indian history, Ute pictographs, geological land formations, and Ancestral Pueblo petroglyphs, artifacts and dwellings.
The majestic Stanley Hotel has long hosted groups and was the inspiration for Stephen King's famous novel, The Shining. To tap into its paranormal legacy, the Stanley offers nightly ghost tours and regular ghost hunts. With the addition of the Cascades Whiskey Bar in 2012, the hotel is now known for another kind of spirit and boasts the largest whiskey collection in Colorado. The latest addition is a permanent, 10,100-square-foot hedge maze. 
Jeep tours are the perfect way to see ghost towns, historic silver and gold mines, wildflowers, wildlife and waterfalls in Ouray. Nearby, the town of Ridgway and the surrounding mountains and valleys have long been settings for classic Hollywood westerns, resulting in regularly scheduled and special tours of filming locations.
3. Healthy & Creative Excursions
Colorado has one of the fittest and creative populations in the United States due to active lifestyles and access to the great outdoors. There are numerous ways groups can plug into this mantra with a few examples being soothing hot springs sprinkled around the state, including two great new options, as well as insightful health and art retreats in the mountains.
The recently debuted Iron Mountain Hot Springs, located on the bank of the Colorado River in Glenwood Springs, has 16 naturally shaped mineral hot springs pools, a freshwater family pool and Sopris Café. The property dates back to 1896, but this latest, totally new version has the vision of the nearby Glenwood Caverns Adventure Park owners behind it.
Sand Dunes Swimming Pool in Hooper recently added a 10,000-square-foot greenhouse for adults only with a zero-entry hot springs pool, soaking tubs, sauna, Steel Box Bar and a botanical garden featuring northwest hops. The hops are delivered to Three Barrel Brewing in nearby Del Norte along with a tanker of spring water to be transformed into a custom brew just for the greenhouse.
Vail Vitality Center offers one-, three- and five-day Executive Health Retreats that provide a personalized blueprint of optimal nutritional balance, fitness and stress management paired with accommodations at Vail Mountain Lodge. Participants receive a comprehensive report, lifestyle recommendations and follow-up conversations.
Situated on a 4.5-square-acre campus with state-of-the-art artist studios located in historic buildings, Anderson Ranch in Snowmass helps people uncover, develop and stretch their creative spirits. Originally a turn-of-the-century working ranch, Anderson Ranch was converted in 1966 into an informal artists' collective and learning community. Gallery exhibitions, lectures, workshops and special events are offered throughout the year, and The Ranch Café is available on-site for meals.  
4. Farm & Vineyard Experiences
There is no shortage of great ranches and farms to visit in the Centennial State. Observe bison, yak and Scottish Highland grazing, learn how to make cheese, wander through a vineyard before yoga on the lawn, and pedal to lunch or dinner on Bike to Farm tours.
Zapata Ranch is a working cattle and bison ranch owned and operated by the Nature Conservancy just south of the Great Sand Dunes National Park and Preserve near Alamosa. Horseback, ranch and nature experiences are offered, with lodging available on-site. Cho Ku Rei Ranch Ranch in Moffat raises produce and livestock, including a large herd of Tibetan yak that can be viewed from a former army troop carrier.
Located north of Fort Collins, the new Whiskey Belle Ranch is a Western-styled B&B and home to prized Scottish Highland cattle. Guests at the 1894 ranch house can stroll through the Calloway Orchard, help with chores and savor farm-fresh eggs, beef, produce and herbs.
If artisan cheese is more your group's style, nestled between Del Norte and South Fork on the fourth-generation Knoblauch Ranch, goats eating native grasses are busy making milk for 100 pounds of gourmet feta and chevre cheese crafted weekly. Goats also are the stars at Mountain Goat Lodge in Salida, which offers classes about cheese making, goat care and raising backyard chickens. Four recently added retro campers equipped with all the necessities have expanded accommodation options at the 20-acre property.
Agape Farm & Retreat in Paonia has a lovely main structure with accommodations that overlooks flower gardens and 28 acres of clover and grass fields as well as a large yurt and barn. A three-acre pine forest and Pinot Gris vineyard are fun to explore, plus yoga on the lawn and spa services can be scheduled.
In Boulder, hop on a bike and ride into the countryside with Boulder Bike Tour's  Bike to Farm Tours and savor a meal outside on a farm. This is just one of many food and beverage tours in this hip college town that range from brewery, distillery and restaurant excursions to an insider's look at Celestial Seasoning's tea factory. 
5. Lodging + Adventures Made Easy
Mountain hotels have simplified lodging and activity combinations for guests by coming up with ultra-special ways to experience their destinations. Stargazing, llama treks or sailing? No problem. 
In Aspen, The Little Nell's stargazing adventures start off with a Jeep tour up Aspen Mountain to Richmond Ridge and include drinks, dessert and binoculars. The hotel's popular ride and dine series involves biking down valley on the Rio Grande Trail and ending at a farm, ranch or other location highlighting local purveyors. Limelight Hotel offers Historical and Environmental Cruiser Bike Tours, a Bikes and Beer Ride Series, and new Paint-N-Beer classes. The nearby St. Regis Aspen lends Lexus courtesy vehicles for a scenic drive to Ruedi Reservoir, where guides from Aspen Sailing School provide instruction and a gourmet lunch served in a private cove or at the Aspen Yacht Club.
Four Seasons Vail and Antlers at Vail have teamed up with Paragon Guides to provide memorable llama trekking experiences for many fitness levels. During Take a Llama to Lunch, friendly llamas carry a group's gear and lunch and guests walk alongside to a beautiful mountain location. On Sundays, accompany a Four Seasons Vail chef to the local farmers' market and help select fresh ingredients for a cooking lesson that follows.
This is only the tip of the experience iceberg in Colorado. There are almost endless options to embrace what makes the state a standout option for meeting planners and tour operators.
Watch Videos >>