Click here for additional ideas and information about iconic places for a Colorado meeting, and to search for meeting venues by region or statewide.
Artist Lawrence Argent's "I See What You Mean" at the Colorado Convention Center (photo courtesy of VISIT DENVER)
What makes something iconic? It's a place or experience that is truly unusual, inspires and evokes emotion, and Colorado has plenty. 
Artist Lawrence Argent probably didn't expect his sculpture of a gigantic blue bear peeking into Denver's Colorado Convention Center would become an icon. "I See What You Mean" has photo-bombed countless selfies of convention-goers and tourists from around the globe and is sold in miniature for a fun souvenir or welcome gift. 
Perhaps it is a cocktail reception on a Denver Museum of Nature & Science patio with the downtown Denver skyline framed as a backdrop, before going inside for a night at the museum. Or it might be a corporate retreat or picnic at the 3,200-acre Sylvan Dale Guest Ranch, known for its legendary Western hospitality since 1946 and premiere location along the banks of the Big Thompson River, west of Loveland.
Gifts of Nature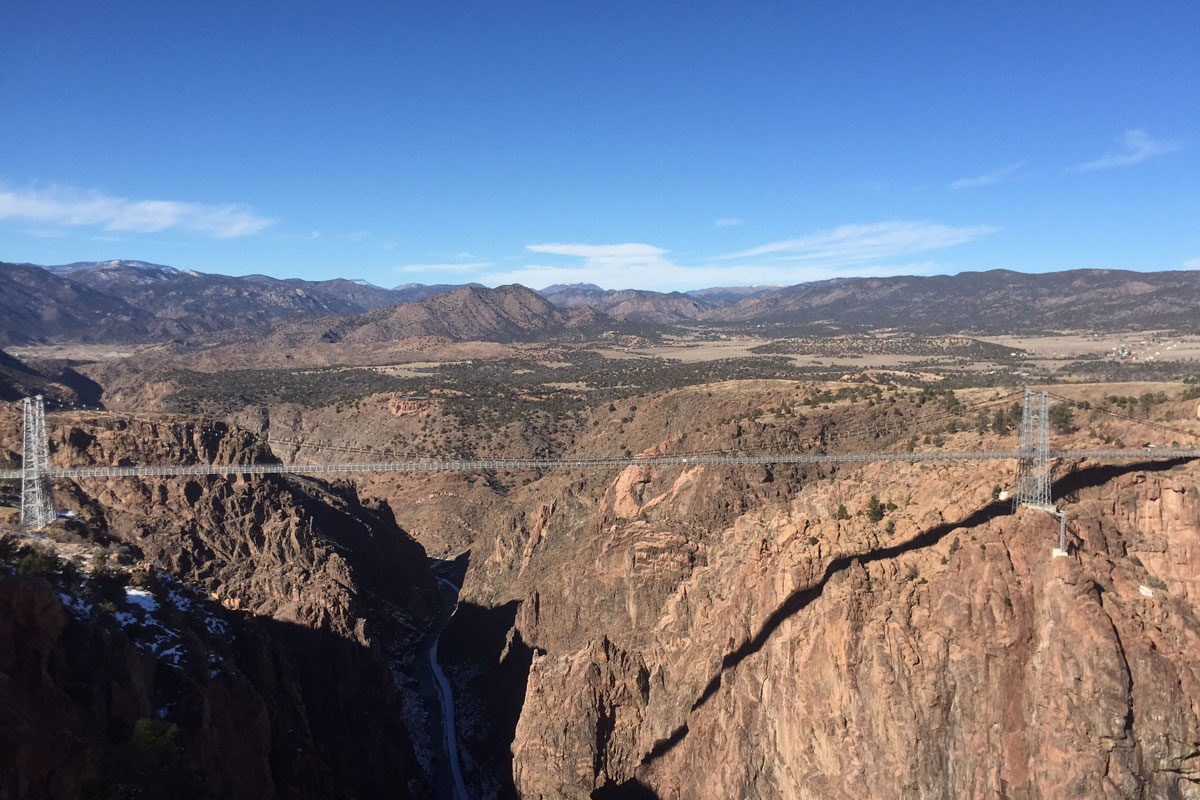 Royal Gorge Bridge & Park near Cañon City (photo courtesy of Visit Colorado Springs)
One of Colorado's greatest gifts is the abundance of natural beauty and places that help people experience true wonders. Colorado's four national parks — Rocky Mountain National Park between Estes Park and Grand Lake, Mesa Verde National Park near Cortez and Durango, Black Canyon of the Gunnison National Park between Montrose and Gunnison and Great Sand Dunes National Park and Preserve near Alamosa — are more than worthy of space on group itineraries, with unique options for outdoor activities, ranger programs and more. 
Near Aspen, the Maroon Bells are a series of bell-shaped peaks that tower 14,000 feet above a pristine lake and the beautiful Maroon Valley. Not only are they the most-photographed mountains in North America, Maroon Lake and a variety of hiking trails from there are easy to reach from town via the public bus system.   
Rock formations are the stars at Red Rocks Park & Amphitheatre near Denver and Garden of the Gods Park in Colorado Springs. Many of the world's biggest names in music — from the Beatles, U2 and Sting to opera singers — have performed at the 9,525-seat Red Rocks Amphitheatre since it opened in 1941, so it's no surprise that it was tapped as the location of the Colorado Music Hall of Fame. Book a concert, tap into one already on the schedule or host a gathering at the 30,000-square-foot visitor center, with time to wander the trails or take part in Yoga on the Rocks.   
The 1,367-acre Garden of the Gods Park in Colorado Springs is equally as stunning, with 300-foot towering sandstone rock formations perfectly juxtaposed against snow-capped Pikes Peak. Named a National Natural Landmark in 2015, Garden of the Gods can be explored on foot, trolley, Jeep or Segway, and Garden of the Gods Collection nearby provides a place to stay and meet. 
Located one hour southwest of Colorado Springs near Cañon City, Royal Gorge Bridge & Park is sure to inspire oohs and aahs from attendees walking across one of the world's highest suspension bridges, towering 956 feet above the Arkansas River, and a few screams of delight (or fright!) on the Cloudscraper Zip Line and Royal Rush Skycoaster. Bridge construction started in 1929, and today Royal Gorge Bridge & Park is a must-see on many travelers' and groups' lists, with terrific options for scenic picnics, inside dining and meetings. 
Historic Beauties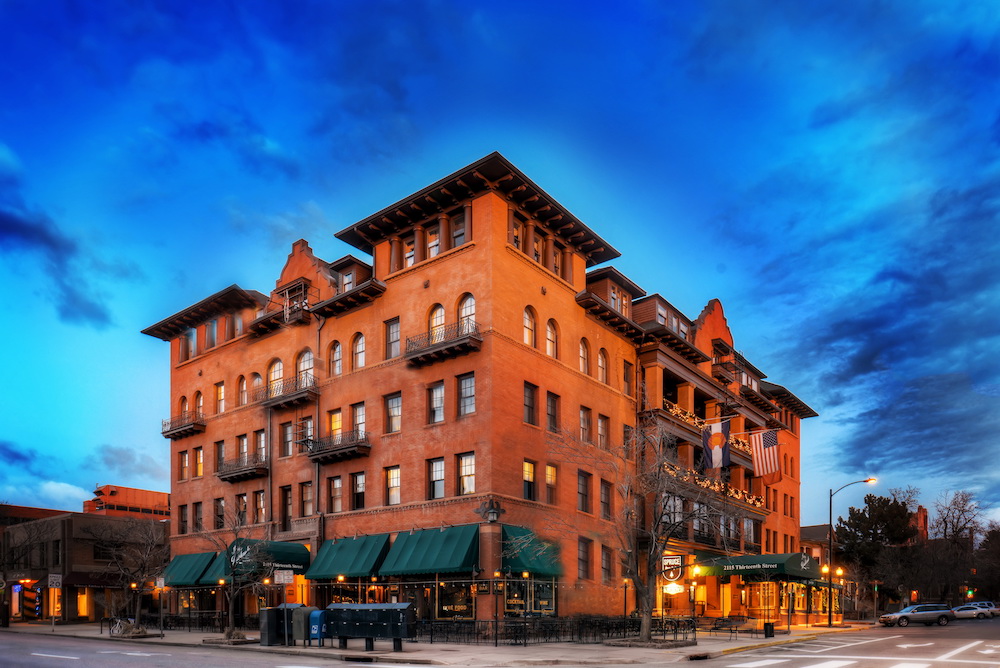 Hotel Boulderado in Boulder (photo courtesy of Hotel Boulderado)
Colorado has its fair share of jaw-dropping historic hotels that offer memorable options for groups, such as The Stanley in Estes Park, The Broadmoor in Colorado Springs, Hotel Jerome in Aspen, New Sheridan Hotel in Telluride, Strater Hotel in Durango, Hotel Colorado in Glenwood Springs, Brown Palace Hotel & Spa in Denver, and Hotel Boulderado in Boulder. Top-notch customer service, plentiful meeting and event space, great locations and rich senses of place make these properties worthy of consideration.
Gathering on the top five floors of downtown Denver's iconic Daniels & Fisher Clocktower and behind the huge clock face is also sure to amaze guests. Equally impressive is the transformation of Denver Union Station into the humming central business district's "living room," with a major renovation and the addition of locally owned restaurants and shops, meeting and event space, and The Crawford Hotel in 2014. It's also a hub for light rail and ground transportation, with a handy and inexpensive route to Denver International Airport.
Good Sports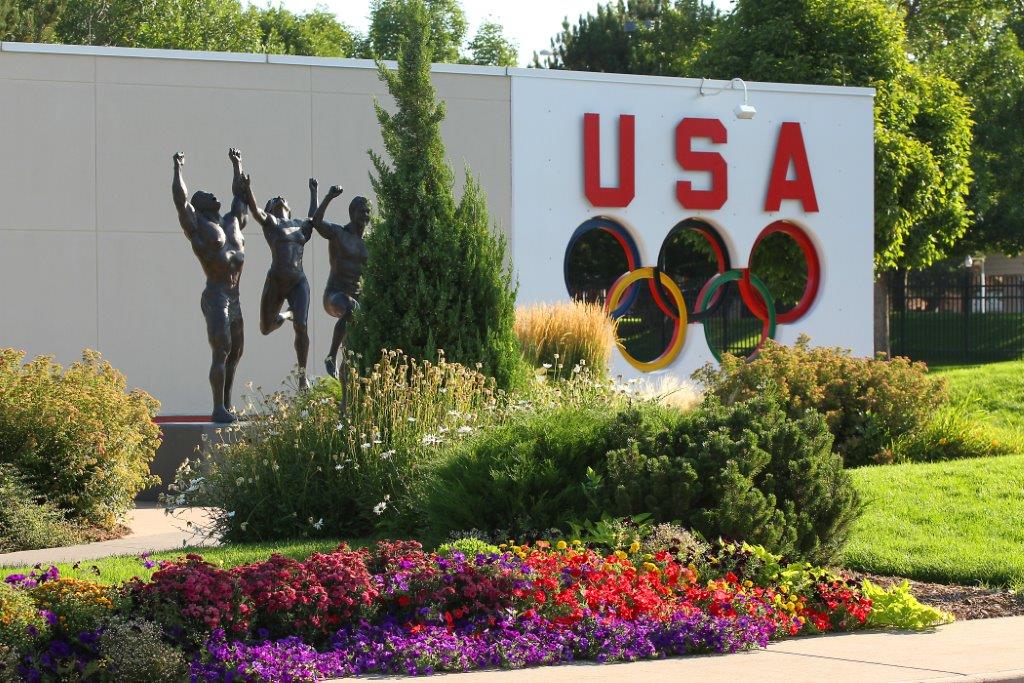 The U.S. Olympic Training Center in Colorado Springs (photo courtesy of Visit Colorado Springs)
Coors Field is just steps from Denver Union Station and not only has it been home to the Colorado Rockies professional baseball team since opening in 1995, it's a great place for year-round gatherings, including game days. Cocktails in the visitor's clubhouse, holiday parties in the Mountain Ranch Club or corporate meetings in the Super Suite Conference Center are just some of the many options available. Plus, don't forget to visit The Rooftop when the Rockies are in action.
Catch other professional sports action in the Denver metropolitan area by booking meeting and event space and unique activities that will impress at Sports Authority Field at Mile High, home of Denver Broncos football; Pepsi Center, location of Denver Nuggets basketball and Colorado Avalanche hockey games; and Dick's Sporting Goods Park, home of the Colorado Rapids soccer team.    
Also catch a glimpse of high-level sports at the U.S. Olympic Training Center in Colorado Springs, which provides housing, dining, training and recreational facilities and other services for more than 500 athletes and coaches. The training center also offers state-of-the-art facilities for groups, with 10 meeting rooms and 65,000 square feet of combined meeting space. Enjoy the full Olympic and Paralympic athlete experience by adding a sports demonstration, athlete speaker, meal at the Team USA dining hall and team-building activity. 
Click here for additional ideas and information about iconic places for a Colorado meeting, and to search for meeting venues by region or statewide. 
Watch Videos >>