Colorado is known not only for its mountain majesty, it's a state populated by residents and businesses that make health and wellness a priority. Groups can easily tie into this mantra and have participants walk away reenergized, happy and asking for more.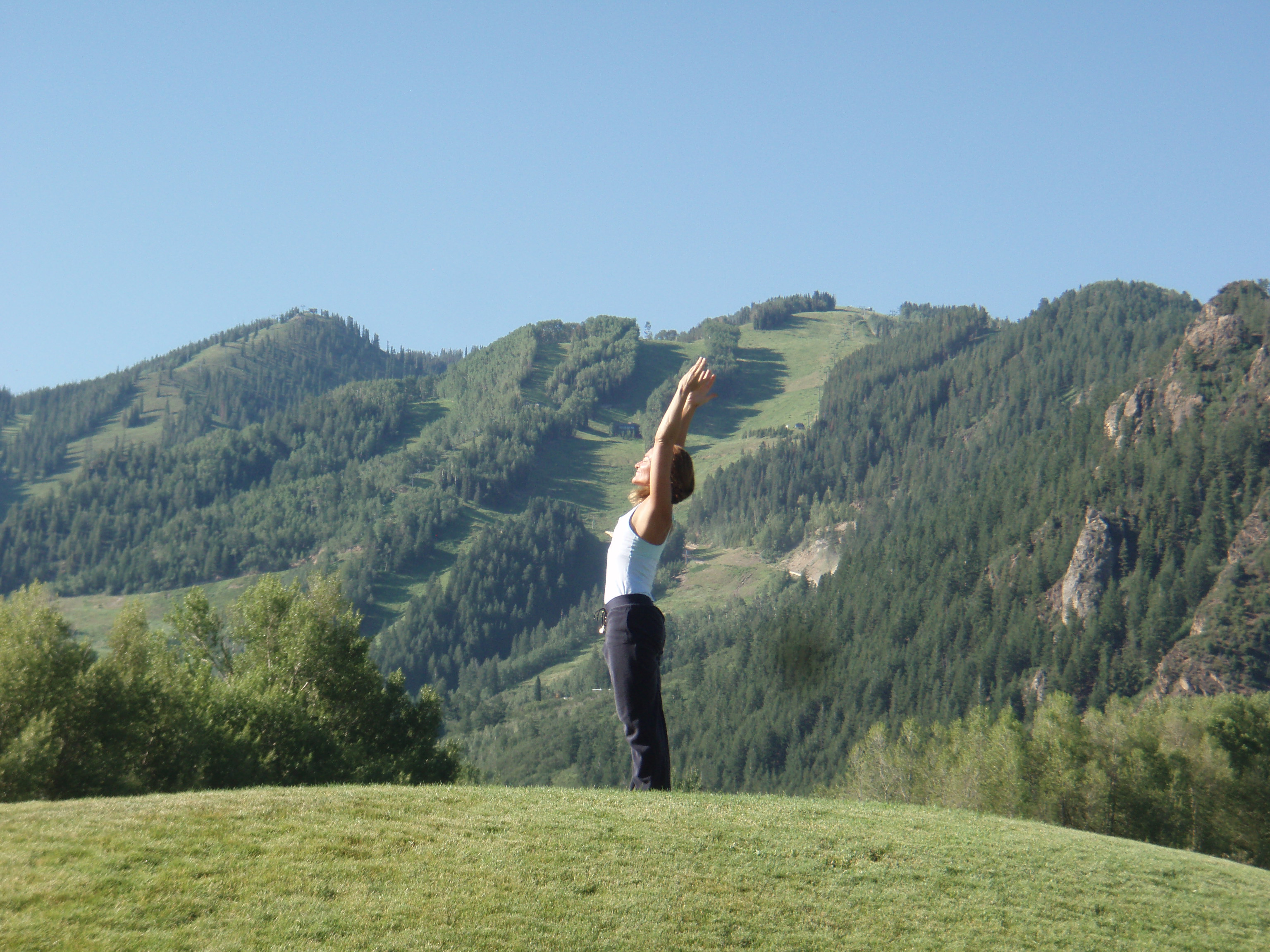 Yoga at Aspen Meadows Resort (photo credit: Aspen Meadows Resort)
There is no need to go to all the work of planning a wellness/adventure getaway in Colorado. Someone else has taken care of all the details of organizing outstanding retreats, festivals and even biweekly yoga sessions at a state park.  
The Telluride WOW Weekend of Wellness is a health, fitness and wellness festival on June 9–12 that brings world-class presenters, instructors and athletes to Telluride for classes and experiences that tie into the latest health, fitness, wellness, nutrition and medical trends. Participants get started on a new fitness program or advance skills in a variety of activities ranging from adventure racing, boot camp, climbing and cycling to Pilates, yoga, CrossFit and more.
Colorado's hot springs are ideal locations for several unique retreats being offered by Bella Retreats that groups can plug into in 2016 and beyond. For example a yoga and writing retreat is on tap for May 17 – 22 at Joyful Journey Hot Springs in Moffat; Prana & Ponies on June 23 – 26 at Waunita Hot Springs Ranch near Gunnison; yoga, dance and flow arts on July 7 – 10 at The Springs Resort & Spa in Pagosa Springs; and Kindness Yoga & Hot Springs at Mt. Princeton Hot Springs in Nathrop on Oct. 20 – 23. There also is a yoga retreat planned at Shadowcliff, an eco-friendly mountain sanctuary in Grand Lake near Rocky Mountain National Park, on July 15 – 18.
Crested Butte Wellness Retreats offers monthly three-night, four-day retreats (including two in July at the peak of wildflower season) and customized retreats for groups. Retreats are all-inclusive and include lodging at one of three properties, meals, juicing, yoga, Pilates, spa treatments, nutrition and wellness workshops, Canvas & Cocktails/Mocktails painting class and activities like hiking, biking, cross-country and downhill skiing, snowshoeing, tubing, zip lining and more. Groups and individuals walk away energized and ready to use what was learned in everyday life.
Every Wednesday and Saturday, Cheyenne Mountain State Park in Colorado Springs offers 9 a.m. yoga classes at the visitor center. Savor the stunning views of one of Colorado's newest state parks that encompasses 2,701 acres and explore the prairie-to-peak ecosystems on 20 miles of hiking and biking trails.
HOT SPRINGS, MINERAL SPRINGS & SPAS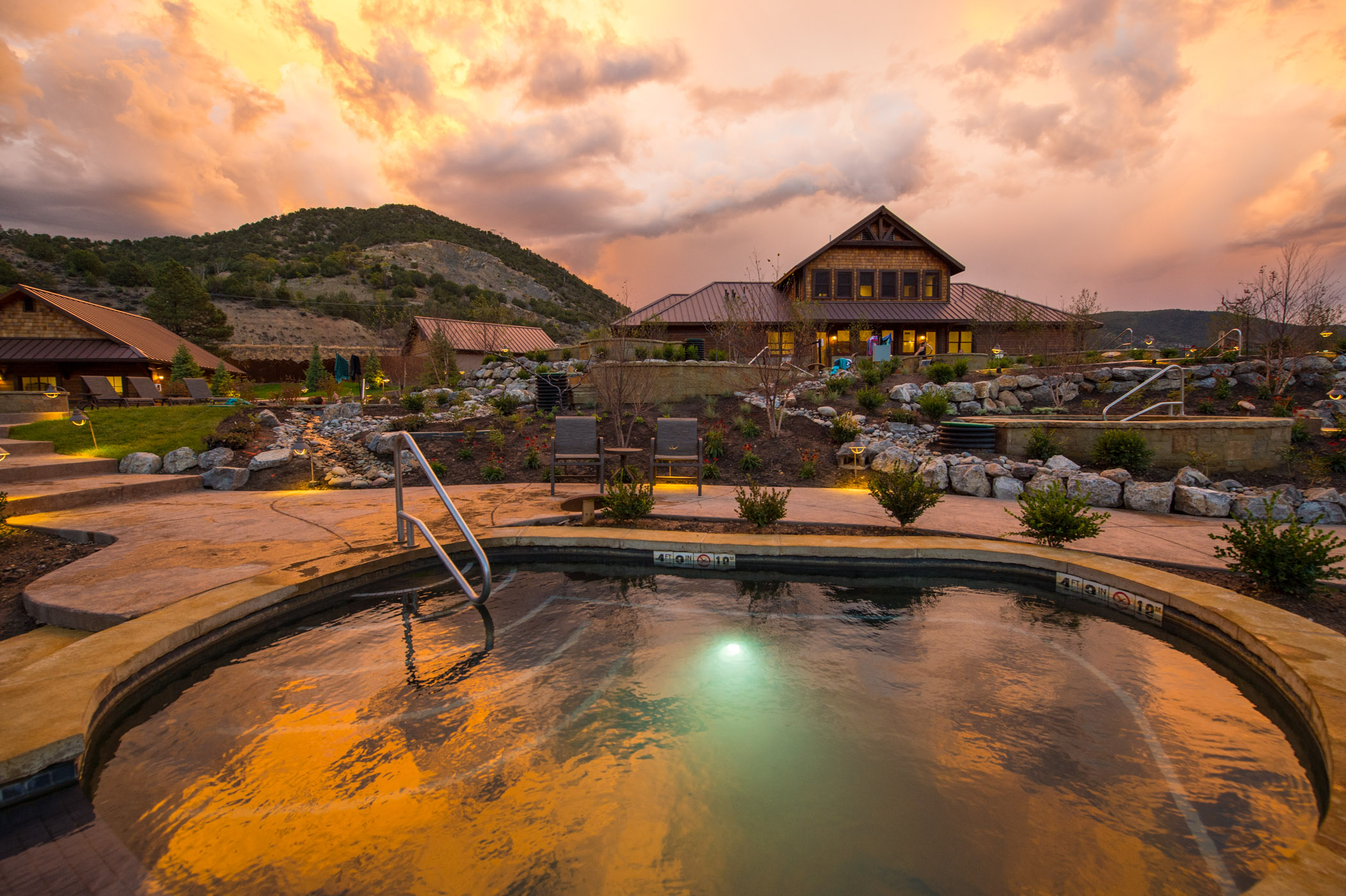 Iron Mountain Hot Springs in Glenwood Springs (photo credit: Iron Mountain Hot Springs)
Centuries ago, Native Americans, the first settlers of what became Colorado in 1876, paid homage to the healing and spiritual powers of mineral and hot springs in the present-day towns of Steamboat Springs, Glenwood Springs and Manitou Springs. There are amazing opportunities to tap these natural resources. 
The Steamboat Springs area is home to more than 150 geothermal hot springs. Old Town Hot Springs in downtown Steamboat Springs also functions as the local health and recreation center. Enjoy a soak after a yoga class, massage or gym workout. Just a couple miles outside of town, Strawberry Park Hot Springs features breathtaking scenery around every corner. Test out the temperatures in the different soaking pools, enjoy a Watsu therapy massage or some lively conversation next to Hot Spring Creek. 
Glenwood Springs has one of the state's newest hot springs facilities. Opened in July 2015, Iron Mountain Hot Springs features 16 mineral hot springs soaking pools that range in temperature from 99 to 108°F and are surrounded by a quiet zone to enhance relaxation. A large freshwater pool heated to 90°F was built nearby with kids and families in mind, along with a café. Views include the Colorado River and surrounding mountains.
Other local geothermal wonders include Glenwood Hot Springs, established in 1888 and now the largest mineral hot springs pool in the world measuring over two blocks long. A spa, 107-room lodge, athletic club, restaurant and mini golf course are among the many amenities. At Yampah Spa the Hot Springs Vapor Caves, thermal spring water flows through the cave floors via narrow channels at a simmering 125°F to create underground geothermal steam baths, plus various spa and salon treatments are available. 
In Manitou Springs, the springs are of the drinking type. Eight springs are open for public use, each with its own distinctive flavor and effervescence. The Mineral Springs Foundation offers walking tours of the mineral springs every Saturday from Memorial Day through Labor Day, and groups can arrange private tours. A mineral springs map, detailed content chart and sampling cups are available at the Manitou Springs Visitor Center. The new SunWater Spa harnesses the healing powers of the area's natural mineral springs, offering yoga classes, treatments and soaking tubs.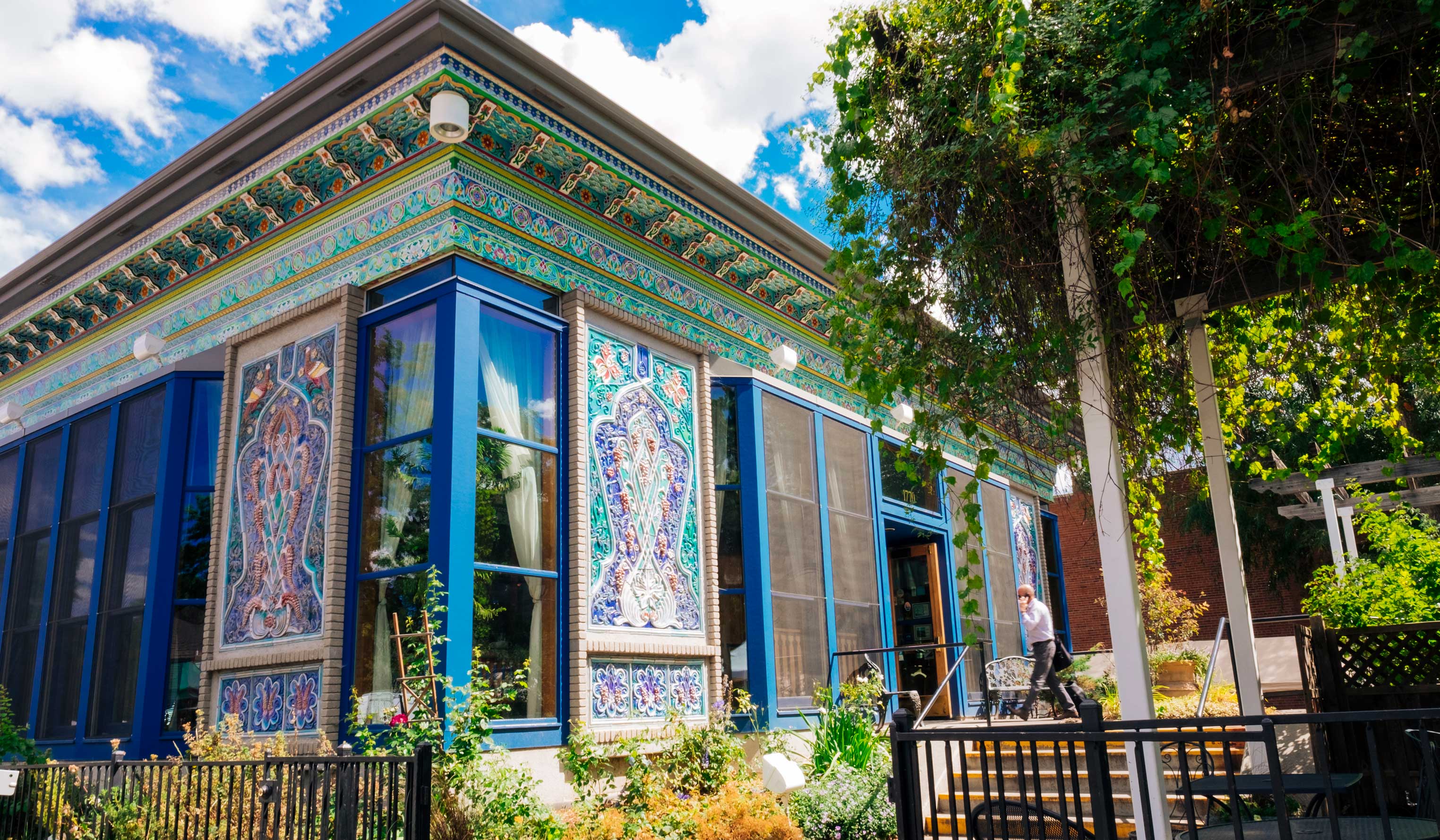 Boulder Dushanbe Teahouse (photo credit: Boulder CVB/Denise Chambers)
Boulder is at the epicenter of providing groups and visitors with the opportunity to volunteer and dine at farms and experience the rituals and benefits of tea through teahouses, afternoon tea, tours and a tea festival. 
Boulder not only is a bustling college town at the foothills of the mountains, it is surrounded by thousands of acres of open space, with a third of that being agricultural land. Hands-on volunteer experiences are available at Cure Organic Farm and McCauley Family Farm. Groups also can bike to a farm brunch or dinner with Boulder Bike Tours and enjoy fresh, local food and learn about organic farming. Regularly scheduled and private rides are available, and bikes are provided — including electric bikes if desired.
It is safe to say that Boulderites love a calming cup of tea. Ku Cha House of Tea has a calendar of tea tastings and classes, and Pekoe Sip House has three locations, with the star attraction being tea. Afternoon tea is offered at St Julien Hotel & Spa, Chautauqua Dining Hall, Leaf, Boulder Dushanbe Teahouse and Hotel Boulderado, ranging from daily, weekly and seasonally.