A Message From Cathy
Many of us learn about leadership the same way we learn about being parents — from making a conscious decision we don't want to be like THAT.
But in a world filled with challenges to address, reactive leadership is not the answer.
Here in Colorado, in our own small way, we are joining forces to chart a better path. On so many fronts, our state is sharing important messages about the kind of world we want to live in and the key role of informed, self-actualized leaders.
Our annual Colorado Governor's Tourism Conference — Oct. 25–27 in Grand Junction – offers especially rich opportunities this year to express our state's thought leadership.
It all starts with our conference theme, "Colorado the World," turning our state into a verb. This wonderful theme expresses a heartfelt conviction that our planet would be a better place if we could spread a little more Colorado around the globe. 
In true Colorado fashion, it's a humble brag, which is not really a brag at all. Like the way Chad Jukes of Ridgway, the first person ever to summit Everest on a prosthetic leg, downplays his incredible accomplishment. In his part of Colorado, he says, it's not all that unusual to have climbed the world's highest mountain. At a party last summer, he points out, his group of four suddenly realized three of them had topped Everest.
Our aim to "Colorado the World" is less about our higher altitudes than our open attitudes. Embedded in our Colorado DNA (and our research confirms it) is an innate friendliness, a lack of pretentiousness, tolerance for others, deep respect for nature and a simple joy in taking on challenges that make us feel more alive. 
It's these Colorado qualities that inspired the Town of Vail and Avon-based Walking Mountains Science Center to create and embrace the innovative Actively Green program. Their efforts to reduce the environmental impacts of everything from city operations to local hotels and restaurants to the weekly farmers market won them recognition just last week as one of the world's "Top 100 Sustainable Destinations" at Greenfest in Cascais, Portugal.
Fostering this Colorado brand of leadership is one of the reasons we are seeking to "Colorado the World" at GovCon this year, laying the groundwork for a warm welcome to all who converge on Denver May 19–23 for IPW, the U.S. Travel Association's annual global tradeshow. 
And it's certainly one of the reasons we've created the Colorado Tourism Leadership Journey, our brand-new, yearlong executive training program. Our goal was not only to build our industry's bench strength, but to encourage the growth of self-actualized tourism leaders who exemplify and embrace our state's best qualities.
With all the challenges in our world these days, we just can't be humble about what's happening in Colorado anymore.
Marketing Highlights
CTO Launches Winter Campaign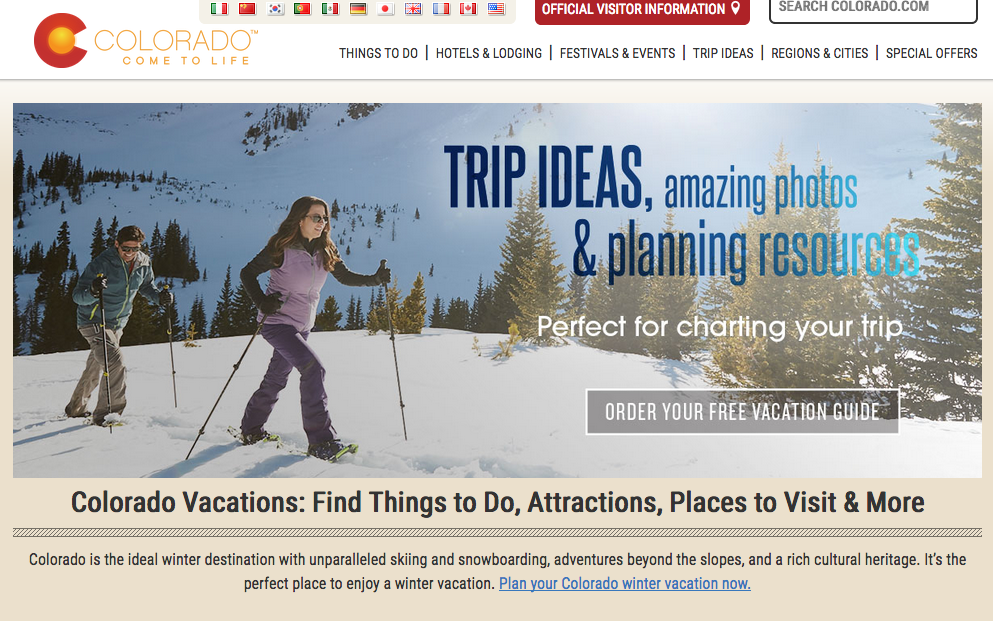 The CTO winter campaign launches this month with a mix of digital, TV and airport tactics. The campaign promotes winter activities and leads to a landing page on Colorado.com infused with user-generated images and inspiring articles. The campaign will continue to be supported by PR and social media efforts.
Last Call: Colorado Official State Vacation Guide Advertising
The advertising deadlines for the 2018 Official State Vacation Guide are quickly approaching: Oct. 20 for listings and Oct. 27 for ads. Reserve your space today! 
Contact an advertising sales executive >>
Inside the CTO
Congratulations to Kirstin Koszorus
Following her wedding in September, we're excited to announce that Kirstin Graber, the CTO's communications manager, is now Kirstin Koszorus. Her new email is [email protected]. 
CTO Seeks Communications Intern
The CTO is looking for a hardworking, motivated individual seeking to gain hands-on experience in the exciting world of tourism and public relations. Responsibilities include writing press releases, compiling and managing media lists, coordinating press release distribution, assisting with event planning and implementation, social media and public relations reporting.
View complete description >>
Upcoming Events
2017 Gov Con is Less than One Month Away!
The Colorado tourism industry's premier annual educational event is only a few weeks away, and hotels are filling up fast. Register today and book your room! The conference is Oct. 25–27, 2017, at the Two Rivers Convention Center in Grand Junction. 
Just some of the fun:
Meet & Greet for First-Time Attendees on Wednesday, Oct. 25
Silent Auction for bidding on great prizes until midnight on Thursday, Oct. 26
Relax and Recharge Station during the AM Break on Thursday, Oct. 26
Taste of Colorado Reception on Thursday, Oct. 26
After-Hours Event at the Twisted Turtle on Thursday, Oct. 26
Prize Giveaway from the Outlets of Castle Rock, Loveland and Silverthorne at luncheon on Friday, Oct. 27
Post-Conference Tours throughout The Grand Valley. Sign up today! 
This year's agenda offers two outstanding keynotes — Roger Dow, CEO of the U.S. Travel Association, and Rick Steves, internationally known TV host and author. Plus, it's chockfull of great educational sessions on five different tracks: Marketing & PR, Technology & Trends, Small/Rural Communities, International Marketing and Industry Issues. To find out more, explore the complete agenda.
Be part of all that's happening in Grand Junction. Register and book your hotel today.
Uniquely Colorado
If you love Colorado's outdoors, join Volunteers for Outdoor Colorado (VOC) at their 3rd Annual Uniquely Colorado event on Tuesday, Oct. 10. Tickets include admission to the Denver Botanic Gardens' Chatfield Farms and a short program featuring Cathy Ritter from our office. Learn more at voc.org/uniquelycolorado and purchase tickets. 
Destination Development Program News
Request for Proposals: CTO Destination Development Programs
The CTO is seeking a strategic partner to develop and administer a Colorado Rural Tourism Development Program and to create industry-specific workshops and toolkits to provide comprehensive training and resources for rural communities across the state. 
The CTO's main purpose in seeking development and administration of a Colorado Rural Tourism Development Program is to empower early-stage rural destination partners to develop and promote their tourism assets. This program is meant to be a precursor to the Tourism Promotion and Development Blueprint Initiative and assists destinations that do not yet qualify for other CTO programs, such as the Marketing Matching Grant Program. With this program, the CTO intends to provide a six- to eight-module training program that will include education about the tourism industry, visitor readiness, technical skills training, product development options and ideas for strategic partnership development. The facilitator will design a training program to provide in-depth support to rural tourism destinations.  
The CTO's main purpose in seeking development and administration of workshops and toolkits is to provide support and resources to specific industry segments such as Culinary & Agritourism, Cultural & Heritage Tourism and Rural Adventure Tourism. The workshops are intended to be two-module training programs dedicated to a specific industry segment and available to all rural tourism partners. The toolkits are intended to be an online resource hub of 'how-to' information on each industry segment.  
The Director of Destination Development and the Destination Development Committee will provide program oversight. The Destination Development Committee includes two Colorado Tourism Board members and other representatives of rural Colorado. 
Unless otherwise noted, prospective Offeror may make written inquiries via email to Chelsea Gilbertson at [email protected] concerning the RFP to obtain clarification of requirements. All written inquiries must be submitted by the close of business on Sept. 27, 2017, by 5pm MT. Written responses to the inquiries will be shared in a single document by Oct. 6, 2017.
All proposals must be submitted by email to [email protected] by close of business on Oct. 20, 2017, by 5pm MT. 
The winning bidder will be announced Nov. 3, 2017.  
Attend the CHAMP Webinar on Oct. 18
Do you own or work for a cultural, heritage, agritourism or outdoor adventure organization in Colorado? As part of the Colorado Tourism Office's efforts to raise awareness of and appreciation for cultural, heritage, agricultural and outdoor adventure assets statewide, Destination Development offers a peer-assistance and training program for farms and ranches, businesses, museums, attractions and organizations that want to improve or expand their own cultural, heritage tourism, agritourism or outdoor adventure attractions.
Come join our 30-minute webinar on Wednesday, Oct. 18, 2017, from 11:30am–noon, to learn more about the CTO's Cultural, Heritage and Agritourism (and Outdoor Adventure) Mentor Program (CHAMP). CHAMP is a free program that matches applying organizations with a skilled mentor who provides up to 50 hours of consulting support to strengthen or expand existing tourism efforts. Organizations may apply with projects in mind that support such areas as marketing, program or product development or expansion, designing tourist itineraries or museum displays, adding a tourist offering to an existing spectrum of services (like farm-to-table dinners, etc.), among others. Learn about the application process, hear about past CHAMP projects, and find out if CHAMP is a good fit for you and your organization.
Pre-register for the webinar >>
International Tourism Program Updates 
September is always a busy season for the international team. Our state is beautiful in the fall so international FAM trips abound, new flights are on our doorstep, tourism numbers and research are ahead, as well as planning for future endeavors like IPW 2018 in Denver.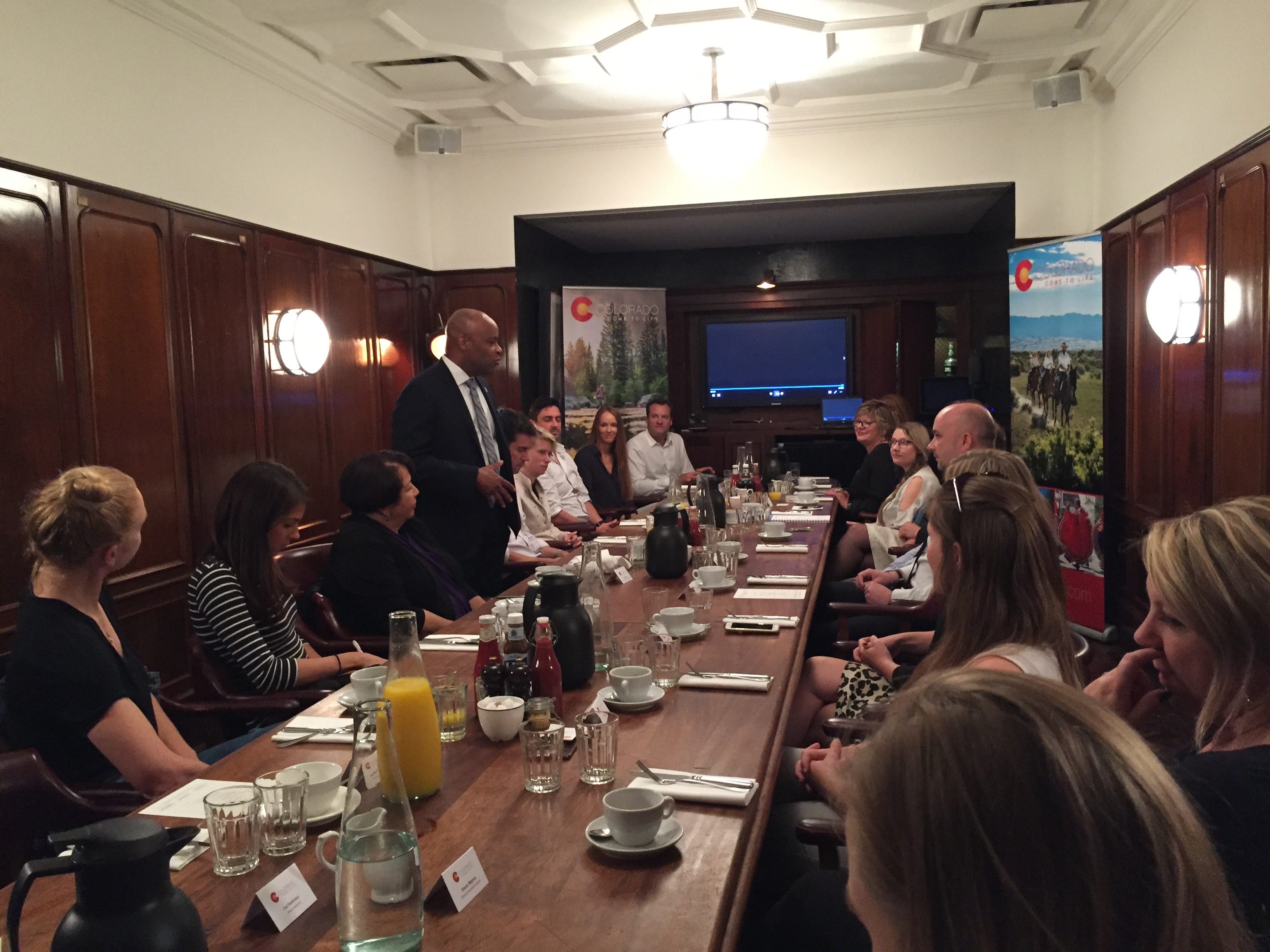 Mayor of Denver Michael Hancock speaks at media breakfast in London
Norwegian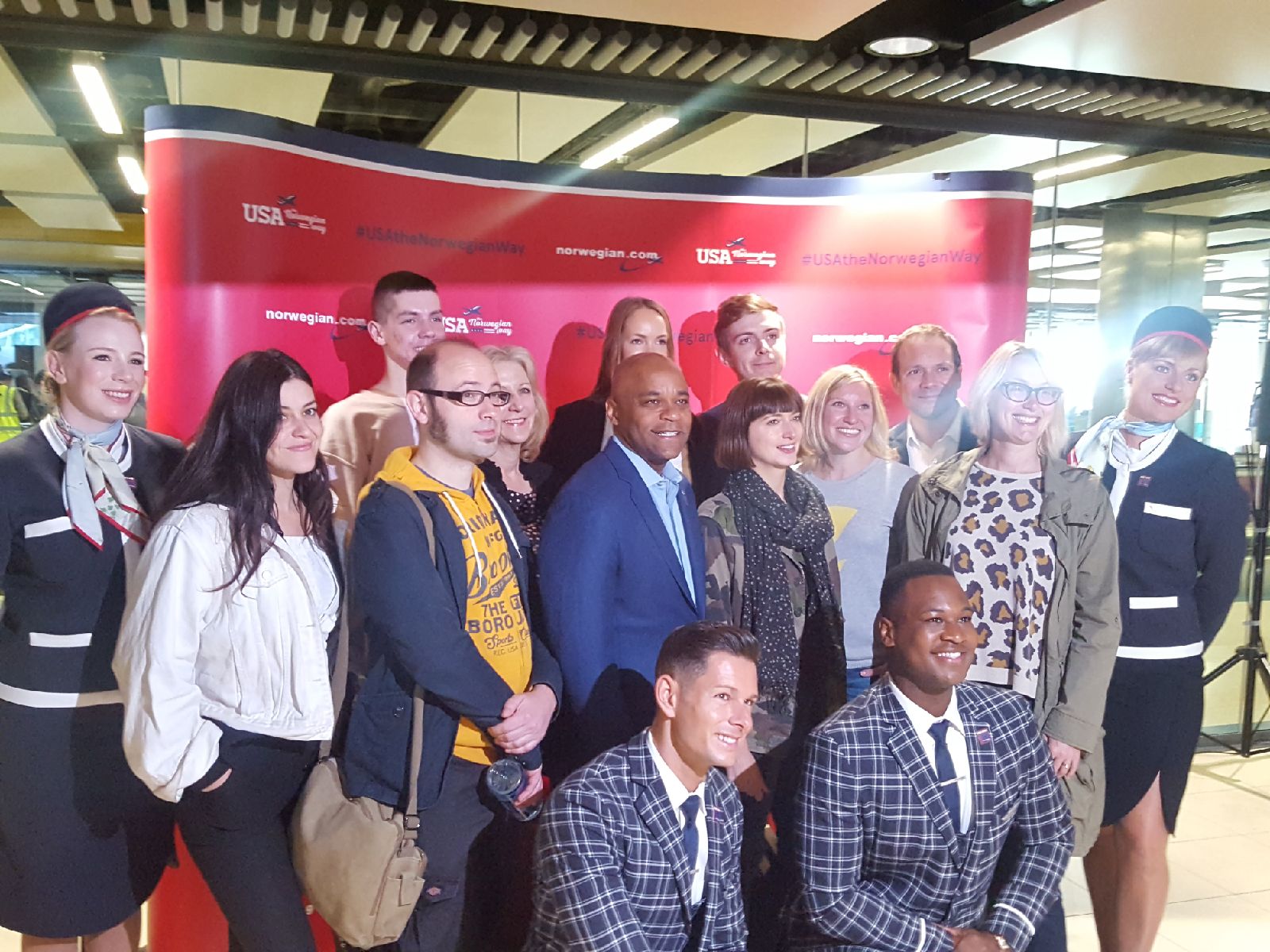 Mayor Hancock of Denver with British journalists at the Norwegian inaugural in London-Gatwick
Start Date: Sept. 16, 2017
London-Gatwick, UK
Finally, the first of six new flights has arrived! In addition to enjoying the service on Norwegian, we brought in a group of British journalists who flew the nonstop flight to Denver for the first time, accompanied by Sarah Barnett from CTO-United Kingdom and Natalie Wilson from Norwegian. In conjunction with Denver International Airport and VISIT DENVER, the Colorado Tourism Office joined an evening VIP event, media event, travel agent trainings at Flight Centre and various other sales calls. Overall it was a great trip to London, and the journalists enjoyed themselves immensely in Colorado. We look forward to reading the great articles that will surely come from this trip. 
Fall Familiarization Trips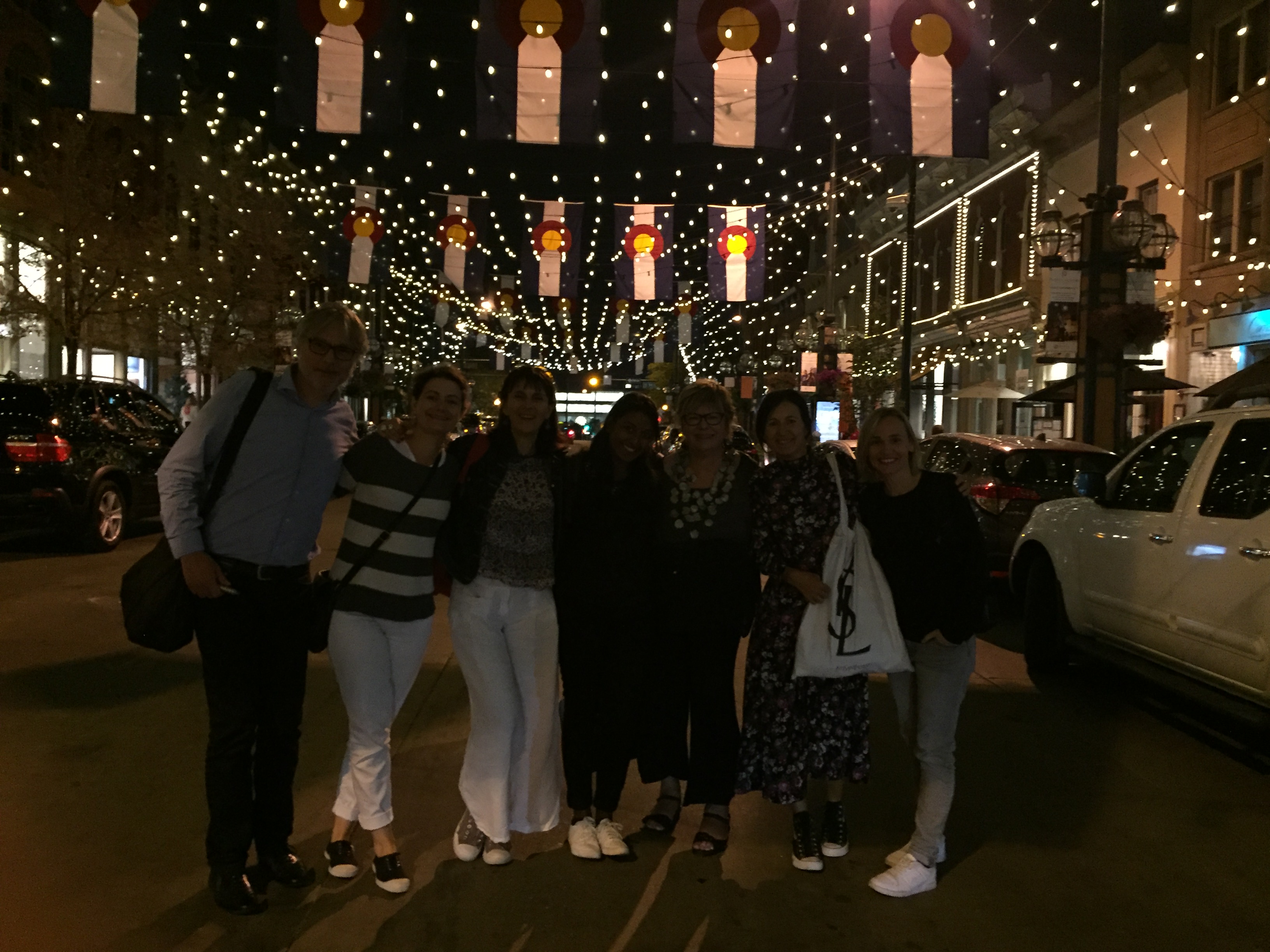 French journalists at Larimer Square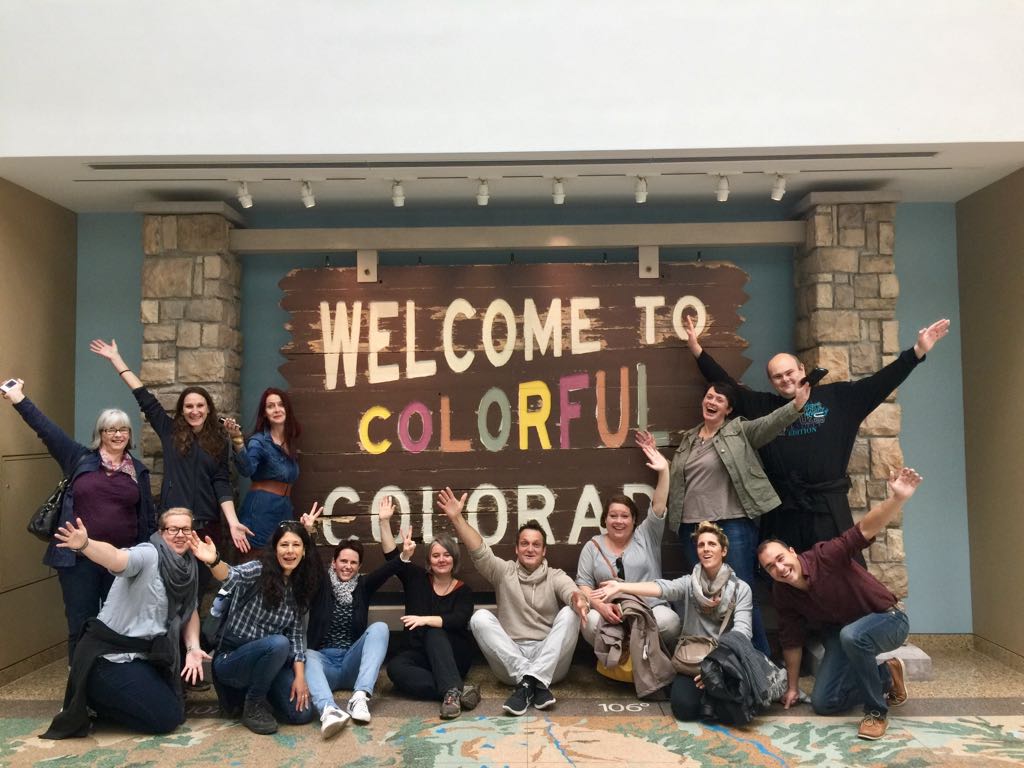 German Brand USA Mega FAM trip, at History Colorado in Denver
This has been a very busy fall for Colorado and all of our destinations, hosting the incoming international FAM trips. In this fiscal year, we have hosted three FAMs in July, three in August and nine in September, and plan to host 10 more in October. Thirteen of those are individual media, nine are group trade or media FAMs, two are sponsored by Brand USA (including a mega-RV FAM from Germany) and one was supported by our destination partners. Thank you to all of you who make these FAMs possible. It has been a busy season — Colorado is becoming a very popular destination for international tourists. 
Data & Research
The CTO is awaiting the latest international visitor and spending data, which we will have ready in time for the Governor's Tourism Conference, Oct. 25–27, 2017. Tourism Economics will provide the 2016 data, as well as break down our data by seasonality for the first time. Additionally, our Destination Analysts surveys are launching in 12 markets, which will give us more data on why our international tourists are motivated to come to Colorado, what they partake in while they are here and what time of year they are interested in visiting. We look forward to receiving this data, which will allow us to take a more targeted approach to our international visitors. 
IPW 2018
We'll keep updating you as decisions are made regarding IPW 2018. We are just beginning the planning for our Taste of Colorado Media Event and Colorful Crafted Colorado Night at Mile High Stadium. Additionally, we have asked the hosts of post-IPW FAM itineraries for trip details by Oct. 23. Stay tuned for more details as we continue the countdown to IPW 2018. Please visit the ipw2018denver.com site for the latest information about the show. 
Industry Partner News 
Town of Vail Named Top 100 Sustainable Destination 
The Town of Vail was recognized on Green Destinations' Sustainable Destinations Top 100 list, which celebrates tourism destinations that practice responsible and sustainable initiatives. Vail and Jackson Hole and Yellowstone are the only two U.S. destinations on the list. All of the awarded destinations were honored in late September at Greenfest in Calais, Portugal.   
Visit Aurora Welcomes Group Sales Manager
Alex Yampolsky has joined the Aurora Convention and Visitors Bureau as group sales manager.
"Being from Aurora, I am very excited to play a key role in the city's changes, enhancements and overall growth," Yampolsky says. "After working locally in the hospitality industry for some time, I believe that Aurora has a great thing going. It's flourishing as a destination, perfect for meetings and conventions."
As group sales manager, Yampolsky will connect with hotel sales teams to identify new group business opportunities and bridge current client relationships. She brings a wealth of experience from well-known Colorado catering and event space organizations, including Biscuits and Berries and the Wings Over the Rockies Museum. With a passion for hospitality, Yampolsky previously represented the Hyatt Regency Denver. 
With substantial staff growth and strategic efforts over the past year, Visit Aurora continues to expand and enhance the city's presence in the meetings industry.
Open Position: Executive Director of the Alamosa Convention & Visitors Bureau
Interested parties can find the job posting within the next week on alamosacounty.org.
Top Colorado Adventure Blog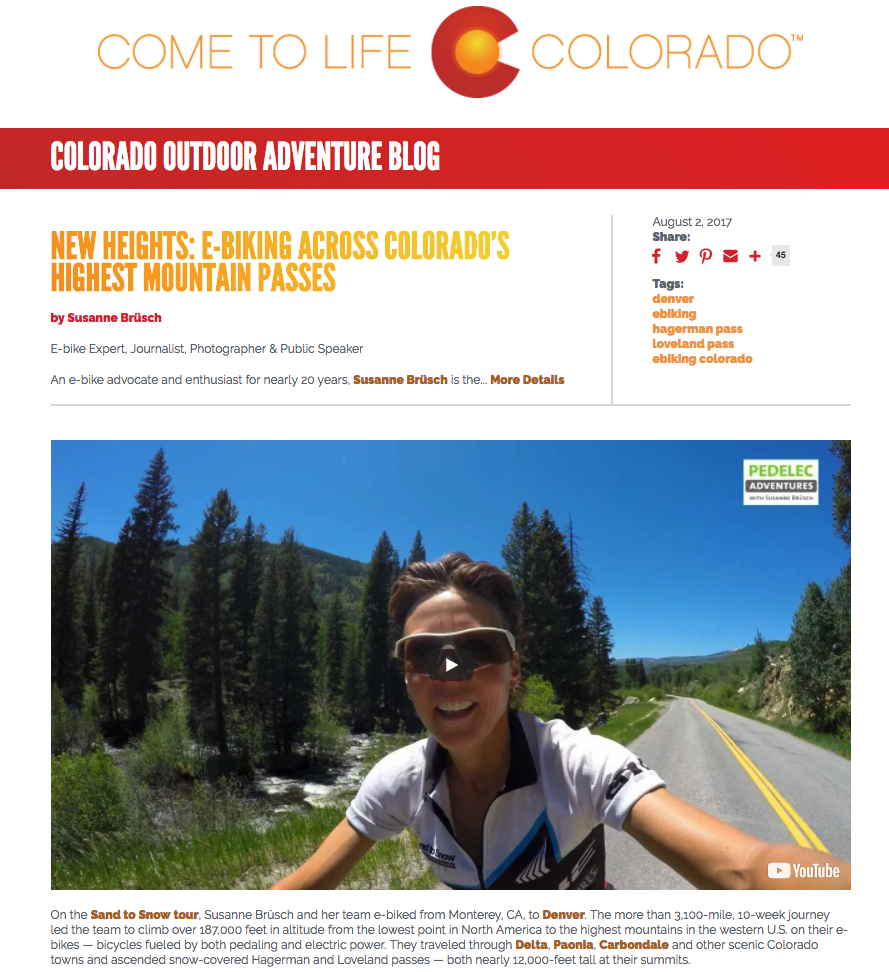 New Heights: E-Biking Across Colorado's Highest Mountain Passes >>
Top Field Guide Itinerary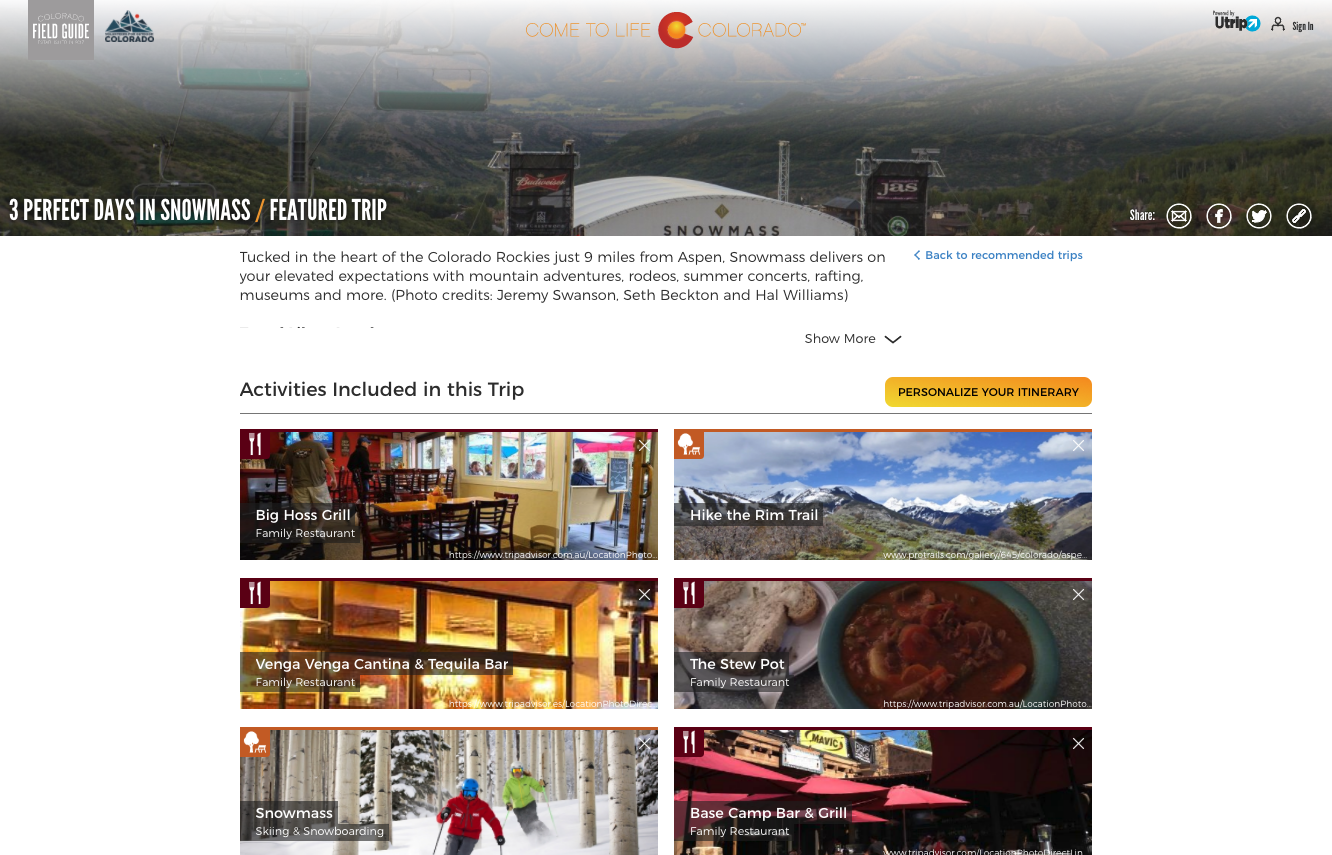 Have an adventure to share? Check out our blog submission guidelines >>
August's Top Social Media Post
August's Top PR Placements
As a result of working with writer Katie Jackson, she included Avery Brewing in her list of "Where to Drink this Independence Day" for Fox News.
As a result of working with freelancer Cassie Shortsleeve and coordinating an interview with Will Elliott from Paragon Guides in Vail, she created a video and article for Condé Nast Traveler on "How to Pack for a Hiking Trip."
As a result of hosting Sherri Nachman at Vista Verde Ranch outside of Steamboat Springs, she wrote an article for Forbes about her experience.