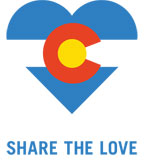 Share the Love & Rediscover Colorado
Unprecedented fire fighting efforts, cooler temperatures and welcomed rain assisted in containing most of the wildfires in Colorado. One of the ways to contribute to Colorado's wildfire recovery efforts is to "Share the Love" and travel the state, visit the fire-impacted destinations and realize these cities and towns are open and welcoming visitors.
With plenty of summer left, the Colorado Tourism Office launched the "Share the Love" initiative to welcome back visitors and showcase that the state's destinations and summer attractions are in full swing and waiting to be explored. In fact, Colorado's fire-impacted areas represent less than one percent of the state's 23 million acres of public land.
The Colorado Tourism Office encourages visitors and locals alike to get more involved with "Share the Love" by following Visit Colorado on Facebook and @Colorado on Twitter. The Colorado Tourism Office has also released a "Share The Love" profile image that social media users can download (Facebook image download: http://ow.ly/chxYC, Twitter image download: http://ow.ly/chysq) and use as their own Facebook and Twitter profile images.
Users who "Share the Love" with their profile image will have the chance to win a limited edition "Share the Love" t-shirt: http://ow.ly/chFKq. Followers are also encouraged to use #ShareTheLove on Twitter and share their Colorado photos and travel tales this summer season.
Below is a sampling of Colorado summer vacation packages for travel inspiration:
The Black Forest Bed and Breakfast Lodge and Cabins – Colorado Springs
To welcome back guests to the Pikes Peak area, the Black Forest Bed and Breakfast Lodge and Cabins is offering a 20 percent discount on all rooms and will donate another 5 percent of the rental rate to the Waldo Canyon Fire Victim Assistance Fund — Pikes Peak United Way. (www.BlackForestBB.com; 800-809-9901)
Rocky Mountain Adventures' The Best Day. Ever. Package – Fort Collins
Package includes rafting on the Cache la Poudre River complete with a riverside lunch; a gift certificate to Jax Fish House to fill your belly and get ready for the rest of the evening's merriment; bus tickets for a trip up the Poudre Canyon where you'll rock out to the Saturday night Mishawaka Amphitheatre headliner as you enjoy the unique outdoor concert venue experience. After the concert, hop on the bus back to Old Town Fort Collins to finish off The Best Day. Ever. Valid through July. Package starts at $120 per person and is 25 percent less than if you booked it all yourself. (800-858-6808)
Far View Lodge Cities of Sandstone Package – Mesa Verde National Park
Discover Mesa Verde National Park with an exciting package starting at $379 that invites visitors to experience the culture, activities and history of this World Heritage Site. This package is based on double occupancy and includes two nights lodging, breakfast buffet at the Farview Terrace each morning and two tickets for the half-day guided tour of the ancient sites and cliff dwellings. Valid through October 19, 2012. (www.VisitMesaVerde.com)
St Julien Hotel and Spa's Bon Vivant Boulder Package – Boulder
A foodie's dream come true. Package includes two nights of lodging; Friday-night dinner, dancing and champagne on the hotel's terrace; Saturday cooking class with ingredients you choose during a private escorted jaunt through the Boulders' Farmers Market, afternoon hike with a private guide; Sunday morning yoga class, juicing demonstration in the hotel's herb garden. Package starts at $989 per couple. Valid through November 17. (www.StJulien.com/packages)
El Colorado Lodge - Manitou Springs
El Colorado Lodge is offering a special through August 29, 2012; stay for two nights, and get half off the third night. These adobe cabins have a southwestern décor situated on four acres of grounds. (www.El-Colorado-Lodge.com; 800-782-2246)
"A Bushel of Summer Savings" Package – Grand Junction
In the heart of summer, Colorado Wine Country becomes the epicenter of fresh, outdoor living with roadside fruit and produce stands and 21 wineries. Pick a "Bushel of Summer Savings" lodging package in Grand Junction and upon check-in receive a bushel of savings to local fruit/produce stands. Lodging packages begin at $64.80 per night. Valid Aug. 1–31, 2012. (www.VisitGrandJunction.com/deals/categories.php?id=12)
Durango Mountain Resort Stay and Play Package – Durango
Package includes two-nights lodging, plus two Purgatory Plunge Zipline rides and two Total Adventure Tickets, which provides hours of fun on the Alpine Slide, scenic chairlift, mountain bike uplift and trails, miniature golf, and two sessions on the climbing wall, mechanical bull or bungee trampoline. Package starts at $58 per person, per night. Valid through Sept. 30, 2012. (800-525-0892)
Lodge at The Stanley Stay Cool Package – Estes Park
Famous for its Old World charm, The Stanley Hotel boasts spectacular views in every direction and is less than six miles away from Rocky Mountain National Park. Package Includes accommodations at the newly remodeled Lodge at The Stanley, daily continental breakfast at The Lodge at The Stanley, $50 dinner credit at Cascades Patio and choice of house-made gelato or yogurt pops at Steamers Café. Package starts at $299 per night. (www.StanleyHotel.com)
Delaware Hotel's Horseback Riding Package – Leadville
Package includes lodging and breakfast at the historic Delaware Hotel plus a one-hour scenic horseback ride with views of Mt. Massive and Mt. Elbert. Package starts at $85 per person, double occupancy. (www.DelawareHotel.com; 800-748-2004)
For more ways to help those affected by the wildfires in Colorado, visit www.HelpColoradoNow.org.