Play Dirty ATV Tours
Play Dirty ATV Tours,
25500 Hwy 50 MM251,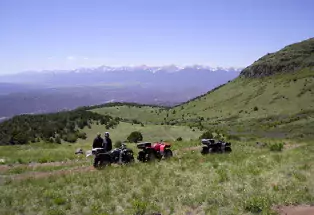 Mountain trail riding is exciting and fun. We are a private ATV tour-guide service in the Texas Creek Trail System. Texas Creek is considered by "those who know" to be the All Terrain Vehicle Capital of Colorado. Play Dirty ATV Tours starts out at 6400 ft. elevation, in the beautiful Arkansas River valley, also known as the Bighorn Sheep Canyon. We are located on Highway 50, between the spectacular Cañon City Royal Gorge Bridge and the turn-of-the-century historic town of Salida, Colorado.