Downtown Grand Junction: Things to See & Do
Main Street serpentines through Downtown Grand Junction with a series of gentle "S" turns. Intentionally designed to slow down vehicle traffic and create a pedestrian-friendly environment, Downtown Grand Junction bustles with innovative restaurants, trendy shops and boutiques and a thriving art scene.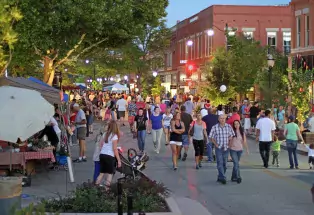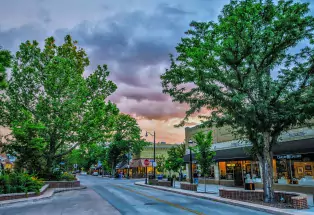 In Grand Junction, farm-to-table dining takes on a whole new meaning as many of the farms that provide the meat and produce to local restaurants are only miles down the road from downtown. This creates a haven for innovative cuisine using local, freshly picked ingredients. Taste the dishes of a James Beard Award-nominated chef at Bin 707 Foodbar, known for their masterful creations that evolve with the seasons. Want to swap mountain-biking stories with locals? At Rockslide Brewery, catch them enjoying craft beer inspired by the area, like the Cold Shivers Pale Ale or Horsethief IPA. Check out a full list of downtown dining options >> 
Pick up locally made gifts and must-have products that you won't find anywhere else in Downtown Grand Junction. Stroll Main Street, where trendy shops and boutiques are full of character. For example, the owner of Heaven Scent makes all of the shop's 100 percent organic hand creams, bars of soap and bath bombs by hand. And if tasting the area's craft beverages has you inspired, Amber Floral & Lil' Ole' Winemaker will help your hands on everything you need to craft your own fermented drinks at home. Or if you're hankering to design your own special something, Funky Junk DIY Studio will provide all the necessary supplies, tools and work space to help you conquer your project. Explore Downtown Grand Junction's shops >>
Downtown Grand Junction is a Certified Creative District, where you'll find the Art on the Corner display, a collection of more than 100 sculptures. Established in 1984 by a local sculptor named Dave Davis, Art on the Corner has grown into one of the largest outdoor art displays in the country. Some of the pieces are on permanent display, while others are rotated out each fall during the Downtown Art Festival.
Art galleries also abound throughout downtown, and many have working studios where you can see artists at work. For those who want to get their hands dirty, Uncanny Valley Art Gallery hosts monthly pottery and painting classes. Meanwhile, if you're a history buff, Museum of the West is a hub for the area's cultural history and periodically refreshes its exhibits, so there is always something new to explore.
Four convenient hotels make staying downtown a breeze, and all are within walking distance to shops and restaurants. The SpringHill Suites, Fairfield Inn & Suites, Hampton Inn and the Historic Melrose, as well as a wide variety of vacation home rentals, will provide you with all the amenities you are looking for. In 2019, the first Tru by Hilton hotel in Colorado opened in downtown Grand Junction. Find Downtown Grand Junction Lodging Options >>
The Downtown Farmers' Market takes over Main Street every Thursday, July through September. Every week, local farmers show off the fruits of their labor while crafters and artisans display their work. These colorful displays are well received as hundreds of people flock downtown to stock up on perfectly ripe produce, sample local bites and listen to live music. While peaches and grapes are obvious choices, Grand Junction farmers also grow apples, cherries, pears, plums and a wide variety of vegetables. In fact, 85 percent of the produce grown in Colorado comes from the Grand Junction area.
The Riverfront Trail near Downtown Grand Junction is a wide paved pathway that runs along the Colorado River for miles. You can even take it all the way to Loma, Colorado — a whopping 19 miles away. The trail features great scenery, as well as collection of murals, as it snakes along the river. It is perfect for walking, biking and e-biking. For bike rentals, check out Brown's Cycles.
More Grand Junction attractions >>