Your Guide to Summer on the Grand Mesa
An outdoors lover's paradise any time of year, the Grand Mesa is especially captivating during the summer. Situated 6,000 feet above Grand Junction, summer temperatures hover at a pleasant 70 degrees during the day with comfortably cool evenings.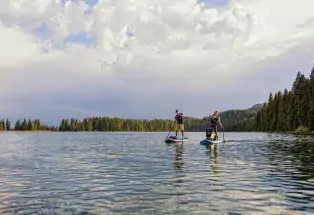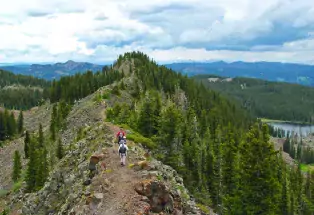 An elaborate network of trails spider web the area, providing breathtaking hiking and mountain biking. Or if aqua is more your medium, the more than 300 lakes provide anglers and paddlers plenty to float around in. 
Hiking
On the Grand Mesa, you can travel as far as your feet will take you. Numerous varieties of trails provide the chance to experience different aspects of the Mesa, and the best part — no crowds. Some routes guide you through dense pine forests while others trek along high ridgelines with unobstructed views in all directions. Crag Crest Trail is an 11-mile loop that leads to a rocky spine offering bird's-eye views of the Mesa. Dozens of lakes can be seen below and are especially enchanting during sunrise or sunset. Meanwhile, Lake of the Woods #506 is an out-and-back trail that winds its way through the forest and passes several lakes along the way, offering plenty of photo ops and scenic rest stops. And since the route is mostly level with little elevation gain, it's an excellent option for families. More hiking trails >>
Fishing, Boating & Paddleboarding
A fishermen's paradise, more than 300 pristine lakes pepper the Grand Mesa, where it's easy to find a quiet spot that will make civilization feel light years away. Several different species of fish, including rainbow and cutthroat trout, swim in the lakes and freshwater creeks that flow throughout the Mesa. Some popular fishing holes include Island Lake, Baron Lake and Alexander Lake, and dozens of lakes are conveniently in close proximity, making it a cinch to explore more than one. Make sure your fishing license is up to date and review local guidelines and regulations.
This impressive collection of lakes also makes the Grand Mesa a great spot to get out on the water. Row boats, kayaks and stand-up paddleboards are often spotted. Many paddlers like to venture to the small island in Island Lake or cruise around Deep Ward Lake and Deep Slough Reservoir. Find Grand Junction outfitters that offer gear rentals >>
Camping
Long summer days and mild evening temperatures make the Mesa a popular place for those who want to fall asleep under the stars. Generously spaced sites provide plenty of room to spread out and set up camp. Several designated campgrounds are easily accessible off Scenic Byway 65 (Grand Mesa Scenic Byway). Island Lake, Jumbo, Ward Lake and Crag Crest campgrounds (on Baron Lake Drive off Byway 65), are all good options. If you plan on backcountry camping, make sure to adhere to dispersed camping guidelines.
Mountain Biking
For those looking for brake-burning, grin-inducing downhill mountain biking, look no further than the Grand Mesa. Powderhorn Mountain Resort's summer bike park allows riders to catch a lift to the top of the mountain on the high-speed quad, then rip down trails that wind through dense pine forests, aspen groves and wide-open spaces. Additionally, the Stagecoach Trail at Powderhorn boasts earn-your-turns free access up the mountain and connects to all the downhill trails.
Another local favorite mountain-biking route is the Old Grand Mesa Downhill Shuttle Run Trail. Many residents park at the base and carpool to the top. This 14.5-mile trail descends 3,554 feet along the Grand Mesa's south face in as little as 30 minutes. More mountain-biking trails >>
More articles about Grand Junction >>
Read about winter on the Grand Mesa >>