Your Guide to Winter on the Grand Mesa
The Grand Mesa, the world's largest flat-top mountain, rises east of Grand Junction and is a short and scenic one-hour drive from downtown.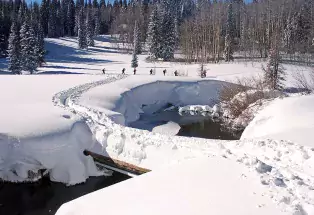 The mountain sits 6,000 feet above Grand Junction and breaks 11,000 feet at its highest elevation. This drastic change means that while Grand Junction enjoys comfortably temperate weather all year long, the Grand Mesa becomes a snowy wonderland in the winter. Read on for some of best ways to stay wintertained on the Mesa.
Cross-Country Skiing
It only takes one trip to realize why this is considered some of the best cross-country skiing terrain in the country. The professionally groomed cross-country ski trails, a network that both novice and expert skiers can enjoy, are maintained by the Grand Mesa Nordic Counsel. Check out Country Line or Skyway trails for epic views that will leave you invigorated and wanting more. Learn more about cross-country skiing on the Mesa >>
Snowshoeing
Snowshoers are allowed on any of the cross-country skiing trails. The Grand Junction Nordic Counsel just asks that you trek in the snow alongside trails to help keep them in great shape for everyone. Don't feel like you're limited just to the cross-country skiing trails, the Grand Mesa has many other options, including Glacier Springs Picnic Area, Mesa Top Trailhead and Land of Lakes. Learn more about snowshoeing on the Mesa >>
Backcountry Skiing
You don't have search for too long to see the slew of backcountry tracks making their way up the side of the mountain along Mesa Creek, the Mesa's original ski area. After the lifts were moved to what is now Powderhorn Mountain Resort, the spot became a haven for those seeking backcountry powder. After following the skin track up to the top, choose your run back to the base. Many skiers carpool from the base of Old Mesa Ski Hill, where there are several pull offs. 
Sledding
Old Mesa Ski Hill, affectionately known by locals as Old Powderhorn, is not only a hot spot for snowshoers and back-country skiers — it's also a locals' favorite sledding hill. Young and old arrive with thermoses of hot chocolate, sleds and inner tubes to take on the mountain. Be prepared for a hoot-hollering good time.
Snowmobiling
The Grand Mesa is, well, grand. Spanning more than 500 square miles, the best way to experience all the breathtaking views and elaborate network of trails in the winter is from a snowmobile. The Sunlight to Powderhorn trail is a 120-mile adventure that starts in Glenwood Springs and makes its way to Powderhorn Resort. Stop in at Grand Mesa Adventures for rentals or go on a tour with one of their experienced guides.
Skiing & Snowboarding
If you're looking for affordable lift tickets, no lines and friendly locals, check out Powderhorn Resort. With 1,600 acres of mountain terrain, 250 inches of average snowfall, four lifts and some of the best tree skiing in the Rocky Mountains, you'll wonder why you haven't ventured a little further west before. The mountain also offers uphill ski access at no cost for those who are determined to earn their turns; just stop at the ticket window to get your free uphill access ticket. Also, Grand Junction has affordable accommodations and is only 45 minutes from Powderhorn.
More articles about Grand Junction >>