Colorado's Iconic Winter Events & Celebrations
Far from heading inside when the weather is cold, Coloradans love to celebrate winter with signature events during the snowy months. Check out these events to find out why we love winter.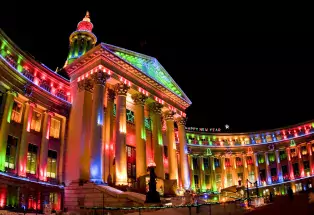 Denver Events
The Annual Grand Illumination (Nov. TBA, 2024) and Denver Parade of Lights (Dec. TBA, 2024) truly kick off the Denver area's holiday festivities. Giant balloons, floats, marching bands and dance troops wind along a 2-mile route that passes by the spectacularly lit Denver City and County Building. The Denver Zoo's Zoo Lights (Dec. 2, 2023–Jan. 7, 2024 with a low-sensory night on Dec. 31, 2023) and Denver Botanic Gardens keep the spirit alive with displays draped in millions of colorful lights during its Blossoms of Light (Nov. 17, 2023–Jan. 6, 2024) event. Find something going on every weekend during the holiday season for Mile High Holidays.
Winter X Games
For an unprecedented number of years, Buttermilk Mountain in Aspen has been the home of ESPN's Winter X Games (Jan. 26–28, 2024) where admired athletes such as Olympians Shaun White, Hannah Teter, local Gretchen Bleiler and many more have elicited gasps from the crowds with their acrobatic antics and big air.
Ouray Ice Festival
Ouray embraces the ice in a different fashion than most — by climbing it. During the Ouray Ice Festival (Jan. 18–21, 2024), the Ice-Climbing Capital of the World becomes a hub of international competition, with the best climbers in the world scaling its famous frozen-in-time waterfalls while spectators watch in awe. Those brave enough to try can strap on some crampons and a harness at one of the festival's beginner clinics.
Steamboat Springs Winter Carnival
Steamboat Springs residents have been reveling in the town's annual bounty of trademark Champagne Powder® since 1914. The five-day Steamboat Springs Winter Carnival (Feb. 7–11, 2024) features ski-jumping competitions, dog-sled pulls, cross-country obstacle races, a tubing party and a spectacular fireworks display.
Estes Park Frozen Dead Guy Days
You read that right. Coloradans have celebrated the cryogenic freezing of a Nederland resident since 2002. Frozen Dead Guy Days (March. 15, 2024) moved to Estes Park in 2023, so join in the weird festivities with live music and The Blue Ball, held at the iconic Stanley Hotel.
Ice-Sculpting Festivals
Though they don't linger too long during Colorado's sunny winter months, frozen masterpieces created by gifted ice artisans leave a lasting impression. At the International Snow Sculpting Championship in Breckenridge each winter (Jan. 22–31, 2024), teams from around the world spend a week gently coaxing intricate sculptures out of 20-ton blocks of snow. At the Cripple Creek Ice Festival (Jan. 26–28, 2024), artists deftly use chainsaws to carve clear creations along the town's main street, while families frolic through an ice maze. And Cripple Creek is also home to the iconic Ice Castles, so you'll have no trouble getting your frosty fix while you're in town.
More Colorado Winter Events
Check out these winter events in Colorado.
Celebrate at Colorado holiday-lighting festivals.
Shop at holiday markets.
Take a ride on winter train trips.