Winter Events in Colorado
We don't head inside when the weather gets cold and the snow starts falling — we celebrate with special Colorado events! Winter carnivals, ice-carving competitions and lighting ceremonies are some of the ways we live the season to the fullest.

 

Want event more? Visit our Colorado events calendar >>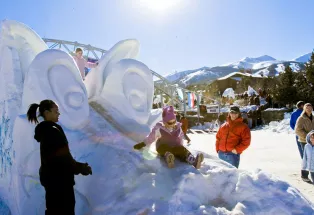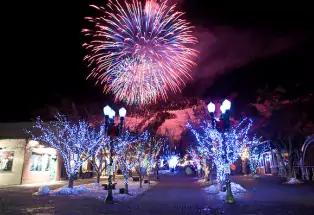 Winter Carnivals in Colorado
Coloradans consider winter our most magical season, and we love to celebrate all that comes with it at winter carnivals across the state.
Vail Snow Days, Dec. TBA, 2023
This bash welcomes the ski and snowboard season with free concerts, aprés parties and a rockin' street fair in Vail Village. Past headliners included The Wallflowers, Lukas Nelson & P.O.T.R. and Rusted Root.
Breckenridge ULLR Fest: Dec. TBA, 2023
Snow lovers celebrate Norse mythology dressed as vikings with a downtown Breckenridge parade and bonfire, a town-wide talent show, the Ullr Ice Plunge, ice skating and fat-bike racing.
Wintersköl in Aspen: Jan. TBA, 2024
Aspen's annual "toast to winter" dates back to January 1951 when locals began celebrating the town's unique Nordic lifestyle. The four-day fest features on-mountain activities, film screenings, a winterfest, broomball and fat-biking competitions, and much more.
UllrGrass in Golden, Jan. TBA, 2024
Put on your faux fur and Viking horns for this family-friendly winter music and beer fest surrounded by the beauty of the Rocky Mountain foothills in Golden. Highlights include the UllrGrass Park Parade, music from local and national bluegrass musicians and tons of local food and craft vendors.
Pagosa Springs' Winterfest: Jan. TBA, 2024
Are you brave enough to submerge yourself in the San Juan River's Penguin Plunge? Test your skills in the Anything Goes Downhill Sled Race or sit back and watch the mass ascension of hot-air balloons in Pagosa Springs.
Steamboat Springs' Winter Carnival: Feb. 8–12, 2023
Steamboat has reveled in their bounty of trademark Champagne Powder® since 1914. The carnival features ski-jumping competitions, dog-sled pulls, cross-country obstacle races and a spectacular fireworks display.
Ski Joring & Crystal Carnival in Leadville: March 3–5, 2023
A fearless skier navigates an obstacle course connected by towrope to a horse and rider galloping at top speed, and it all takes place in the middle of Leadville, in addition to a winter carnival with other snowy activities.
Colorado Snow & Ice Festivals
Though they don't linger too long during Colorado's sunny winter months, frozen masterpieces created by gifted ice artisans leave a lasting impression.
Berthoud Snowfest & Colorado Snow Sculpting Competition: Jan. TBA, 2023
This winter festival in Berthoud includes the sanctioned Colorado Snow Sculpting Competition. See the snow sculptures, visit booths with food and tummy-warming drinks, shop the artisan market, see Santa and Mrs. Claus, view the parade of lights and more!
Ouray Ice Festival: Jan. TBA, 2023
Though it's an ice festival of a different sort, Ouray's celebration is one of the most spectacular. Each year, 3,000 climbers descend on the town to ascend the Ouray Ice Park's mile-long frozen gorge, while spectators watch in amazement.
International Snow Sculpting Championship: Jan. 27–Feb. 1, 2023 
Teams from around the world spend a week in Breckenridge gently coaxing intricate sculptures out of 20-ton blocks of snow.
Rio Frio Ice Fest: Jan. 27-29, 2023
Scavenger hunts, snowman-building contests, the Rio Frio 5k and a fire-and-ice party celebrate winter in Alamosa.
Lake City Ice Climbs Festival: Feb. 4, 2023
Top-roped and lead-speed climbing competitions take place on Lake City's beautiful blue wall of ice.
Cripple Creek Ice Festival: Feb. 18–26, 2023
Artists deftly use chainsaws to carve clear creations along Cripple Creek's main street, while families frolic through an ice maze and sip hot chocolate.
Ski & Snowboard Competitions
Colorado Holiday Events
Want More?
Discover iconic winter events & celebrations >>
Check out Colorado holiday-lighting festivals >> 
Shop holiday markets >>
Climb aboard these winter train trips >>