Colorado Festivals: Holiday Lighting
There are plenty of things to do in Colorado when the most wonderful time of the year rolls around. Some of the simplest joys of the season are the spectacular lighting festivals held throughout the state.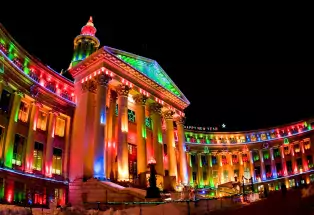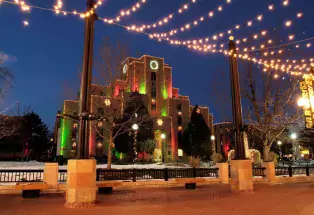 Every night on Boulder's Pearl Street Mall is a unique experience, but Switch on the Holidays is one of the best. The popular pedestrian thoroughfare crowds with people as live music fills the air and Santa counts down to the grand illumination of the street, courthouse and star atop Flagstaff Mountain.
Kick off the season in Estes Park on the day after Thanksgiving with carolers, pony rides, hay rides, shopping and, of course, Santa and his elves. When dusk falls, the magical Catch the Glow Parade begins. It's a 45-minute lighting ceremony with bands, floats and dancers.
The Denver Botanic Gardens downtown location celebrates the holiday season with an ever-changing display of light and color, including a 360-degree immersive light experience. Additionally, the gardens' Chatfield Farms location transforms into a magical village of light displays and other festive activities.
This event is a well-established holiday tradition in Pueblo. Cheerful onlookers bundle up in coats, hats and mittens to watch nearly 100 lighted floats, antique cars and marching bands pass by. Following the parade, Santa is available to visit with children.
Enjoy one of Denver's favorite holiday attractions at Civic Center Park. At 110 feet tall and surrounded by oversized holiday ornaments, this dazzling tree-shaped behemoth is magically multicolored and covered in lights. It's also the largest art installation of this type in North America.
Kick off the holidays in downtown Greeley, where everyone gathers at Lincoln Park for hot cocoa, carols and to see the park's trees light up.
Zoo Lights has been transforming Denver Zoo into Colorado's wildest winter wonderland for decades. More than 2 million lights sparkle across 80 acres amid the 3,000 residents who call the zoo home. A low-sensory night is available. 
Walk through a winter wonderland of thousands of outdoor lights in Littleton. Explore the trails, where bursts of light and color wrap around trees and shimmer on bodies of water.
Ambling down Harrison Avenue in Leadville, floats depict a variety of popular holiday tunes and Santa and Mrs. Claus ride in the parade to the Lake County Courthouse, where they will visit with kids, listen to Christmas wish lists and pose for photos. Area businesses are competing in a holiday decorating contest, so the whole city sparkles for the occasion.
Gunnison's historic downtown lights up for the holidays each December as well. Bonfires will warm your tootsies and hot cocoa will warm everything else, while an art walk and live entertainment make sure you've got plenty to keep your family busy.
No other holiday celebration in Denver can hold a candle — or strand of twinkling lights — to the grandeur that is the Denver Parade of Lights. Arrive early so you can claim your corner to watch the impressive floats, festive marching bands, diverse dancing groups and local celebrities take over the streets of downtown. In case you're not up for the cold or the crowds, this one is broadcast live on 9NEWS.
Hear timeless holiday carols, watch the Race of the Santas start on Breckenridge's Main Street, and nom on cookies and hot cocoa as trees are lit. The Holiday Dog Parade knocks everyone's socks off with its cuteness and Santa even comes for a visit.
Revel in old-style community spirit that makes Lyons a magical place during the holidays. Parade festivities kickoff on Main Street and are followed by a fireworks show.
Downtown Colorado Springs is the place to be for their annual parade and lighting ceremony. Floats, high-school marching bands, groups on horseback and Santa Claus himself bring the holiday spirit at this family favorite.
Historic Downtown Grand Junction celebrates decades of the Parade of Lights with more than 100 lighted floats from local organizations, businesses, performers and youth groups. 
Experience the delight of the season's small-town-style in the northeast Colorado town of Holyoke. The most popular activity of the night is the Parade of Lights, which features floats decorated according to the annual theme.
Bikes, cars and floats cover themselves in holiday lights and roll through downtown Alamosa to bring holiday cheer to San Luis Valley families and visitors.
The slopes light up as Telluride Resort employees glide gracefully down the dark mountain, torches in hand. Watch the glowing trail from town; popular viewing spots in Telluride are Main Street, Pacific Street and Columbia Avenue. Rumor has it, that after a long night of delivering presents around the world, Santa comes to Telluride for some much needed R-and-R — so you might just catch a glimpse of the man in red.
Want More?
There are so many ways to celebrate the holidays in Colorado. Check out Winter Train Trips in Colorado, Holiday Markets in Colorado and Colorado's Iconic Winter Events & Festivals.
Photo Credits: Downtown Boulder and Miles.