9 Ways to Savor Boulder's Best Restaurants in "America's Foodiest Town"
Bon Appétit dubbed Boulder "America's Foodiest Town," citing its excellent restaurants, first-rate chefs and "community of food lovers." And Bravo filmed an episode of "Top Chef" Season 15 right here in Boulder. Here are nine ways to take part in the deliciousness.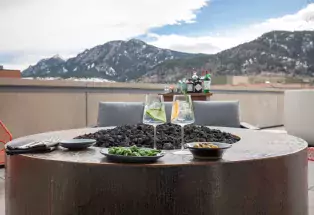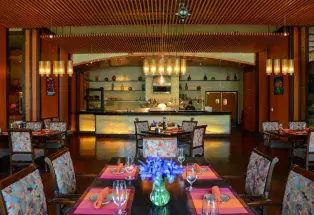 1. Boulder Farmers Market
With 150 farmers and food artisans selling everything from eggplants and olive oil to goat cheese and gluten-free pastries, the Boulder Farmers Market is a one-stop shop for both staples and specialty items. It happens outside next to a park, running from April to November on Saturday mornings and from May to October on Wednesday evenings. There's live music and a food court dishing out made-to-order pizza, dumplings, barbecue and ice cream.
2. Boulder County Farm Trail
You'll meet lots of farmers at the Boulder Farmers Market, but if you want to go behind the scenes, check out The Boulder County Farm Trail. Boulder County has more than 850 farms, and many of them open their gates (and barns and chicken coops) to visitors. Enjoy a scenic drive through Boulder's bucolic countryside (with plenty of farm stops along the way), pick the perfect pumpkin, cuddle with baby goats, take a beekeeping class or gather around a long, rustic table for a farm dinner.
3. Go on a Star-Studded Tasting Tour
Boulder was featured in an episode of "Top Chef" Season 15, and now you can tour Boulder like a Top Chef contestant, judge — or simply a fan! Visit the places that are on every foodie's buzz list, be inspired by Top Chef champion and Boulder resident Hosea Rosenberg and hit up famous area restaurants that have been on TV.
4. Farm-to-Table Boulder Restaurants
With so many farms within a few miles, it's no surprise that Boulder is home to some of the state's best restaurants. A stroll down Boulder's Pearl Street Mall will lead you to River and Woods, which reimagines family favorites into farm-to-table haute cuisine; The Kitchen, a community-focused restaurant serving food from local farmers and ranchers; and SALT, a neighborhood gem that operates on the premise that "the best food travels the shortest distance from farm to table."
Get up early to beat the brunch crowd to Lucile's Creole Restaurant for chicory coffee and beignets in a charming Victorian house. Or head to The Hill (just across Broadway from the University of Colorado campus) to Cafe Aion for traditional Spanish tapa made from Colorado ingredients. Blackbelly features a seasonally changing menu, as well as a butcher shop and market selling ethically sourced, high-quality meats and artisanal goods. Or, if meat's not your thing, Leaf Vegetarian Restaurant serves up vegetarian meals using produce from owner and Executive Chef Lenny Martinelli's Three Leaf Farm.
For fine dining, reserve a table at Flagstaff House Restaurant, with its award-winning wine list and location on the side of a mountain. The view of the foothills and the lights of Boulder below will make you feel like you're miles away from it all.
5. Coffee & Tea
Start your morning with an espresso from Boxcar Coffee Roasters on Pearl Street. The coffee purveyor shares a space with artisanal cheese and wine shop Dedalus Wine Shop and Market, so pick up your picnic provisions while you're there. In two locations on either end of Pearl Street, you'll find OZO Coffee, a favorite with local chefs.
The Boulder Dushanbe Teahouse is a must-visit for any tea lover. The menu includes more than 100 types of tea (including tea cocktails, if you're in the mood to imbibe), but the building itself is the main attraction. The teahouse was a gift from Boulder's sister city of Dushanbe, Tajikistan, handcrafted by more than 40 artisans and decorated with intricate carvings and vibrant murals. Pekoe Sip House is another tea retreat where you can settle in among locals with a hot chai or bubble tea. Ku Cha House of Tea's peaceful tea room is the place to learn about exotic teas and sample a huge variety sourced from around the world.
6. Health Foods
Boulderites take their health and fitness seriously, and it shows in the town's restaurant scene. Thrive offers raw, vegan smoothies, salads and other snacks. Native Foods dishes vegan-friendly, fast-casual food like the Big Ol' BBQ (Veggie) Burger. Flower Child pleases everyone with a shiny-happy interior and colorful cuisine, and Zeal is known for fresh-pressed organic juices, chicken lettuce wraps and Harrison River wild salmon.
7. Breweries, Wineries & Distilleries
Does it come as a surprise that such a health-conscious town also has a bustling craft brewing, wine and distilling industry? Maybe, but it's a paradox no one seems to mind. Boulder spurred Colorado's craft-brewery movement and now has close to two dozen breweries (not to mention a handful of wineries, distilleries and even a meadery). Belly up to the bar, snag a spot on one of the many outdoor patios or take a tour to find out how hops and barley become your favorite brew. For more ideas, see the Boulder Beer Trail.
8. Food & Brew Tours
If all this food talk has whetted your appetite, delve deeper into Boulder's culinary scene with Local Table Tours' Taste of Boulder Culinary Tour, a walking tour of some of Boulder's best independently owned bars and restaurants for cocktails, dinner, dessert and specialty food shopping.
Learn about the history of downtown Boulder while you stroll between breweries on the two-hour Boulder Brew Tour. Or brewery hop by bike with Beyond Boulder Bike Adventures' popular Bike-n-Brews Cruise.
9. See What Chefs Say About Boulder
Who better to advise you where to eat and drink (and read and hike) than Boulder's own top chefs? Check out these Chef Guides to Boulder — there are 13 of them! — to find out where Black Cat's Eric Skokan goes for the perfect cup of coffee and where to find Cafe Aion's Dakota Soifer when happy hour rolls around.
More Boulder Restaurant Information >>