Your Guide to Uphill Skiing in Colorado
Blame it on our extreme geography if you like, but our state seems to attract the kind of people who enjoy doing things the hard way. So it's no surprise that the growing trend of uphill skiing is gaining a considerable foothold at Colorado ski areas and resorts.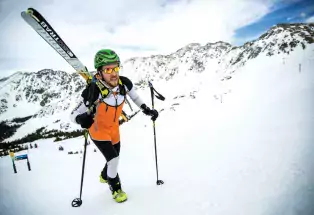 Yes — in spite of the elaborate engineering and advanced equipment that's gotten us to the summit with minimal effort for 80 years, there are folks out there who legitimately want to earn their turns. Intrigued? Here's the what, why and where.
What is Uphill Skiing?
Uphill skiing, also known as "skinning," "alpine touring" or "ski mountaineering," involves bypassing the trusty old ski lift and climbing to the top of each run — under one's own power — before schussing back down. It's like a lesson in the properties of gravity: now it's your enemy, now it's your friend. Actual mountaineers, along with a small population of extreme skiers, have been skinning for ages, to gain access to unspoiled areas that would otherwise be out of bounds.
Though it's still a relatively new industry, ski mountaineering has grown enough to nudge resorts and recreation areas into defining policies and procedures around the activity. Colorado mountains have yet to develop a fee system for uphill access — which is good, because you'll need some extra cash to gear up.
As with Nordic skiing, skinning requires hybrid bindings with heels that detach for hiking uphill, and clip in for downhill stability. You'll also want lighter boots offering a "hike mode," with extra mobility in the ankle. And finally, you'll need the eponymous skins that will actually GET you to the top. These nylon or mohair "grip strips" are smooth in one direction and textured in the other to prevent you from backsliding, and are removed and stowed during your trips downhill.
Backcountry & After-Hours Safety Note: It should go without saying that skinning and skiing on uncharted terrain (or on groomed trails, after resort staff have gone home for the evening) should be left to the hardcore folks: expert-level athletes who have both avalanche-preparedness training and alpine rescue gear. If you don't fall into this very narrow niche, though, you can always hire a professional guide — or just stick to the daytime groomers. Learn how to steer clear of winter backcountry danger
Why Alpine Mountaineering? 
When it comes to outdoor adventure, "why?" just isn't part of Colorado's vocabulary. But if you ask any uphill enthusiast, you're likely to get any variety of answers. Access to first tracks in pristine Rocky Mountain powder? Sweet. A respite from the lift lines and a hefty price break? Awesome. The opportunity to burn more than twice as many calories? Sign us up! And, speaking of that — here's a quick overview of the best places in Colorado to try the alpine-touring trend.
Where to Uphill Ski in Colorado
Note: Opening dates of uphill access and policy specifics can vary season by season. Know before you go by checking the individual website of the resort you're heading to.
• Alpine touring is free at Arapahoe Basin to season passholders, but you'll need to obtain an Uphill Access Pass at the Season Pass Office. During operational hours, access is restricted to the eastern edge of the High Noon run, between the base area and Black Mountain Lodge — but except for terrain parks, the entire mountain is fair game in the early mornings and evenings.
• Aspen Snowmass is the hub of Colorado's earn-your-turns culture and home to America's Uphill Race in March — as well as the world-famous Winter X-Games. All four Aspen mountains (Aspen, Snowmass, Aspen Highlands and Buttermilk) allow uphill skiing during operational hours; newbies might consider their best-in-class two-day Uphilling Clinic. No pass is necessary.
• By contrast, alpine touring at Breckenridge Ski Resort is limited to after hours. For your off-the-clock tenacity, though, you'll be rewarded with designated parking spaces and an unparalleled selection of world-class routes. A free uphill access parking permit is required; black diamond runs are off limits.
• Copper Mountain also allows skinning during off hours, with a variety of designated routes departing from East Village, Center Village and Union Creek. Before you start climbing, you must pick up an Uphill Access Season Pass and reflective armband at the Lower Patrol Room, located next to the American Flyer lift behind Jack's.
• Crested Butte Mountain Resort is open to uphill skiing only during off hours. Routes depart from the WestWall, Silver Queen and Red Lady Express lift areas and can take you almost all the way to the top of the mountain (legs permitting). No pass is necessary.
• Spacious, consistently steep Keystone Resort limits uphill access to non-operational hours, with ascent trails that will get you to the summit. If you dare: Go straight up Summit House from River Run Village via River Run, Jackwhacker and Flying Dutchman. No pass is required.
• Loveland Ski Area requires its after-hours skinners to have an Uphill Access Card, available at no charge at the Ski Patrol Headquarters during operational hours. With this in hand, you're free to enjoy one challenging ascent: Route A, which goes to the top of the Ptarmigan run.
• Powderhorn Mountain Resort near Grand Junction also allows 24-hour uphill access with an armband. Daytime ascents are limited to the hiker's right (skier's left) on Bill's Run, Red Eye, Lower Greenhorn, Wonderbump, Lower Dude and Tenderfoot — but after hours, the mountain's all yours. Get your complimentary Uphill Access Ticket at the Powderhorn Ticket Office during normal operational hours.
• To skin at Steamboat Resort after hours, you'll have to swing by the information center in Gondola Plaza to read their policies, sign a waiver and collect your reflective armband. Then, to get from the base area to the top of the gondola, go straight up See Me or take Vogue to Jess' Cut-Off, then finish up with Heavenly Daze before about-facing for your thrilling downhill reward.
• The Uphill Pass Program at Sunlight Mountain Resort in Glenwood Springs gives motivated alpine mountaineers a season pass; get yours at the Patrol Shack during operational hours, where a ski patrol official will brief you on rules and closures. Then come back after hours to begin your ascent.
• At Monarch Mountain near Salida, uphill travel is allowed outside of operating hours on all trails within the ski area's boundary (exceptions apply). During operating hours, alpine mountaineers can test their prowess on uphill routes designated on the Monarch Trail Map — all you need to do is purchase a valid lift ticket/pass and sign an uphill waiver at the guest services desk.
• Last but definitely not least: Your skinning skills grant you after-hours access to Vail Mountain Resort and Beaver Creek Resort. Regulars recommend calling the Vail Trails Hotline at 970-754-3049 for closures and trail recommendations before you clip in. 
Want more?
Colorado Ski Resorts: America's Best Skiing & Riding
Colorado Skiing & Snowboarding: Hidden Ski Hot Spots
America's Best Skiing: 5 Reasons to Ski & Snowboard in Colorado
Snowcat Skiing & Boarding in Colorado