Colorado Skiing & Snowboarding: Ski Like a Local
Wanting to beat the crowds and maximize your snow time during your Colorado ski and snowboard vacation?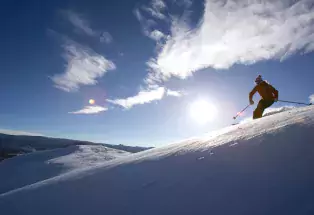 Several mini ski areas dot Colorado's lesser-known mountainsides, many operated by local governments and all offering that back-to-basics love of snow and sport. For a classic Colorado ski experience, head to these off-the-radar hills and see what the locals are (quietly) raving about.
Lake City
For a true taste of old-fashioned skiing — we're talking World War II era — visit Lake City's tiny rural hill in southwest Colorado and hop on the state's oldest operating ski lift. A single Poma disc lift carries 10 skiers at a time 1,000 feet to the top of the hill's four runs.
Steamboat Springs
Open since 1915, Colorado's oldest ski area in continuous use also features the most complete natural-ski-jumping complex in North America. Ski the same hometown training hill has sent 69 athletes (and counting!) to the Winter Olympics. The area's four chairlifts will have you swooshing over that light, fluffy Champagne Powder® the area is famous for.
Leadville
Short lift lines and long runs are this Leadville resort's claim to fame. Great for groups skiing at various levels, Ski Cooper boasts wide, cruise-able intermediate runs, challenging moguls and welcoming backcountry.
Near Grand Junction in Mesa
Set on the world's largest flat-top mountain — western Colorado's Grand Mesa — Powderhorn naturally presents an exciting and diverse landscape. Four lifts lead to 46 trails, impeccable tree skiing and tons of intermediate runs.
Granby
A renowned learners' mountain in Granby, around half of Granby Ranch's terrain is rated as beginner. Gentle slopes, constant trail grooming, a free sledding hill and snow play area for the kids make it a family favorite. There's also night skiing and lift-served tubing on select Saturdays.
Silverton
Silverton Mountain is the state's highest and steepest ski mountain, serving up un-groomed expert terrain for those who prefer skiing the old-school way. One chairlift serves an average annual snowfall of 400 amazing inches.
Silverton
Silverton's ski hill, Kendall Mountain, has just a handful of runs and is open on Fridays, Saturdays and Sundays. This budget-friendly ski area has lift tickets ranging from free to $25, and for the non-skiers in your party, there's a free ice rink and sledding hill on site. No equipment? No problem — a rental shop will get you set up with everything from ski/snowboard gear to ice skates, snowshoes and hockey gear. 
Durango
One of the best-loved features of Durango's family-friendly Ski Hesperus is that 80 percent of its runs are lighted and prepped for night skiing. In addition to its 13 trails and plentiful snow, there's also a tubing hill and ski school.
Ouray
Just steps from Ouray's charming downtown, Lee's Ski Hill is open all week (snow permitting) mid-December through February. The tow-rope-served hill points beginner skiers and snowboarders to 75 vertical feet of winter fun in the San Juan Mountains.
Near Estes Park
A do-it-yourself experience, Rocky Mountain National Park's former ski resort provides a base camp for hike-to backcountry skiing around the popular sledding area. Be sure to pack appropriate avalanche gear — no lifts or rope tows means no ski patrol or avalanche control.
Pagosa Springs
Blessed with one of the state's snowiest locations, in the San Juan Mountain town of Pagosa Springs, those who live for waist-deep powder dumps have been flocking here since 1939. The area receives more snow than any other Colorado resort (averaging 465 inches a year) and features mostly advanced and expert terrain.
Durango
A pair of rope tows pulls skiers 775 feet to the top of this Durango slope. Typically open January to March, weather permitting, Chapman also offers ski school, night skiing, a skating rink and warming hut.
Gunnison
Operated by the city of Gunnison, this rustic resort was built in 1962 as a private ski ranch and opened to the public in 1966. Four runs, spanning from beginner to advanced, are open Friday through Sunday, January to March.
Idaho Springs
Just south of Idaho Springs you'll find 60 acres of skiable terrain, making it the closest ski resort to Denver. Though quite cozy compared to its neighbors farther west, Echo Mountain offers a small-scale yet friendly day on the slopes. Open six days a week, the mountain even keeps night-skiing hours.
Want More?
Find tucked-away lodgings and speakeasies in Colorado
Check out these scenic hidden gems
Photo: Courtesy of Granby Ranch.