99 Gorgeous Places in Colorado: Part 3, The Hidden Gems
In the last of three stories about how to Come to Life in Colorado, we've rounded up (in no particular order) 33 hidden gems — spots that aren't as well known but are no less spectacular.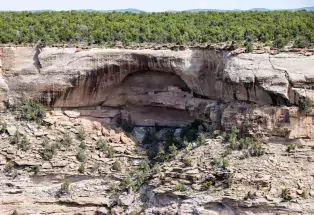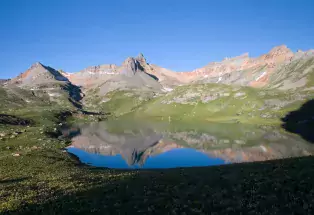 Read Part 1, The Postcard Places and Part 2, The Local Favorites.
67. Pearl Lake State Park (pictured above)
The Scene: Pearl Lake State Park a serene setting for low-impact outdoor adventure. Camping amid the trees along the water's edge grants access to peaceful early-morning canoe rides, fly- and lure- cutthroat trout fishing and gentle hikes. In the cool morning air, a light fog hovers over the still waters. Nearby Towns: Steamboat Springs, Hayden, Craig, Walden, Kremmling
68. Wheeler Geologic Area
The Scene: The area's frozen-in-time sandstone spires inside the Rio Grande National Forest were formed by volcanic explosions millions of years ago. They resemble coral beds found on ocean floors, which this far from the sea, gives them an otherworldly mystique. Nearby Town: Creede
69. Blue Lake, Rawah Wilderness Area
The Scene: The shady trek to Blue Lake is one of the Front Range's most diverse wildflower hikes. More than 90 varieties — including white bog orchids, scarlet paintbrush, monkshood and glacier lilies — have been spotted along the impossibly colorful trail. Nearby Town: Fort Collins
70. Last Dollar Road
The Scene: This winding, one-lane dirt road leaves the pavement at the Dallas Divide and careens around the Mount Sneffles Wilderness before dropping into the San Miguel River valley, where lush ranchland, aspen groves alive with color, and spruce and pine forests make it a scene from a landscape painter's dream. Nearby Towns: Ridgway, Telluride, Ouray
71. Conejos River Valley
The Scene: This valley is one of Colorado's best-kept secrets for fall-color viewing. Some of the oldest and tallest aspens in the state can be seen near La Manga Pass. On the Cumbres & Toltec Scenic Railroad, riders can see parts of the area auto-travelers miss. Nearby Town: Antonito
72. Star Dune, Great Sand Dunes National Park and Preserve
The Scene: Scaling the tallest sand dune in North America (roughly 750 feet high) is a calf-burning endeavor. Because it's not quite as accessible as the dunes in the park's main dune field, the tracks to its undulating apex are fewer and farther between. Nearby Towns: Alamosa, Mosca
73. Lost Creek Wilderness
The Scene: Lost Creek's red-rock formations aren't as dramatic as those at better-known spots like Garden of the Gods and Red Rocks Park, but there are a whole lot more of them. Many of the area's domes, knobs, spires and buttresses have eroded in such a way that creeks seem to disappear between their hidden crevices — hence the name. Nearby Towns: Deckers, Bailey, Grant
74. Blackface Mountain
The Scene: Atop this moderately difficult hike, the panoramic view that awaits is a curious collection of unusually shaped mountains named for their shape and color: Lizard Head, Pilot Knob, Golden Horn and Vermillion Peak. Nearby Towns: Telluride, Rico
75. Sangre de Cristo Wilderness
The Scene: It would be a shame to visit this area and not stay for the majestically colorful scene created by the setting sun. Colorado's early Spanish explorers were so inspired by the way the peaks turned a vibrant, crimson color as the sun went down, they named them the "Blood of Christ" mountains. Nearby Towns: Salida, Poncha Springs, Alamosa, Westcliffe
76. Handies Peak
The Scene: Handies doesn't gain much fame being the 40th tallest of Colorado's 58 fourteeners. That it's one of the easiest to climb is what puts its name on the lips of many mountaineers. Its (relatively) short, five-and-a-half-mile round-trip trek is why many choose it as their first to conquer. Nearby Towns: Lake City, Ouray, Silverton
77. Devil's Causeway
The Scene: Colorado's version of the Great Wall of China (though this one is nature made) is a narrow rock ridge that runs through the Flat Tops Wilderness. In some places, the trail slims down to only three feet wide and calling its dropoffs sheer is being generous. Nearby Towns: Yampa, Gypsum
78. Barr Lake State Park
The Scene: In the northeast reaches of Denver sits an area that has been drawing birds like a magnet for decades. Wildlife-viewing records from the area's three habitats — open water, shoreline woodlands and grassland — date back more than 100 years, and the number of recorded species exceeds 300. Nearby Towns: Denver, Brighton
79. Kenosha Pass
The Scene: Known as one of the Colorado Trail's easiest access points, the 10,000-foot-high pass is also a favorite for those hunting fall color. Aspen stands and views into the sprawling, green South Park Valley make it ideal for off-the-beaten-path photographers. Nearby Towns: Grant, South Park, Fairplay, Bailey
80. Old Monarch Pass
The Scene: Those who frequently traverse Monarch Pass along the Continental Divide between Gunnison and Salida probably don't even notice the sign for Old Monarch Pass Road. Snowshoers and cross-country skiers like to keep it that way. The once-popular route, which was replaced by the shorter Hwy. 50, is now one of the best spots for traipsing through Colorado powder. Nearby Towns: Salida, Poncha Springs, Gunnison
81. Comanche National Grassland
The Scene: Defined by surging tides of land that look like a green-and-brown ocean frozen in mid-torrent, this is some of the country's last remaining shortgrass prairie. A number of animals also call this grassy area of Colorado home. Keep an eye out for pronghorn, hawks and pheasants. Nearby Towns: Springfield, La Junta
82. Wetherill Mesa, Mesa Verde National Park
The Scene: Lower-profile than Mesa Verde's famed Cliff Palace, Wetherill Mesa is home to the park's second-largest Ancestral Puebloan cliff dwelling. A climb behind the Long House dwelling offers a rare look at a seep spring — a source of water emerging from the cliff that was used by its ancient residents. Nearby Towns: Mancos, Cortez, Durango
83. Gunnison Gorge Wilderness
The Scene: One of only nine national conservation areas in the U.S., the gorge area offers a haven for anglers drawn to the Gunnison River's gold-medal trout-fishing waters. In the lower gorge, folding layers of pink, red and purple rock stretch from the river up the canyon walls. Nearby Towns: Montrose, Gunnison, Delta, Hotchkiss
84. Ute Mountain Tribal Park
The Scene: This park is only open to the public through a unique program in which Ute guides navigate visitors into the wilderness that abuts Mesa Verde National Park's southern boundary. Thousands of years ago, Ancestral Puebloans built dwellings into the canyon walls, irrigated and farmed the land, and developed a highly sophisticated culture. Nearby Towns: Mancos, Cortez, Durango
85. Engineer Pass 4WD Road
The Scene: This rugged and narrow San Juan Mountain pass spirals 12,800 feet high and provides an unsurpassed vantage point for photographs of the serrated Uncompahgre and Wetterhorn peaks. Once a stagecoach route, it's easy to spot structures that remain from the area's hardy mining days. Nearby Towns: Lake City, Silverton, Ouray
86. Lone Eagle Peak
The Scene: This unique peak is recognizable by its steep, almost dizzying granite spire, which towers above Crater Lake. Even though it tops out at 11,900 feet — much shorter than Colorado's many 14,000-foot peaks — it's considered one of the state's most technical climbs. Nearby Towns: Granby, Tabernash, Grand Lake, Winter Park
87. Wet Mountain Valley
The Scene: The valley nestled between the Sangre de Cristo and Wet Mountains is a bit of a journey back in time. Remnants of old homesteads, barns and one-room school houses are set amid some of the state's lushest country, still dominated by farms and ranches. Nearby Towns: Westcliffe, Silver Cliff
88. Yampa River Canyon, Dinosaur National Monument
The Scene: Craggy hills, striated walls and remnants of creatures from a long-ago world comprise this canyon scene — as do yelps from whitewater rafters shooting the oxbowed river's rapids. Nearby Towns: Dinosaur, Rangely
89. Snowmass Lake
The Scene: This lake is situated just below Snowmass Mountain (not to be confused with the ski area of the same title) and the massive snowfield from which it gets its name. The trail to the lake winds through thick aspen groves, beaver ponds and gurgling streams and is a favorite pre-climb camping site for hearty souls who plan to scale the steep peak. Nearby Towns: Aspen, Snowmass, Granite, Basalt
90. Rocky Mountain Arsenal National Wildlife Refuge
The Scene: It's a bit surreal to focus a camera's viewfinder on Denver's skyline and have a bison walk into the shot. One of the largest urban refuges in the country is located just a few miles outside Denver. It's home to more than 300 species, including mule deer, coyotes, bison, songbirds and bald eagles. Nearby Towns: Denver, Commerce City
91. Sky Pond and Lake of Glass, Rocky Mountain National Park
The Scene: Rocky Mountain National Park welcomes 3 million visitors each year and still manages to nurture cravings for solitude. One of the best places to find it is on the hike to two neighboring high-altitude lakes known for emerald green waters within a glacier-carved valley. Nearby Towns: Estes Park, Grand Lake
92. Skyline Drive
The Scene: This precipitous historic road was built by prison inmates in 1906 as a scenic byway for tourists in horse-drawn carriages. Today, the route has been paved for autos, but it still traces an extremely narrow 800-foot-high ridge, which can at times be a bit of an adventure for passengers' stomachs. Pullouts are provided for those who want to savor the foothill views. Nearby Towns: Cañon City, Florence
93. North Inlet Trail, Rocky Mountain National Park
The Scene: This trail winds through the park below timberline alongside a rushing creek. Originally an American Indian route, it was reinvigorated by the Civilian Conservation Corps in 1939. Today it's on the National Register of Historic Places and a great route for elk and moose spotting. Nearby Towns: Estes Park, Grand Lake
94. Ice Lake Basin
The Scene: Fields of paintbrush, buttercups, columbines and other alpine wildflowers fill this beautiful basin, where those and other wildflowers blanket a land that's also peppered with small lakes and waterfalls flowing over sandstone rock formations. Nearby Towns: Ouray, Silverton, Telluride
95. Devil's Head Mountain
The Scene: Named for two rock spires that resemble the devils' horns, the formation is the highest point in the Rampart Range. Near its summit is a well-known fire tower where, after a moderately difficult hike, visitors can climb the stairs to see panoramic views stretching from mountains to plains. Nearby Towns: Sedalia, Colorado Springs, Manitou Springs
96. Colorado State Forest State Park
The Scene: Located on either side of Cameron Pass, the park is in a 10,000-foot-high cleft between the Never Summer and Medicine Bow mountain ranges. Deep coniferous woods and willow-covered streams are the ideal habitat for many animals, one of the reasons it's been named the moose capital of Colorado. Nearby Town: Walden
97. McInnis Canyons National Conservation Area
The Scene: The nation's second-largest concentration of gravity-defying red sandstone arches is found here. Hiking the area's Rattlesnake Canyon, amid a sprinkling of wildflowers and blooming cacti, visitors will see nine of the most impressive ones. Nearby Towns: Grand Junction, Fruita
98. Snow Mesa
The Scene: Reminiscent of the steppes of Asia, this 12,000-foot-high alpine plateau boasts a 20-square-mile summit with unfettered views of the saw-toothed La Garita Range. Snowshoers and snowmobilers love the vast openness and seemingly endless fields of snow. Nearby Towns: Lake City, Creede
99. Browns Park National Wildlife Refuge
The Scene: Located in a remote mountain valley alongside the Green River just north of Dinosaur National Monument, the refuge is one of the best habitats in the state for spotting bald eagles each winter. Two hundred other species of birds can also be found here throughout the year amid the area's cottonwood groves, meandering streams and marshlands. Nearby Town: Craig
Want more?
Find the best things to do in Colorado >>