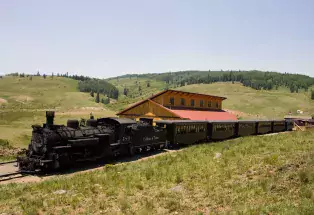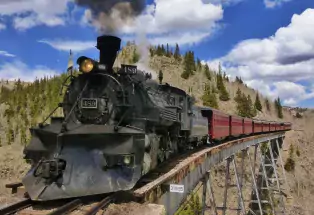 The train, which leaves daily from the old station in Antonito, traverses the Cumbres Pass and ends up 64 miles away in Chama, New Mexico, where riders can catch a bus back to the starting point.
It is touted as the longest and highest narrow-gauge train still running, but be warned: This is no luxury excursion with plush seats and fancy dining car. Be prepared to experience the train as Western travelers did more than a century ago. There's a stop for lunch in Osier, but the main attraction is the scenery, which can easily be photographed from the train as it winds its way through high-mountain meadows and over the 10,000-foot pass. The train runs primarily in the summer and fall, typically from Memorial Day weekend into October. Conditions permitting, there's a Christmas train, which offers a different seasonal view of the route.
There are ranches, cabins, campgrounds and other lodging in and just outside town, which sits at the mouth of the scenic Conejos River Canyon, and you can also arrange overnight packages in Chama.
 
Photos courtesy of the Cumbres & Toltec Scenic Railroad.
Other Cities in the Region