Del Norte
Formerly a stage stop and a rowdy, ragtag supply town for miners, this town surrounded by 3,778 acres of public lands features tremendous outdoor adventures.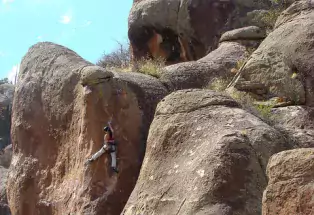 925 6th St., Del Norte, CO 81132
Del Norte Chamber of Commerce
595 Grand Ave., Del Norte, CO 81132
Hiking trails reveal massive peaks, rivers twisting through canyons and forests of aspen and pine. Lookout Mountain Park, home to the 8,476-foot summit that shares its namesake, has 8 miles of singletrack looping trails. Meanwhile, a steep 1-mile trail to Lookout Mountain's summit offers breathtaking panoramas of the San Luis Valley and upper Rio Grande corridor. 
Just outside Del Norte awaits Penitente Canyon, once a worship area for the devout Catholic sect Los Hermanos Penitente and now a worship area for devout rock climbers from around the world. Featuring more than 300 sport-climbing routes, the canyon has been featured in Climbing magazine and, with a year-round campground nearby, it continues to attract enthusiasts of the ascent.
The Rio Grande near here is home to Gold Medal fishing and is a favorite of float fishers.
Back in town, the intimate Three Barrel Brewing Company serves up thirst-quenching craft brews and the elegantly restored Windsor Hotel and Restaurant offers a lovely place to dine and stay. Those interested in Colorado history should stop at the Rio Grande County Museum and Cultural Center, housing arrowheads, minerals and other relics from the time when John Charles Fremont and party froze to death during their expedition in the La Garita Mountains, north of Del Norte.
Photo Credit: Flickr/Renee Garfias, Visual Information Specialist, Bureau of Land Management Colorado
Other Cities in the Region