Fort Garland
The town of Fort Garland rests along U.S. 160 under the watchful eye of 14,345-foot Mount Blanca. Adobe buildings and wide-open skies characterize this rural town about 25 miles east of Alamosa. Home to a mission-style Catholic church and a couple of restaurants, the town is most noted for its namesake structure, the historic Fort Garland.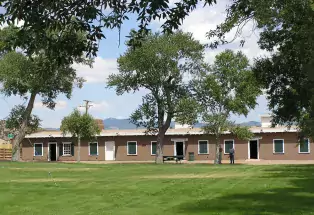 Built in 1858, the fort was designed to protect settlers in the San Luis Valley, then a territory of New Mexico. The parallelogram-shaped fort once housed more than 200 men, including soldiers, volunteers and Kit Carson, the fort's commander at the time.
Fort Garland was abandoned in 1883, but survives now as the Fort Garland Museum, a prominent example of Colorado's living history. Here visitors wander the fort's parade grounds and adobe buildings while taking in the some of the region's Hispanic folk art and insights into the Buffalo Soldiers stationed there after the Civil War. Just a couple of miles from the fort await fishing areas and shady campsites along Ute Creek. Other nearby attractions include the not-to-be-missed Great Sand Dunes National Park and Preserve as well as a trailhead to Mount Blanca, the Shrine of the Stations of the Cross in nearby San Luis and the Cumbres & Toltec Scenic Railroad.
Other Cities in the Region