Conejos
Conejos, or "Rabbit" in Spanish, lies just above the New Mexico border and continues to reflect the culture of Old Mexico.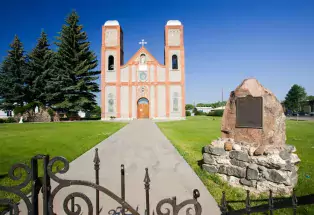 From the riverbank, this town rises above flowing waters from the Conejos River, the largest tributary of the Rio Grande. The river originates deep in the South San Juan Wilderness Area, west of Conejos. Once a flourishing mining town, today Conejos is a sportsman's wonderland.
Surrounding river tributaries offer outstanding fly-fishing opportunities while nearby La Jara Reservoir is ideal for an overnight elk hunting trip or a leisurely picnic. Popular areas for summer hiking and winter cross-country skiing are found at the forested Cumbres and La Manga passes just to the west. Roomy guest ranches and comfortable fishing lodges await after a day spent hiking, hunting or fishing near this river town.
While in the area, visit the Cumbres & Toltec Scenic Railway, the highest and longest narrow-gauge railroad in the country. One of the last such railroads still in operation, the locomotive runs from Antonito, Colorado, to Chama, New Mexico, crisscrossing the border 11 times. Along the way, the railroad passes Colorado's oldest church as well as Jack Dempsey's birthplace.
And don't leave without taking a leisurely drive on Los Caminos Anitguos scenic and historic byway, where you'll traverse the brilliant landscapes of the scenic valley, stopping to visit towns with Native American and Spanish roots, culture and artwork. 
Other Cities in the Region