Creede
Even in Colorado, settings just don't get much more spectacular than Creede, tucked into the San Juan Mountains. Because it's situated in a former volcanic caldera, it's surrounded by sheer cliffs that limit its physical growth. That's great, because the small-town feel is what visitors love about this place.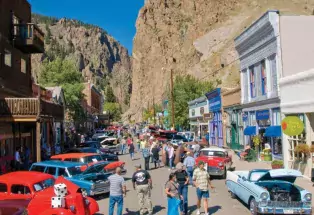 Charming 1890s storefronts invite you to shop, dine and stay at local lodgings. While you're there, be sure to explore the town's silver-mining history via the Creede Historical Museum and the very special Underground Mining Museum. But it's not all about history here.
Every summer, the town hosts the Creede Repertory Theatre, which lasts most of the season and features a mix of classical and new productions. Taste of Creede takes place annually on Memorial Day weekend and features artist demos, live music and a silver-chef cooking competition. And you can't miss Donkey Dash! Each June, Main Street is packed with burros and their runners preparing to race 10 miles to the finish line — it's like nothing you've ever seen before.
Because it's situated at the headwaters of the San Juan and Rio Grande rivers, there's plenty of good fishing here, as well as rafting, ATVing, hiking and mountain biking. When the snow starts falling, trade those in for winter activities like cross-country skiing, snowshoeing, sledding and ice-skating.
Be sure to explore at least one of the area's scenic byways — like the Silver Thread scenic and historic byway — and take time to stop at the fascinating formations found at Wheeler Geologic Area south of town if you've got a 4X4 vehicle. In the fall, the historic Bachelor Loop is ringed with changing leaves and mining relics.
Other Cities in the Region