Getting to Colorado & Getting Around
Colorado is well connected with the rest of the U.S. and major international destinations. With a strong network of airports, highways, buses and trains, traveling to and around the state is a breeze.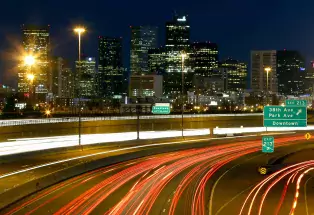 Major Airports
As one of the nation and the world's busiest airports, DEN offers more than 185 nonstop domestic and international destinations. Access to mountain resorts and other destinations is easy, and the airport can be reached from downtown Denver via the Train to the Plane — RTD's A Line commuter rail.
Denver has nonstop service to international destinations in 14 countries — The Bahamas, Belize, Canada, Cayman Islands, Costa Rica, France, Germany, Honduras, Iceland, Japan, Mexico, Panama, Switzerland and the UK.
Serving Colorado's second-largest city, COS makes the Pikes Peak area easily accessible. Rental car and other transportation options abound.
Service From: Denver, Chicago, Dallas, Houston, Las Vegas, Los Angeles, Orlando, Phoenix, Salt Lake City
GJT is the largest airport in western Colorado and the third largest airport in the state. Five major airlines offer non-stop service to six destinations. 
Service From: Denver, Dallas, Los Angeles (seasonal), Las Vegas, Mesa (seasonal), Phoenix (PHX), Santa Ana
Regional Buses & Light Rail
Several options exist for travel in and between Colorado's cities.
RTD, Denver's public transportation network is easy and inexpensive, and you can get pretty much anywhere in Denver by light rail or bus. The system of buses and light rail also serves cities and towns in the six counties that surround Denver, including Boulder, Longmont, Aurora, Littleton, Lakewood, Golden, Arvada and others. Additionally:
Travel by Train
In addition to 10 historic and scenic railroads, Colorado offers modern and convenient train-travel options. Amtrak's California Zephyr line makes the trip from Chicago, to Emeryville, California. On its way, it makes a stop in Denver and passes through Fort Morgan, Fraser, Granby, Glenwood Springs and Grand Junction. The Southwest Chief goes from Chicago to Los Angeles, with Colorado stops in Lamar, La Junta and Trinidad.
In 2016, the wildly popular "ski train" returned to ferry skiers 
and boarders from Denver's Union Station right to the base area of Winter Park Resort on winter weekends. The Winter Park Express zips winter lovers straight to the slopes in just two hours.
The new Rocky Mountaineer trains provide luxury service over four days between Utah and Colorado. Aboard the glass-domed coaches, you'll spot towering red rock arches, vast deserts and deep canyons. Locally inspired dining, a sparkling wine toast as you cross the Continental Divide.
E-Bikes & Scooters
Feel the wind in your hair, and be good to Mother Nature, by using a green-ride option like renting an e-bike or hopping on a shared e-scooter. Electric scooters have grown in popularity, especially along Colorado's Front Range, so you can find them in more urban destinations like Denver, Colorado Springs and Fort Collins.
Driving Distances
Colorado is the eighth-largest state in the U.S., measuring 380 miles east to west and 280 miles north to south. Luckily, with so much to see and do, the state is easy to navigate. Keep in mind when planning to travel from one region to another that there might be some mountains in between you need to go around — it's not always a straight shot from one point to another! Check out our drive-distance chart to get an idea of some common routes from corner to corner. 
If you want to get in touch with knowledgeable locals during your visit, all you need to do is head to one of the 10 Colorado Welcome Centers. There's one located in each corner of the state and at both ends of the major interstates that bisect the state — I-25 and I-70. Stop by for personable, face-to-face travel advice, and take your pick from scores of maps, brochures and regional guides. The coffee is always hot, and each center has Internet access and clean restrooms, as well as information on weather and road conditions.
Winter Driving
If you are planning to drive during the winter months, you should be aware of a new traction law that's in place to protect all drivers on portions of I-70 from September to May. All drivers must have winter-appropriate tires or traction equipment that are adequate for snowy and icy conditions. Failure to do so could result in a fine. This handy traction-law chart can help you find out if you're winter-ready. The Colorado Department of Transportation has additional information about the types of tires or equipment you will need to avoid a fine. 
Colorado is often a winter wonderland, but at times, snow and ice can make driving conditions tricky, especially if you're not used to slick conditions. Some suggestions for safe winter driving:
Maintain a much slower speed, accelerate at a slower rate and remember that four-wheel drive does not mean four-wheel stop.
Don't use cruise control when traveling in winter conditions.
Keep your gas tank more than half full and stow jumper cables, snow scrapers, windshield-wiper fluid and extra blankets in your car.
Visit codot.gov/travel/winter-driving and cotrip.org for more tips.
Other Colorado Airports
Alamosa-San Luis Valley Regional Airport (ALS)
Good for Visiting: Alamosa, Monte Vista, Great Sand Dunes National Park and Preserve, South Fork, Crestone, Salida, Wolf Creek and Pagosa Springs
Service From: Denver
Aspen/Pitkin County Airport (ASE)
Good for Visiting: Aspen, Snowmass, Carbondale, Basalt, Leadville and Glenwood Springs
Service From: Denver, Atlanta, Chicago (ORD), Dallas (DFW), Houston, Los Angeles, Minneapolis - St. Paul, Phoenix, Salt Lake City and San Francisco
Cortez Municipal Airport (CEZ)
Good for Visiting: Cortez, Dolores, Mesa Verde National Park and Mancos
Service From: Denver, Phoenix
Durango/La Plata County Airport (DRO)
Good for Visiting: Durango, Cortez, Mesa Verde National Park, Silverton and Pagosa Springs
Service From: Denver, Dallas, Phoenix (PHX)
Eagle County Regional Airport (EGE)
Good for Visiting: Vail, Beaver Creek and Glenwood Springs
Service From: Denver, Atlanta, Chicago (ORD), Dallas (DFW), Houston (IAH), Los Angeles, Miami, New York (JFK & LGA), Newark, Philadelphia, Phoenix (PHX), San Francisco (SFO)
Gunnison-Crested Butte Airport (GUC)
Good for Visiting: Gunnison and Crested Butte
Year-Round From: Denver, Dallas (DFW), Houston (IAH)
Montrose Regional Airport (MTJ)
Good for Visiting: Montrose, Ouray, Ridgway, Telluride and Delta
Service From: Denver, Atlanta, Chicago (ORD), Dallas, Houston (IAH), Los Angeles, Newark, New York (LGA), Phoenix (PHX), San Francisco
Pueblo Memorial Airport (PUB)
Good for Visiting: Pueblo, La Junta and Walsenburg
Service From: Denver
Telluride Regional Airport (TEX)
Good for Visiting: Telluride
Service From: Denver
Yampa Valley Regional Airport (HDN)
Good for Visiting: Steamboat Springs and Craig
Service From: Denver, Atlanta, Boston, Chicago,
 Dallas, Fort Lauderdale, Houston (IAH), Los Angeles, Minneapolis - St. Paul, Newark, San Diego, San Francisco (SFO), Seattle, Washington (IAD)
Fly Private
Book seats on flights from private terminals with JSX, a hop-on jet service that offers business-class amenities and sidesteps the crowds. New ski-season flights travel between Dallas, Las Vegas, Burbank and Phoenix to Colorado destinations like Denver/Boulder, Gunnison/Crested Butte and Rifle/Aspen. Flights are pet friendly.
Learn about Colorado's cities and regions >>