Spirit of the Southwest: Durango, Silverton, Ouray & Pagosa Springs
In southwest Colorado, everything seems a little bigger: higher mountains, bluer skies and so many activities you'll have a hard time choosing. Spending just two days in the towns of Durango, Silverton, Ouray and Pagosa Springs will give you a taste of the glories of true Southwest living.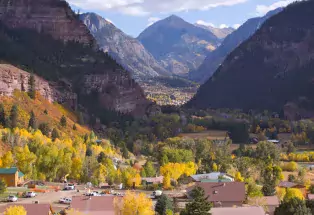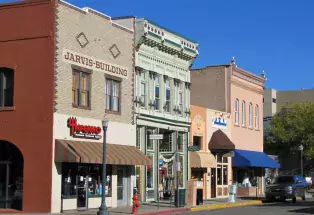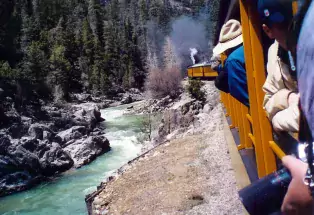 Day 1
In downtown Durango, historic buildings filled with award-winning restaurants and art galleries line Main Ave., cyclists zip through the streets and you'll occasionally hear the toot-toot of the departing Durango & Silverton Narrow Gauge Railroad.
Durango was actually founded by the Denver & Rio Grande Railway company in 1880, and the train has been operating continually for more than 130 years. Named the most scenic in the country, a ride on this historic railroad is a must, so head on over to the depot to purchase your tickets.
Opt for a one-way ride with a motorcoach return trip to afford more time to explore the historic mining town of Silverton. Bring a sweater, because even in summer, temperatures can get cool as the train climbs from around 6,000 feet in Durango to nearly 10,000 in Silverton. The tracks take the steam-powered train through parts of the San Juan National Forest that are impenetrable by car, and the scenery will have you furiously snapping away as you look in awe through the camera's viewfinder.
If you'd like to experience the wilderness rather than just watching it rush by, you can use the train to access the Weminuche Wilderness. It makes two stops along its route where adventurous travelers can disembark or board the train for a convenient way to explore some of the most pristine and remote wilderness in the state. There's also a stop (and combo packages available) at Soaring Tree Top Adventures, an ecotour on 27 different ziplines that carries riders across the Animas River and through aspen groves and ponderosa pines.
Once in Silverton, enjoy the storybook mining village in all its well-preserved splendor. The entire town is designated a National Historic Landmark and is an archetypical example of a Colorado mining town that reinvented itself after the ore — and the miners — disappeared. There are plenty of shops and restaurants to explore, as well as several historical sites including town hall, the Mayflower Gold Mill, the Old Hundred Gold Mine and the San Juan County Historical Society Mining Heritage Center.
If you choose to extend your stay in Silverton, you have plenty of options for enjoying the surrounding San Juan mountains and the Weminuche Wilderness including Jeep tours, rafting, horseback riding and hiking. One of our favorite hiking destinations is the waterfalls of Cunningham Gulch, and the ghost towns of Eureka and Howardsville.
Thanks to a wealth of historic and scenic 4x4 roads that lace through the surrounding San Juans, the area is incredibly popular for Jeep and ATV tours. Summer and fall offer glimpses into seldom-accessed fields of wildflowers and autumn color. Hundreds of miles of groomed trails await in the winter months.
Back in Durango, consider enjoying martinis served by saloon girls at the Diamond Belle Saloon; or visiting one of town's six craft breweries that create award-winning beers, ales and lagers. During the summer, the historic Rochester Hotel's relaxing outdoor bar hosts a summer concert series.
Durango was named one of Outside Magazine's best new adventure hubs for its access to skiing, whitewater adventure, fishing, hiking, byways and stellar mountain-bike trails. Visit the town's Main Street welcome center to find out how to access all that recreation.
Just 40 minutes away, consider visiting Vallecito Lake, one of the state's largest and most spectacular, with plenty of fishing, boating, hiking, Jeeping, snowmobiling and other activities. The Vallecito Creek Trail hike is located near beautiful Vallecito Reservoir and is great for all ages.
Back in Durango, make plans for excellent eats at the town's new 11th Street Station food-truck co-op, serving everything from sushi to coffee. Or head out to James Ranch Grill's "table on the farm," with a menu that couldn't be more locally sourced.
Day 2
A second day allows you to mosey up a route similar to the one the railroad took you on yesterday through the Animas Valley — but this time your destination will be Ouray. Make time for a stop by the Honeyville factory tasting room where you can taste their locally made premium honey, jams and mead. Kids can search the glass beehive for the queen bee.
Continue on the scenic route to Ouray. Nicknamed the "Switzerland of America," the town sits at the head of a narrow valley, surrounded on three sides by the towering peaks of the Rockies. Two-thirds of the town's original Victorian structures are still occupied and have been lovingly restored to retain the town's original charm. Peek into two unique history museums: Ouray County Museum and Ouray Alchemist.
Ouray's San Juan Mountain location is one reason it's considered by many as ground zero for Jeep touring (an extensive and incredibly scenic network of old mining roads is another). 
Check out nearby Ridgway Area Trails' 21 miles of mountain bike and hiking trails. Afterward (any time of the year), you can enjoy a truly restorative experience in the enormous Ouray Hot Springs Pool. The pool holds more than a million gallons of crystal-clear mineral water, naturally heated to between 96 and 106 degrees. The pool has a lap-swimming section, diving area, large slide, shallow kids' section and game area for water volleyball, as well as several distinct soaking areas. It makes a perfect end to a day of skiing or ice climbing in the winter, or a day of shopping, hiking and mountain biking in the summer.
Those who like a rustic adventure should look in to the OPUS Hut, a Euro-style backcountry getaway for backcountry skiers, hikers, bikers and snowmobilers. An easier option is Rig's Fly Shop & Guide Service, who will hook you up with kayaks or stand-up paddleboards and instruction on how to use them at nearby Ridgway State Park.
In the winter, Ouray lives up to its other knickname — the Ice-Climbing Capital of Colorado — when the Ouray Ice Park opens more than 200 routes to spiked adventures. Those visiting in the summer will have to make do at Basecamp Bouldering, a drop-in climbing gym with programs for all ages.
If your tastes run a little more toward games of chance, another option is to use day two to head south from Durango to check out the Sky Ute Casino Resort and Ute Mountain Casino Hotel. Both sit in the shadow of beautiful Ute Mountain and offer slots, poker, blackjack, craps, roulette and bingo as well as good food, comfortable lodgings and unsurpassed Southwest hospitality.
Head east of Ouray to Lake City, an idyllic, Western-rooted mountain town that's home to historic buildings and beautiful Lake San Cristobal, the second largest natural lake in Colorado. Explore Lake City's mining history at Hard Tack Mine (June–Sept­ember) or cast off in Lake San Cristobal, a year-round fishing destination.
Get Sidetracked
Pagosa Springs is just an hour and 15 minutes east of Durango and offers one of the state's most notable hot springs experiences at The Springs Resort. Located in Pagosa Springs' charming downtown, and right beside the San Juan River, the springs are known for their mineral-rich waters, rejuvenating views and luxurious yet family-friendly vibe. Go for the day or spend a few reveling in the relaxing pools, strolling the town or exploring the surrounding wilderness. There's also Overlook Hot Springs and the Healing Waters Resort & Spa right in town.
Pop into the visitor center for trail maps, a free water bottle and a bike-repair station.
Fifteen miles west of town, Chimney Rock National Monument was recently named a National Monument. Explore its otherworldly rock formations, or seek out Pagosa's San Juan River riches with rafting, kayaking and tubing — including a two-mile shuttle-served stretch right in town — and fishing adventures, 2.5 million acres of wilderness and national forest, 650 miles of trails, the Wolf Creek Pass drive, waterfall and wildflower hikes and camping — not to mention the town's three craft breweries and handful of great restaurants.
There are ATV tours, 2.5 million acres of wilderness and national forest, 650 miles of trails, the Wolf Creek Pass drive (pull over at Lobo Overlook for 360-degree views), waterfall and wildflower hikes, and camping. Williams Creek Reservoir is a gorgeous lake surrounded by mountains, popular with fishers, mountain-bikers and picnickers. There's also 30 miles of incredible singletrack in Turkey Springs Recreation Area. In town, there's a climbing/bouldering park and skate park, not to mention three craft breweries and a handful of great restaurants.
Thirty minutes south of Durango, Ignacio is a ranching community located in a long valley bordered by the La Plata Mountains. Today Ignacio supplies the adjacent Southern Ute Indian Reservation and ranches scattered throughout this remote area. The Southern Ute Tribe, a descendant of two of the seven original Ute tribes that inhabited Colorado, is headquartered just north of Ignacio, but its reservation spans more than 680,000 acres. The modern Sky Ute Casino Resort, one of the tribe's economic mainstays, is very popular with visitors. The casino features gaming halls, hotel rooms and restaurants. Recreational spots include Navajo State Park, which provides ample opportunity to enjoy water sports — jet skiing, house boating, fishing — and the reservation's top trout-fishing hole, Lake Capote.
Get Off Road
Thanks to a wealth of historic and scenic 4x4 roads that lace through the surrounding San Juan Mountains, the area is incredibly popular for Jeep and ATV tours. Summer and fall offer glimpses into seldom-accessed fields of wildflowers and autumn color.
Visiting During Winter?
Purgatory is emerging as one of the nation's top ski destinations, with affordable packages and a low-key atmosphere that encourage vacation relaxation. Silverton Mountain is the state's highest and steepest ski mountain, serving up un-groomed expert terrain for those who prefer skiing the old-school way, while families head to Kendall Mountain Ski Area and Hesperus Ski Area. Just 23 miles from Pagosa Springs, visitors and locals alike flock to Wolf Creek Ski Resort to ski and ride "the most snow in Colorado," with an average of 430 inches of natural (not manmade) snowfall per season.
Beyond the slopes, Durango, Silverton, Ouray and Pagosa Springs all take advantage of their deep San Juan Mountain powder with endless trails perfect for backcountry snowshoeing, cross-country skiing, sledding and snowmobiling.
Check out these related Colo-Road Trips: 5 Days in Durango, Silverton & Ouray, A Grand Tour of the Mountains and Mesas Region and Southwest Colorado & the San Juan Skyway.
Photos: Ouray Chamber of Commerce/Kane Scheidegger; Visit Durango.