5 Reasons to Visit Crested Butte & Gunnison This Winter
Nestled in the heart of the Rockies and steeped in 1800s mining history, Crested Butte and Gunnison offer a flurry of winter activities. Brave the exciting slopes of Crested Butte Mountain Resort, forge your own path on cross-country skis and head to town for good eats and authentic mountain hospitality.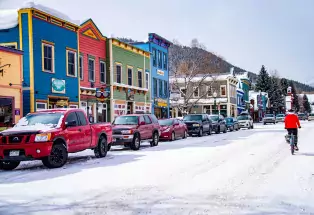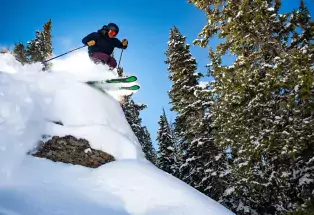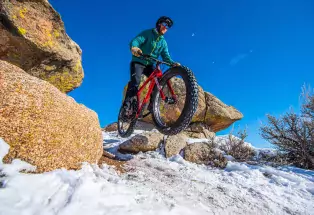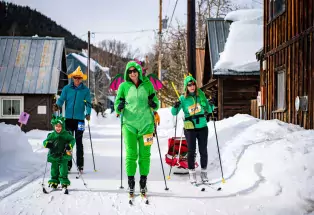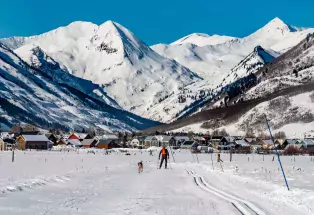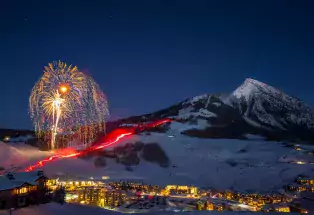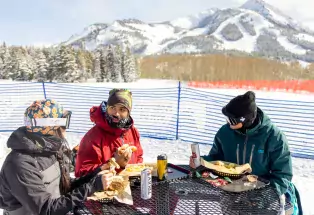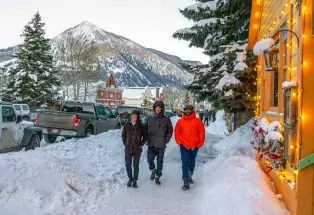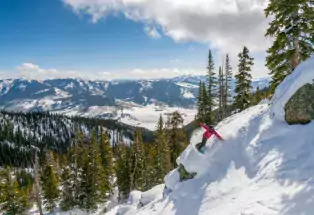 1. Epic Skiing
Towering over Gunnison Valley, Crested Butte Mountain Resort's soaring slopes beckon to eager adventure seekers. Boasting 1,547 acres of skiable terrain just four hours from Denver, the mountain yields everything from sprawling greens to heart-pounding double blacks. Take a carefree cruise down the front and, when you're ready, head to the Teocalli Bowl for exhilarating tree runs. Stay in the heart of the action in one of the luxury ski-in/ski-out condos that line the base of the lifts — or head down to Crested Butte to hole up in one of the blissful B&Bs the town is known for. 
Resort skiing isn't the only way to enjoy Crested Butte's winter wonderland. Outdoor enthusiasts can revel in 2 million acres of powdery public land. Before venturing out, however, meet up with a backcountry guide to learn the ropes of winter backcountry safety — like how to tread thoughtfully through Colorado's snowy wilderness by being prepared, recreating responsibly and leaving it as you found it. When you're ready to explore, make the 4-mile trek from Gothic Trailhead to Maroon Hut or attend the annual Grand Traverse. This point-to-point Skimo (ski mountaineering) race takes thrill-seekers across 40 miles over 6,800 vertical feet from Crested Butte to Aspen.
Plan a weekend of skiing with this Crested Butte itinerary
2. Cool Mountain Towns
If vibrant, historic mountain towns are your cup of tea, then you've come to the right place. In Crested Butte, rows of pastel Victorian storefronts greet you as you pass through quaint and walkable streets. Founded in 1878, this former coal-mining town may only be a few blocks long, but it's filled with all sorts of daily happenings. Walk along Elk Avenue for some casual shopping, watch a live concert or glide over the outdoor ice-skating rink. In summer, return to Crested Butte to see fields of wildflowers bursting with color and delve into hundreds of miles of singletrack mountain-biking trails.
Just 27.5 miles south on CO-135, Gunnison is a quirky historical college town that provides a nice alternative lodging destination for skiers and snowboarders. Observe the blossoming business district filled with eclectic shops and affordable hotels, walk through the Western Colorado University campus or stop by The Gunnison Pioneer Museum. This 5-acre attraction houses artifacts dating back to the town's incorporation in 1880, including an antique-car collection and the town's first post office. You'll learn at the museum how Gunnison was originally used as summer-hunting grounds by Ute Indians and was later settled by silver prospectors looking to strike it rich.
Learn more about Crested Butte and Gunnison
3. Easy Flights
We'll let you in on a little secret: Despite the remote feel of Gunnison and Crested Butte, they're actually quite easy to get to. Travelers can fly directly to Gunnison-Crested Butte Regional Airport (GUC) from Houston (HOU), Dallas-Fort Worth (DFW) and Denver (DEN). And there's no need to rent a car once you arrive because Gunnison Valley Rural Transportation Authority (RTA) shuttles run daily to and from Crested Butte and Gunnison. In Crested Butte, Mountain Express (MX) offers a fleet of mural-covered buses transporting visitors up the winding road to Crested Butte Mountain Resort. You can catch the bus every 15 minutes during ski season at one of several stops scattered throughout town.
Find more tips on traveling to Gunnison and Crested Butte
4. Nordic Skiing
The Gunnison Valley is one of those rare gems where you can hop on your skis in town (particularly in Crested Butte) and, within minutes, find yourself surrounded by miles of pristine wilderness. From brushy meadows to snow-blanketed forests, the trails in this region offer up a playground of epic proportions.
Drop by the Crested Butte Nordic for groomed trails, gear rentals and lessons, or venture out on your own to trails like Brush Creek Road. Skate alongside Slate River where you'll be met with gorgeous views of the Slate River Valley, Peanut Lake, Mineral Point, Crested Butte and the Red Lady (Mount Emmons).
Though the Gunnison Nordic Club doesn't have an official homebase, it maintains groomed trails in the area and sponsors all types of events and skills classes. Their trails will lead you through wide-open fields and around jagged, rocky outcroppings for scenic ski outings.
After that, make way for Hartman Rocks Recreation Area. Managed by the Bureau of Land Management and local recreation groups, this space is pure bliss for adrenaline junkies. Explore 16 miles of cross-country-ski trails or bust out the fat bike for some challenging singletrack rides. Finally, grab your wackiest costume and head to the annual Alley Loop Nordic Ski Race. Taking place in February, this semi-serious competition is used as a qualifier for the American Birkebeiner, the largest cross-country skiing race in North America.
Need to gear up? You can get cross-country-ski rentals from area outfitters.
Plan your Nordic-skiing adventures in Crested Butte and Gunnison
5. Great Restaurants
Crested Butte may be tiny, but it's packed to the brim with an assortment of delicious restaurants. Before you hit the slopes, stop by McGill's for a hearty breakfast burrito and a cup of joe. For lunch, Ryce Asian Bistro is serving up steamy specialties like pad thai and teriyaki chicken. And for dinner, you'll want to swing by Elk Ave. Prime for delicacies like hand-cut USDA Prime steaks and a large selection of expertly curated wines. If you're staying in Gunnison, Tributary Coffee Roasters is the place to be for velvety lattes and freshly made ham-and-Swiss quiche slices. Firebrand Delicatessen has got you covered for lunch with its selection of savory sandwiches like the Vespucci Royale, packed with lean pastrami and ham, provolone and a medley of colorful veggies. And Blackstock Bistro is cooking up tender New Zealand lamb and serving fruity cocktails like Straight Peachin' and Mango Dango.
Explore more of Crested Butte and Gunnison's foodie scenes
Want more?
Plan the perfect Crested Butte vacation
Find Gunnison-Crested Butte events