Silver Thread
South Fork
117
Blue Mesa Reservoir
Year-Round
Mountains & Mesas
Mystic San Luis Valley
Allow 3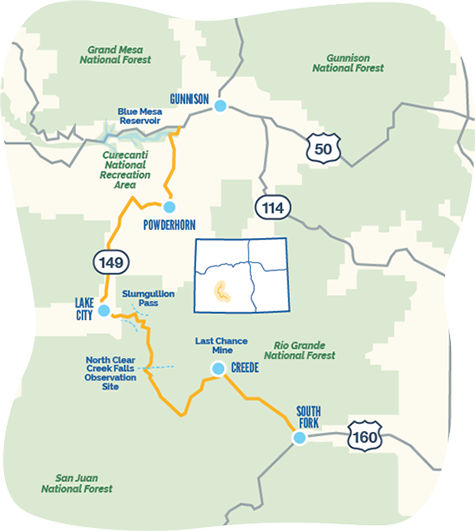 Trip Tips
Cell service can be particularly spotty to non-existent on some parts of this byway, so be sure to let someone know where you're going and have your directions handy.
Though the road is stunning in summer and winter, the fall foliage is when the byway truly shines, with trees turning spectacular oranges, reds and yellows.
This byway only requires 2WD drive. There EV-charging stations at least every 100 miles within the start and end of this byway.

See some of this byway's highlights — and read below for many more!
Start your journey in South Fork, where the road cuts through mountains, and in summer, everything is cast in a bright glow. Your drive wouldn't be complete without a stop at South Fork Malt Shoppe, which has been serving burgers for more than 50 years. In the winter, coast your snowmobile over 255 miles of groomed trails just outside of town. 
Continue up the highway, following the Rio Grande River to Creede, a charming small town nestled between Nelson, Campbell and Mammoth mountains. Learn about the history of mining at Last Chance Mine, which dates back more than 125 years to Creede's silver boom. Want to learn more? The Underground Mining Museum offers exhibits in tunnels inside a mountain, giving you an authentic look at the subterranean life of miners.  
Dine al fresco at Kip's Grill with its breathtaking views before catching a show at the historic Creede Repertory Theatre, which USA Today called "one of the 10 best places to see the lights way off Broadway."
Turn on Forest Road 510 to North Clear Creek Falls and up to the observation site to view the gallons of water crashing over the side, creating a magnificent waterfall. It might be even better in winter when the falls are frozen, suspended in animation. 
Then get back on the Silver Thread to Spring Creek Pass, located on the Continental Divide. Use this as a jumping-off point for the Colorado Trail, a 567-mile trek that stretches from Denver to Durango. Popular with hikers, backpackers, mountain bikers and horseback riders, many take it in segments, as it could take four to six weeks to hike the whole thing. 
Slumgullion Pass has the steepest grade of any continuously paved road in Colorado. If you're in search of some fantastic leaf-peeping, this is your best bet: the bright gold leaves of aspens quake in the wind as you zip past. As you ascend the pass you'll notice a bizarre landslide in the distance. Moving at the speed of molasses, the Slumgullion Earthflow is a result of unstable soils that shift up to 20 feet a year. See if you can spot full-grown pine trees at off-angles from the Windy Point Overlook.
Formed 800 years ago due to the earthflow, Lake San Cristobal's placid beauty will call to you on a warm summer day. It's the second-largest natural lake in the state and is home to fishing, boating, camping and wildlife spotting. 
Visiting in snowy months? Head to Lake City Ski Hill and Terrain Park before proceeding into town. The prices are low, and the rentals are free — it's only $20 for a whole day on the 14 skiable acres. Or if climbing up soaring blue ice walls is more your speed, visit the Lake City Ice Park. 
Once in Lake City, an Official Colorado Main Street Community, walk along Silver Street where you'll see one of the largest collections of preserved buildings from the 1870s. The town is also a National Historic District. Pop into the Hinsdale County Museum to see a historic railroad car and fire truck. Snap photos of the Hinsdale County Courthouse, Colorado's oldest, built in 1877. Later, snack on Not Your Grandma's pimento bread on the outdoor patio at Packer Saloon & Cannibal Grill, named after the infamous Colorado cannibal who was tried in town. 
Jump back in the car and make your way to Powderhorn, a spot where the fall leaves reflect off Cebolla Creek. If you have off-roading or jeeping capabilities, drive down Indian Creek OHV Road, a 20.4-mile adventure.
End your drive at Blue Mesa Reservoir, where, in summer, you'll be able to lie on the beach and go for a swim in that bright, Colorado sun. Or fish for salmon and trout from the bow of your boat. Colorado's largest body of water is a must-visit and the perfect end to your Silver Thread journey. 
Events on the calendar: Gravity Derby in Creede, Creede Donkey Dash, Lake City Uncorked Wine & Music Festival, Logger Days Festival in South Fork
Side Trips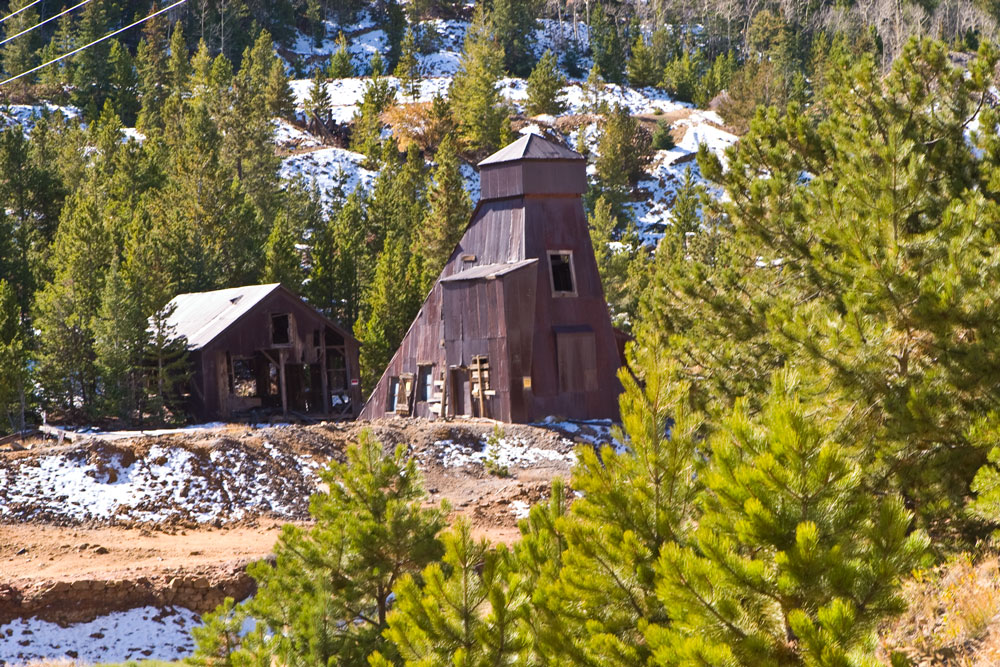 Bachelor Loop Historic Tour
From Creede, hop on the 17-mile Bachelor Loop Historic Tour for a historic tour through the mining district above town, passing 1890s mining locations and ghost towns.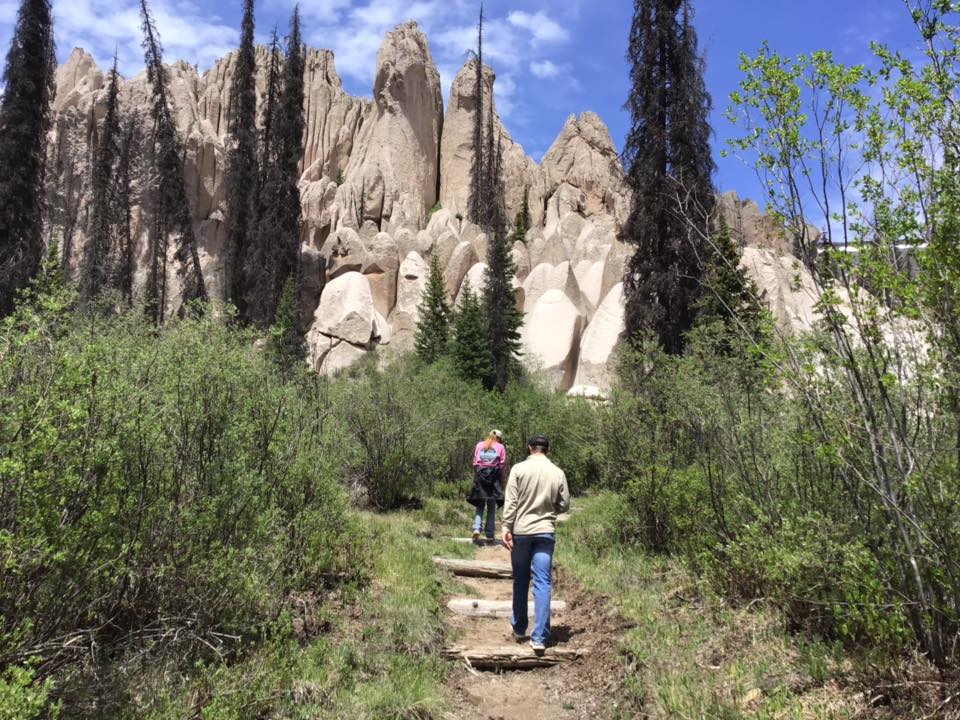 Wheeler Geologic Natural Area
Near Creede, Wheeler Geologic Natural Area — a remote geologic area — is part of the La Garita Wilderness and has trails, thirteeners and expansive views. It's a 7-mile hike or a 14-mile rough, four-wheel drive from Creede.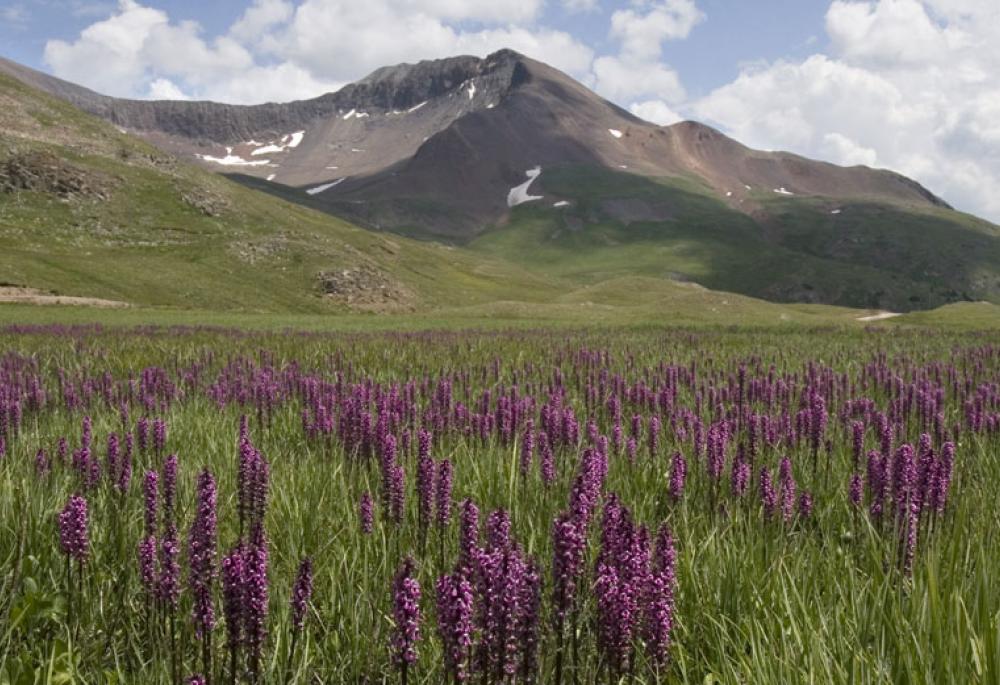 Alpine Loop Byway
If byways are your thing, head out of Lake City on the Alpine Loop, which leaves the pavement behind — you'll need 4WD — but offers pristine mountain views.
See All Byways