Blue Mesa Reservoir: Colorado Beach
True, Colorado is a landlocked state, but plenty of Rocky Mountain lakes and reservoirs offer miles of shoreline to swim in and sun yourself by each summer.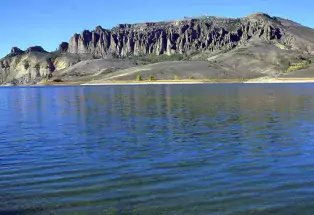 Blue Mesa Reservoir — part of Curecanti National Recreation Area — is the state's largest body of water, which means abundant recreation and lounge-worthy beaches.
As U.S. Hwy. 50 winds through the pinyon-dotted, high-mountain desert between the rural community of Montrose and the mountain college town of Gunnison, it opens up into a broad landscape of sparkling blue water and talus-sloped hills. Here is the Blue Mesa Reservoir, where the waters of the Gunnison River gather before carving through the steep walls of the Black Canyon of the Gunnison National Park.
Boaters love the 29-mile-long reservoir, which has several arms that lead into secluded canyons. The fishing is legendary, as it's stocked with millions of fish each year and is home to the largest kokanee salmon fishery in the U.S.
And, with camping, windsurfing, waterskiing, hiking, horseback riding and boat tours also vying for attention, it takes a few days to experience it all.
While much of the shoreline is rocky, you'll find good swimming areas at the Bay of Chickens, Dry Creek and Old Highway 50 beach. The water is always cool, and there's nothing more refreshing on a hot day spent in the high-altitude sun.
All of these Colorado beaches have plenty of camping nearby — so you never have to be too far from the water during the hot summer months.
Want More?
Plan a two-day itinerary around Gunnison and Crested Butte.
Discover more great places to drop a fishing line in Colorado.
Read about more lakes in Colorado. 
Photo Courtesy of the National Park Service/Lisa Lynch.