Fishing in Colorado: Great Places to Drop a Line
With 100,000-plus miles of rivers and more than 4,000 lakes and reservoirs, Colorado fishing is some of the best, and most abundant, anywhere — not to mention the natural beauty that surrounds it all.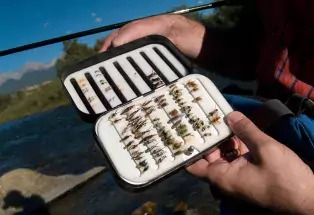 Colorado fishing licenses are required. One-day and five-day passes can also be purchased through Colorado Parks & Wildlife. Get your Colorado fishing report.
Region by region, here are a few quick details on where to find good fishing in Colorado, whether you're looking to fly-fish, ice fish or head out with a rod and reel.
Northwest Region:
Trout heaven is right here on earth, and it's called the Fryingpan River just east of Basalt below Ruedi Reservoir. Be ready to play catch-and-release with some of the best fly-fishers around in these Gold Medal waters. Find a little more elbow room on the Roaring Fork River and Colorado River or at Trappers, Pearl Lake State Park or Steamboat Lake State Park.
South Central Region
Named for the late, great Denver Post outdoor writer's old stomping grounds, Charlie Meyers State Wildlife Area is also known as the "dream stream." The hot spot is located on the South Platte River between Spinney Mountain State Park and Eleven Mile State Park east of Hartsel.
Denver Metro Region
The Denver area has a hefty helping of reservoir and lake fishing at places like Cherry Creek State Park, Chatfield State Park and Standley Lake, but what's truly wild about Denver are the streams and rivers that come down from the mountains, which are full of clear water. Try Clear Creek Canyon near Golden or South Boulder Creek near Boulder for starters.
Front Range Region
While the trout fishing in Rocky Mountain National Park is so good that it almost hurts, there's also amazing walleye and smallmouth fishing at Horsetooth Reservoir, Boyd Lake State Park and Carter Lake, all between Denver and Fort Collins.
Southwest Region
The high-mountain Blue Lakes north of Telluride are bluer than the Caribbean and full of native cutthroat trout. Also legendary among southwesterners are the Gunnison Gorge, the Taylor River and Blue Mesa Reservoir near Gunnison.
Southeast Region
Southeastern Colorado is a fisherman's best-kept secret. Lake Meredith and John Martin Reservoir near La Junta are two of the favorite places to let the lures spin you into fishing paradise, but this is also where the Arkansas River really picks up steam with thousands of acre-feet of fisherman-friendly water.
Northeast Region
Things can get a bit dry in northeast Colorado, but that's a good thing because water storage has reached the level of artform here. This makes Jackson Lake State Park, Prewitt, Empire and Riverside reservoirs near Sterling sure things.
Want More?