Fun for Kids in Colorado
Colorado attractions that cater to your little one's biggest obsessions.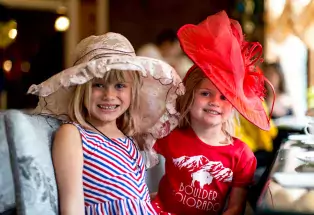 These trip ideas will feed your kiddo's obsessions and score serious "best parent ever" points with your little one.
Jump to: Trains, Dinosaurs, Castles, Wildlife, Fairies or Old West
Colorado's history is rich with locomotive lore and is full of memory-making spots for little engineers. Read on for a sampling, and for more, view our full list of Colorado train attractions.
There are nine more historic and scenic railroads in Colorado offering family thrills that range from zooming across a canyon floor to climbing up a steep mountainside. Find more Colorado train rides for kids
Your kid clearly rocks (pun intended) and, luckily, there are tons of dinosaur attractions in Colorado, many of which are home to some of science's landmark dino discoveries.
Find more places to see the dinosaurs of Colorado
Your kiddos can act out all their favorite Disney scenes at these cool and quirky Colorado castles. 
Wee ones with a wild side (don't they all have one?) will be tickled by the furry friends at these animal attractions in Colorado. Check out this fun infographic about Colorado's Wildlife from A to Z
Wild Animal Sanctuary, Keenesburg: Rescued lions, tigers, bears and wolves roam the sanctuary's 1,214 acres, their dignity restored through the efforts of this incredible nonprofit, as visitors gaze unobtrusively from above.
Downtown Denver Aquarium: Walk through an impressive loop of underwater wonder with face-to-face views of sharks, rays, otters, reptiles and even Sumatran tigers. 
Colorado Zoos: The Denver Zoo has a loyal family following, with impressive elephant and endangered African penguin habitats; the giraffes steal the show at Cheyenne Mountain Zoo in Colorado Springs and the Pueblo Zoo is home to critters ranging from bush babies and cotton-top tamarins to kangaroos and meerkats.
Find more aquariums, animal sanctuaries and zoos in Colorado
Colorado's carefree spirit and love for nature mean pint-sized fairies are right at home here.
Get along, little dogies, and try one of these Old West adventures.
Dude Ranches: Build the ultimate out-West vacation around a family-friendly dude ranch, complete with horseback rides, cattle drives, singing around the campfire and chuckwagon dinners. View listings for dude-ranches in Colorado
Bent's Old Fort National Historic Site, La Junta: Be transported back to the Old West while touring this adobe fort that served as a trading post for trappers, travelers and Native Americans. Tip: Check the fort's official website for when it's open while you're planning; its hours can change during different seasons. 
Kit Carson County Carousel, Burlington: Grab the reins on this nostalgic carousel. Built in 1905, the wooden horses and other animals are all original and hand painted.
Bee Family Centennial Farm Museum, Fort Collins: Experience farm life with activities such as milking wooden cows, collecting eggs, pulling a horse-drawn plow and grinding corn for chickens at this working farm. 
Agricultural Heritage Center, Longmont: Tour working outbuildings and meet farm animals up close April through October. During special events, you'll also find a working blacksmith shop.
Want More?