Manitou Springs
Tucked into the petticoats of Pikes Peak, Manitou Springs has been the quintessential tourist town since the 1870s, when visitors discovered the healing waters the Ute Indians had been drinking for years. Many of the town's mineral springs still function today and the water is free.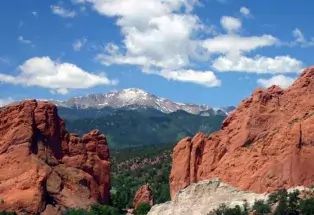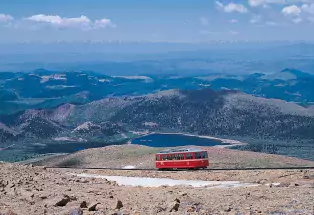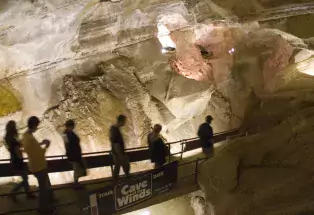 Manitou Springs Chamber of Commerce & Visitors Bureau
354 Manitou Ave, Manitou Springs, CO 80829
Besides healing waters, the cool mountain air was thought to be good for tuberculosis sufferers. Today, visitors still come for their mental health, as well as physical.
Dip your toes in water from Manitou Springs' Seven Minute Spring — one of eight springs located in the city — at SunWater Spa, which offers one private and seven public cedar pools ranging from 85 to 104 degrees.
Pro athletes and hearty hikers journey to the area to conquer the steps of the Manitou Incline, a former cable-car track turned calf-burning workout. While the trail is only 1 mile long, it climbs 2,000 vertical feet.
It's a laid-back kind of place where attitudes and clothes are casual, and a favorite family hangout is Arcade Amusements, a penny arcade where you can still play pinball for a dime. Fun shops line the downtown main street and there are some great little restaurants. Look for locally made arts and crafts as you walk the town.
Lodging ranges from historic motels that served those first weary visitors to fully restored and grand, elegant buildings. Miramont Castle, a Victorian-style mansion built by a French priest, features nine styles of architecture and is a must-see.
While in town, make a point to dive into the area's ruddy rocks themselves, either with a guided underground tour at Cave of the Winds Mountain Park (after which you can hop on thrilling rides) or through some self exploration of the Manitou Cliff Dwellings.
Of course, the overshadowing attraction is Pikes Peak itself, and in Manitou you can catch the Pikes Peak Cog Railway, which slowly winds its way up the mountain to the 14,000-foot summit. Or choose from a variety of hiking trails leading to spectacular views at the top — the 13-mile Barr Trail is one of the most popular routes.
It's said the word Manitou means "great spirit," and you'll certainly find that here. 
Other Cities in the Region