Cascade
The scenic mountain community of Cascade is nestled among the Pikes Peak foothills just minutes from Colorado Springs. Named for nearby waterfalls, Cascade beckons to visitors as the front door to Pikes Peak, the country's most visited mountain.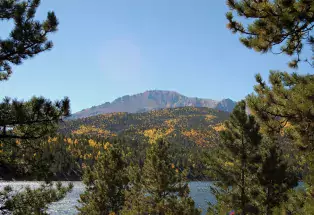 Every year, more than a half-million people reach the peak's 14,110-foot summit. Cascade also houses historical businesses like the Adobe Inn at Cascade, with Southwest-style accommodations.
Hiking trails to local waterfalls include the Heizer Trail in Cascade Community Park and the Catamount Trail in Green Mountain Falls. Afterward, head to The Skinny Taco for small-batch salsa and a well-seasoned menu. Then continue on to nearby Manitou Springs, home to cliff dwellings, the Cave of the Winds and the Pikes Peak Cog Railway, the highest train in the nation. Be sure to saddle up for horseback-riding tours through the stunning Garden of the Gods, located just down the road.
Other Cities in the Region