Fountain
Located at the base of towering Pikes Peak, Fountain is a small town with Colorado Springs' big-city culture and conveniences just 10 minutes away.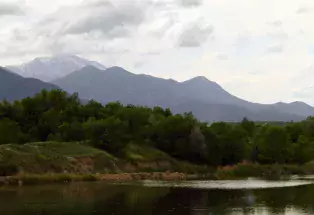 Katharine Lee Bates wrote "America the Beautiful" after viewing this area from the top of Pikes Peak, and while visitors aren't likely to see amber waves here, spacious skies and purple mountains abound.
Once the site of a seasonal encampment for Ute, Arapaho and Cheyenne, French explorers named Fountain for a nearby creek. Today the downtown area contains cafes, an old-time bakery and a gift shop. A new city hall plaza features the community's famous fountains, and Metcalfe Park has shady picnic spots and a challenging skateboard park. Fountain's residents head to nearby Colorado Springs for other cultural and recreational activities. Top attractions there include the Pikes Peak International Raceway, Garden of the Gods Visitor and Nature Center and the U.S. Air Force Academy.
For an itinerary of things to do in the area, read 3 Days in Colorado Springs & Pikes Peak Country.
Other Cities in the Region