Larkspur
On the northern slope of Pike National Forest, this area just south of Denver is a quiet nook in one of the state's fastest-growing counties.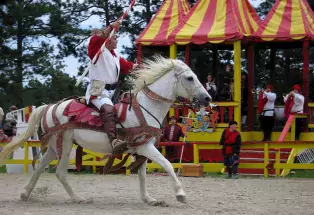 Neighborhoods and ranch properties intertwine to make up this changing community. Larkspur affords splendid views of the dramatic Front Range foothills.
Get thee to Larkspur in the summer (mid-June through early August) for the not-to-be-missed annual Colorado Renaissance Festival. Wooded grounds are transformed into a 16th-century village, complete with minstrels and maidens, artisans creating period crafts and allegedly authentic food including the ever-popular turkey leg — just the way you'd imagine it. The festival's live entertainment lineup includes jousting sessions, jesters and magicians.
Another attraction in Larkspur is the 18-hole Golf Club at Bear Dance. The public course includes a luxurious clubhouse, restaurant, lounge and pro shop. It's also home to the impressive Colorado Professional Golf Association Historical Center, a collection of exhibits on the history of golf in the nation's highest state.
On the outskirts of Larkspur are a few lodging facilities at local ranch-style B&Bs. Visit the friendly folks at the Spur of the Moment Roadhouse and Restaurant or go shopping at the Outlets at Castle Rock, just a few minutes to the south.
Other Cities in the Region