Twin Lakes
Resting in the shadow of Colorado's tallest peak, Twin Lakes is one of Colorado's most scenic locations. The community lies adjacent to the state's two largest glacial lakes along the Top of the Rockies Scenic and Historic Byway.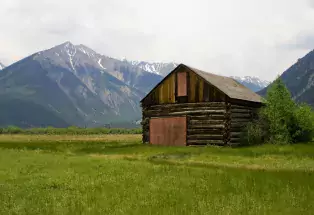 Leadville-Lake County Chamber of Commerce
809 Harrison Ave, Leadville, CO 80461
Once a mining transportation hub that served the communities of Leadville and Aspen, today Twin Lakes is a place to get away from it all. The area is especially popular for fishing, boating, hiking, snowmobiling and photographing quintessential Colorado scenery. 
Two historic areas complement the natural lakes — Twin Lakes Village and Interlaken. The first contains a general store, B&Bs, a restaurant and visitor's center. The latter was a famed resort area championed by mining magnate James Dexter. Follow the Colorado Trail along the south side of the lake beginning at the dam to explore some remains of this historic summer vacation spot. The Interlaken complex's most significant historic structure is Dexter's nautical-themed 1890s cabin. A hotel, two granaries, a stable, laundry, privy and cow barn were also preserved. 
Nearby, Lake Creek Valley leads directly to Independence Pass, the awe-inspiring back route to Aspen. A drive up this stretch of road (summer only) reveals panoramic views and some of the most spectacular scenery in the state. In addition, Leadville, one of Colorado's most authentic mining towns, is just 15 miles from the Twin Lakes area. Downtown Leadville is filled with historic hotels, saloons and an old theater, in addition to refurbished buildings with gift shops, restaurants and museums. In the winter, the local ski area, Ski Cooper, is also open to the public. Lodging around the Leadville and Twin Lakes areas include historic hotels, modern motels, rustic cabins, Victorian-era B&Bs, RV parks and campgrounds.
Learn about the nearby city of Leadville
Check out our Leadville & Twin Lakes Colo-Road Trip Itinerary
Other Cities in the Region