Chipita Park
Shadowed by the 14,110-foot Pikes Peak, Chipita Park is just minutes from famous mountain restaurants and such outdoor activities as fishing and hiking.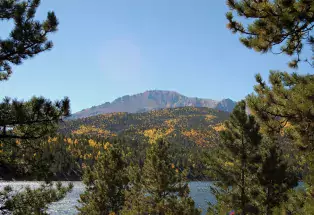 Chipita Park is the youngest in the collection of towns along the Ute Pass, which was first used as a path across the Rockies by the Ute Indian Tribe. Spanish explorers and missionaries were the next group to utilize the pass and, finally, the trail was paved over and became Highway 24. The towns along the Ute Pass sprang up in the 1800s, first as vacation spots for Kansans in the hot summer months and later for easterners. Now, Victorian-style houses line area streets, creating a charming and tranquil atmosphere.
Between the neighboring towns of Cascade and Green Mountain Falls are countless outdoor activities. Hikes to Crystal and Catamount Falls should top any visitor's to-do list, as should a picnic at Gazebo Lake. Feel like a drive? Don't miss the scenic, 19-mile drive up the nearby Pikes Peak Highway to the summit of America's Mountain — drive it yourself or book a tour.
Other Cities in the Region