Cripple Creek
The boom of Colorado's Gold Rush put Cripple Creek on the map. More than 100 years ago, this mining community attracted thousands of gold-seekers in search of their fortunes, and you can still do that there today in the town's casinos and gaming halls.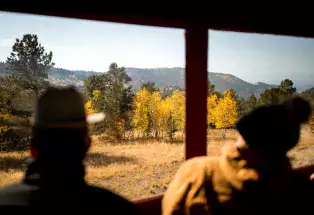 Located at the base of Pikes Peak, the historic mining town of Cripple Creek is surrounded by majestic mountains and breathtaking scenic views.
The Cripple Creek Heritage Center and several other museums' artifacts tell the stories of those who risked it all in the search for riches. You can also tour the Mollie Kathleen Gold Mine — named after the first woman to strike gold here — where you can walk the tunnels dug by turn-of-the-century miners. And the Cripple Creek & Victor Narrow Gauge Railroad departs from an 1894 vintage depot, taking visitors through historic gold camps. And, of course, those in search of modern fortunes can try their luck with slots, blackjack, poker, roulette and craps at nine casinos.
The Gold Belt Tour Scenic Byway is a great way to follow the history of the region, including the 1800s Pikes Peak Gold Rush and ancient history at Florissant Fossil Beds National Monument.
Numerous events and celebrations, including the famous Donkey Derby Days the last full weekend of June when members of the town's resident donkey herd are cheered to the finish line, are held throughout the year and give the town a festive air. And there's always a seat for theater lovers at the beautifully restored Butte Theater, where musicals, melodramas and comedies take the stage throughout most of the year.
Read Uncovering Treasures: 1 Day in Cripple Creek
Read Colorado Casinos and Colorado Weekend Getaway Ideas: Resort Casinos
Other Cities in the Region