Woodland Park
Just a 20-minute drive up lovely Ute Pass from Colorado Springs, Woodland Park is known as The City Above the Clouds and is popular with those who love the outdoor activities of the Pikes Peak region and a quick mountain getaway. During the summer, in particular, Woodland Park bustles with outdoor concerts and festivals and a Friday farmers' market.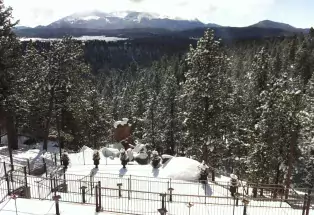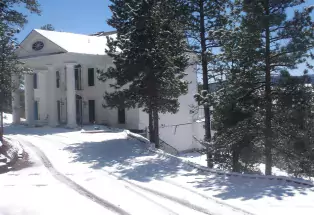 The Greater Woodland Park Chamber of Commerce
210 E. Midland Avenue, Woodland Park, CO 80866
Campers, hikers and OHVers find plenty of terrain to explore in Woodland Park's outdoors, including Horsethief Falls, Centennial Trail, Mueller and Eleven Mile state parks, and more. 
Woodland Park's premier attraction is the Rocky Mountain Dinosaur Resource Center, a terrific new museum with lots of hands-on activities for children. Also explore the nearby Florissant Fossil Beds National Monument, where you'll see giant petrified redwood stumps and learn about the prehistoric times when this high country was under the ocean.
Also check out the Colorado Wolf & Wildlife Center, which features rescued wolves, hybrids and foxes. A paved path takes mountain bikers from town to day-use Manitou Lake, a scenic fishing-hole 8 miles away that's also popular with picnickers. The Pike National Forest is a major hub for outdoor recreation in the area.
A handful of craft breweries and local restaurants ensure you never have to leave town during your stay!
Other Cities in the Region