Deckers
Deckers is small-town Colorado, consisting of a general store, a fly shop and a few rooms for rent. Visitors to this community are likely to hear the phrase "What's biting?" Fish and fishing are big here.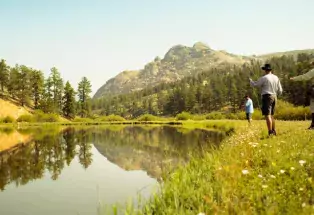 The South Platte River flowing below Cheesman Canyon through Deckers is a world-class fishing area, featuring access points along a 20-mile stretch of river.
Some of the best fishing spots lay between Bridge Crossing and the Tee Pee Club (ask for directions at the fly shop). Anglers regularly haul in — although not without a fight — plump brown and rainbow trout. While the river does get crowded at times, the scene is typically cordial in these Gold Medal waters.
Atlantis Slab and Murphy's Dome South Face offer climbers a fun granite challenge amidst stunning views. The area also boats several hiking routes, some of which take you into the serenity of the Lost Creek Wilderness Area. Other activities include camping, ATVing and mountain biking for riders of all levels.
Other Cities in the Region